Ring in the summer with a tart full of berries!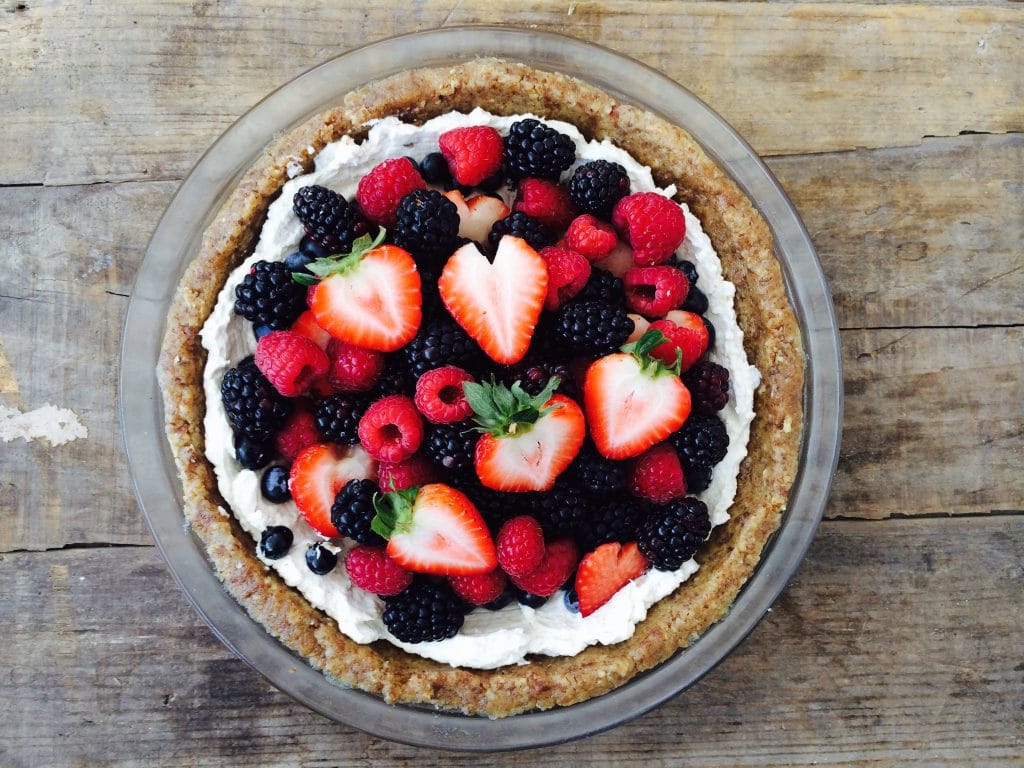 I'm not exactly sure why, but it's more fun to eat fruit when it resembles a cake. Take my favorite Watermelon Cake for example. The sheer fact that it's shaped like a cake makes it infinitely more desirable. (Or, maybe it's that simple layer of coconut cream frosting).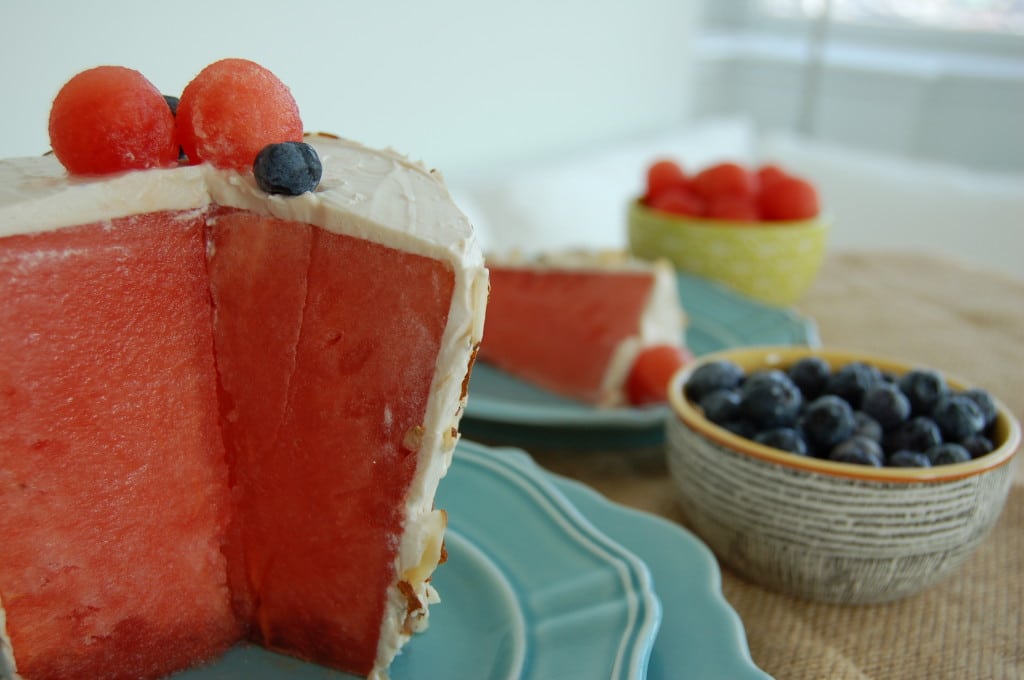 Ditto for this berry tart.
The whipped coconut cream frosting and walnut date crust somehow make it much easier to eat copious amount of berries. I'm personally not a huge fan of raspberries (I don't like the soft texture) but on this tart, I didn't mind them at all. (So if you've got picky kids or husbands, this may help).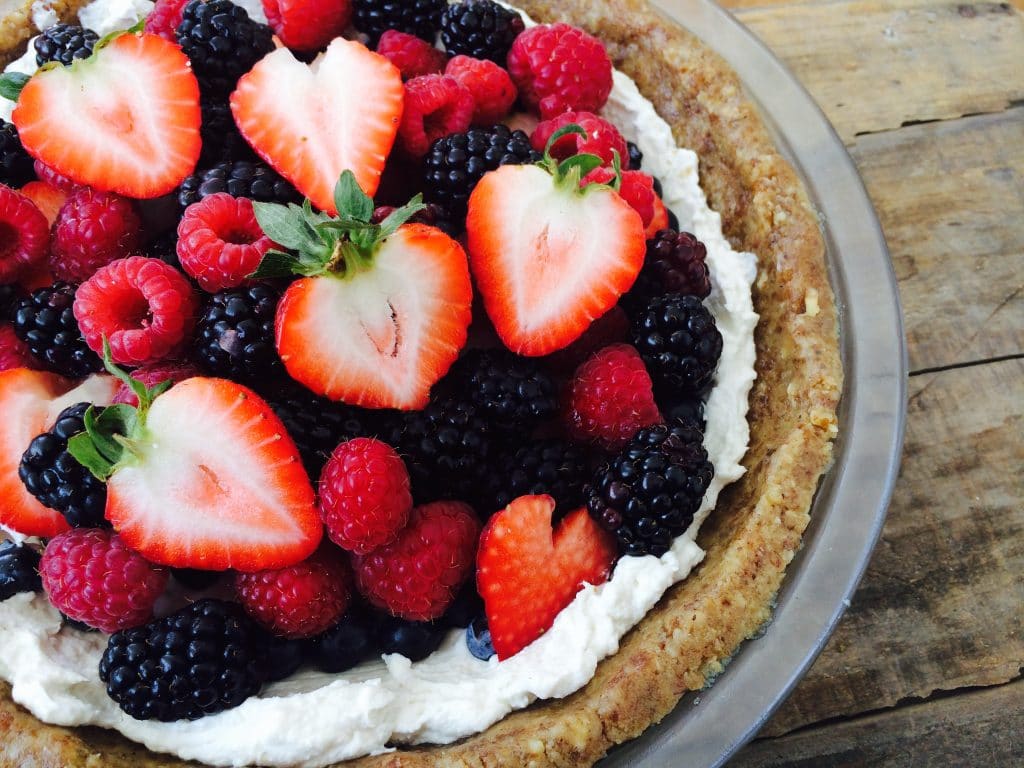 Benefits
Berries are an incredible source of antioxidants, powerful compounds that fight both aging and disease.
Strawberries
balance blood sugar / prevent cancer / anti-inflammatory / anti-aging / support cardiovascular system
1 cup strawberries delivers over 100% of your Vitamin C needs, which keeps your skin plump and youthful.
Blueberries
improve memory & brain function/ prevent cancer / anti-inflammatory / support eye health
1 cup of blueberries delivers 30% of your Vitamin K needs, which supports strong bones.
Raspberries
increase metabolism of fat / prevent cancer / anti-inflammatory / support a healthy weight
Surprising source of omega-3 fats, and a good source of Vitamin C, with about 40% per cup.
Blackberries
anti-aging / improves brain function / prevent cancer
1 cup of blackberries packs a whopping 8g of fiber, to keep you full and your tummy flat.
#HealthyHacks:
*Always choose organic berries. Berries are routinely some of the most heavily sprayed crops (and if the hazmat suit that farm workers wear to spray them is any indicator, the chemicals are quite toxic). What's more organic berries have been found to be more nutrient dense then their conventional counterparts, so choosing organic instantly means you get more phytonutrients for your buck!
I know that at first glance it may seem absurd to pay $5 for a pint of organic blueberries, but if you realize they are essentially the fountain of youth, beauty and good health, you'll realize they're worth it!
*Purchase berries in season (late spring/early summer) at a local farmers market – They will be cheaper, fresher, more nutrient dense, and tastier!
*Stock up on berries when they're on sale at your grocer – They freeze well.
Spread the Love:
If you make this tart, please snap a photo and tag me (@maria_marlowe) in it on Instagram or Facebook (@mariamarlowehealth), or comment below and let me know how you liked it. I love to see your creations!
xx M
Add walnuts to a blender and blend on high until a powder is formed. Add the dates and salt, and blend again until a dough forms. Press into a 9-inch tart pan.
When you refrigerate the coconut milk, it will separate into cream on the top of the can and water on the bottom. So, immediately after pulling out of the fridge, open, spoon cream into a bowl, and carefully pour liquid into a separate bowl, to be used for something else. Do not combine the two, or get any liquid in your cream, as you'll end up with thin and runny frosting.

Add the coconut nectar and vanilla to the cream bowl, and whisk all ingredients together with a fork until well combined. You could also use a bullet blender.
Pile on the berries! Arrange them perfectly in rows, or simply pile them on to cover all of the cream.

Refrigerate for at least 2 hours before serving, to firm up the cream and crust.
*You must use a canned coconut milk with low guar gum. I have found the Organic Thai Kitchen coconut milk to be the best for refrigerating and separating the cream. If you open the can and the liquid and cream are not completely separated, the icing won't come out correctly.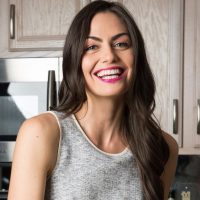 Maria Marlowe
Maria Marlowe is a holistic nutrition and wellness coach who uses real food to help her clients improve their health, weight, and skin. She offers a 28-day healthy eating meal plan that teaches you how to batch cook, as well as one to clear up acne. Her most popular program is EatSLIM, a 10-week online group glass that guides participants to develop healthy eating habits that stick – and lose weight, boost their metabolism, improve their digestion, and quit sugar.
She writes healthy and delicious plant-based recipes for her popular blog. She is also the author of the #1 New Release on Amazon, The Real Food Grocery Guide, the most practical guide to selecting the healthiest foods, without going broke, which has been praised by Dr. Oz and InStyle magazines. You can find her on instagram @mariamarlowe.