A farmer's market find, try tasty amaranth leaves to switch up your green routine.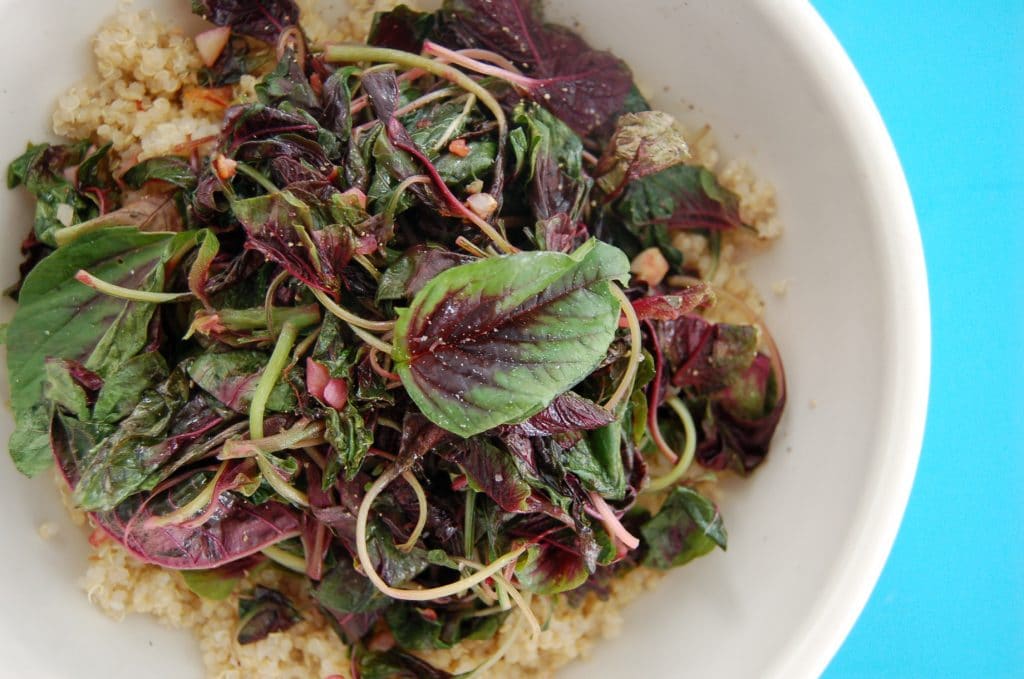 One of my favorite things about shopping at farmer's markets is the access to such a wide variety of produce you'd never see at a regular grocery store. I try to make it a point to try at least one new fruit or vegetable every time I go, and a couple weeks ago I picked up some gorgeous amaranth greens. They are green with big starburts of reddish purple…and you know what that means: plenty of antioxidants!
Nutrition Benefits Amaranth Greens
Amaranth greens are sky high in Vitamins A and C, both needed for glowing skin, and are a good source of a variety of minerals, including calcium, magnesium, iron, and manganese. Amaranth leaves also happen to be a complete protein, as they contain all the essential amino acids. Hello, beauty food!
How to Prepare Amaranth Greens
Like most greens, they don't need a fancy recipe, they just need a quick saute with a little garlic and olive oil, and boom, delicious and nutritious greens. You can serve them as a side, over quinoa or cauliflower rice, or pair them with protein of your choice. I've also used them raw mixed in with salad greens as well.
Pick up some amaranth greens when you see them, and add this simple sauteed amaranth greens recipe to your repertoire.
Heat the oil over medium heat.

Add the garlic and cook for 1 minute. Then add the greens, stirring occasionally until wilted, about 3 minutes or so. Season with salt and pepper to taste.
*Amaranth leaves have long stalks. You can eat the stalks, but trim off any roots if you they are still intact so that you can separate each of the stems.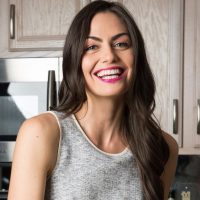 Maria Marlowe
Maria Marlowe is a holistic nutrition and wellness coach who uses real food to help her clients improve their health, weight, and skin. She offers a 28-day healthy eating meal plan that teaches you how to batch cook, as well as one to clear up acne. Her most popular program is EatSLIM, a 10-week online group glass that guides participants to develop healthy eating habits that stick – and lose weight, boost their metabolism, improve their digestion, and quit sugar.
She writes healthy and delicious plant-based recipes for her popular blog. She is also the author of the #1 New Release on Amazon, The Real Food Grocery Guide, the most practical guide to selecting the healthiest foods, without going broke, which has been praised by Dr. Oz and InStyle magazines. You can find her on instagram @mariamarlowe.