The concept of health coaching is just under 30 years old, and only recently became a household term. Looking forward to the next decade, Jim Curtis, exec at the original and largest health coach training program, The Institute for Integrative Nutrition, shares recent advancements and what's to come for this exciting industry.
More about Health Coaching
Try a free sample class at Institute for Integrative Nutrition (IIN).
Learn more about health coaching here.
When you call to enroll at IIN, be sure to mention that you want to "Add Maria Marlowe as my ambassador referral" and you'll get a significant savings off tuition and access to my mentorship/business bootcamp program.
Jim Curtis
Jim Curtis is a keynote speaker, a start-up business consultant, a partner at the wellness center Modrn Sanctuary, and IIN's Head of Brand. Jim was named one of PharmaVOICE's Top 100 Most Influential and Inspirational Leaders in Health three years in a row and is the recipient of PM360's Elite Disrupter Award. A graduate of the Whittemore School of Business at the University of New Hampshire, Jim began his career trading health technology options on the American Stock Exchange. Jim is the author of The Stimulati Experience, which shares his story battling his own undiagnosed illness and, using grounded scientific research, insightful evaluations, and personal stories, takes you on a journey of self-discovery so that you can radically improve your life.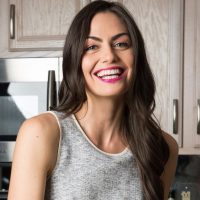 Maria Marlowe
Maria Marlowe is a holistic nutrition and wellness coach who uses real food to help her clients improve their health, weight, and skin. She offers a 28-day healthy eating meal plan that teaches you how to batch cook, as well as one to clear up acne. Her most popular program is EatSLIM, a 10-week online group glass that guides participants to develop healthy eating habits that stick – and lose weight, boost their metabolism, improve their digestion, and quit sugar.
She writes healthy and delicious plant-based recipes for her popular blog. She is also the author of the #1 New Release on Amazon, The Real Food Grocery Guide, the most practical guide to selecting the healthiest foods, without going broke, which has been praised by Dr. Oz and InStyle magazines. You can find her on instagram @mariamarlowe.