Your body is constantly sending you signals about your health. Chronic digestive issues, headaches, fatigue- they're all hints that's something not right. In this episode Dr. Rachel Abrams, Integrative Medicine MD shares how to listen to your body and interpret its many signals, with tips from her book, BodyWise.
Listen to the Become Body Wise Episode
Subscribe to the podcast on iTunes, Stitcher, Soundcloud, Spotify, or wherever you listen to podcasts, so you never miss an episode!
Meet Doctor Rachel
Doctor Rachel is board certified in family medicine and integrative medicine. She received her MD from UC San Francisco and a Master's Degree in Holistic Health from UC Berkeley.
In 2008 she opened the award-winning Santa Cruz Integrative Medicine Clinic. Dr. Abrams treats many of the world's most influential people, from CEOs to billionaire entrepreneurs to Nobel Peace laureates. She has been voted "Best Doctor" in Santa Cruz County from 2009 through 2019. She is the author of BodyWise which teaches readers how to understand their body's innate intelligence for health and healing.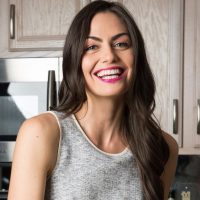 Maria Marlowe
Maria Marlowe is a holistic nutrition and wellness coach who uses real food to help her clients improve their health, weight, and skin. She offers a 28-day healthy eating meal plan that teaches you how to batch cook, as well as one to clear up acne. Her most popular program is EatSLIM, a 10-week online group glass that guides participants to develop healthy eating habits that stick – and lose weight, boost their metabolism, improve their digestion, and quit sugar.
She writes healthy and delicious plant-based recipes for her popular blog. She is also the author of the #1 New Release on Amazon, The Real Food Grocery Guide, the most practical guide to selecting the healthiest foods, without going broke, which has been praised by Dr. Oz and InStyle magazines. You can find her on instagram @mariamarlowe.