Did you know common habits can wreak havoc on hormones? In this episode, Mariza Snyder chiropractor, functional practitioner, and the author of The Essential Oil Hormone Solution explains how to balance the endocrine system in a holistic way. You'll learn how food, habits, and essential oils can help balance your hormone production and harmonize your whole body function.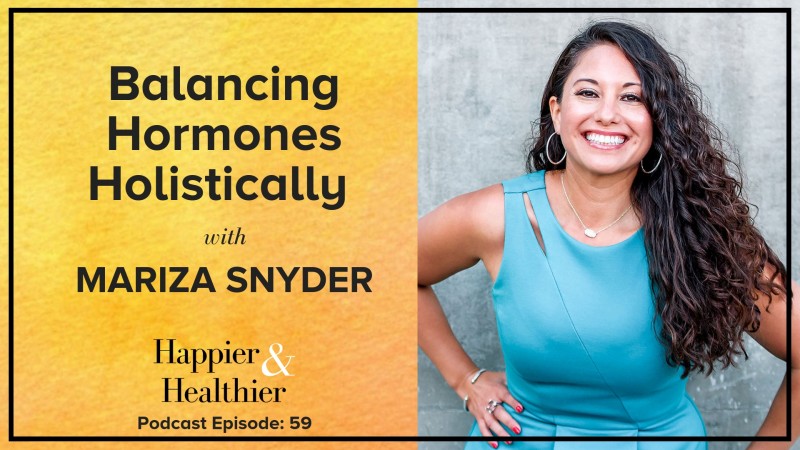 Listen on Your Favorite Podcast App
Listen to the podcast on iTunes, Stitcher, Soundcloud, Spotify, or wherever you listen to podcasts, and don't forget to subscribe so you never miss an episode!
No iTunes? No problem! Listen to the episode here by clicking the pink play button below.
If you enjoy it, leave a review on that platform, email info@mariamarlowe.com a screenshot and we will send you a free 3-day sugar detox meal plan (Here is a post on how to leave an iTunes Review – it only takes a minute or two!).
Meet Dr. Mariza SNYDER
Dr. Mariza Snyder is a chiropractor, functional practitioner, and the author of six books: the bestselling The DASH Diet Cookbook and The Smart Mom's Guide to Essential Oils as well as The Low Glycemic Index Slow Cooker, The Antioxidant Counter, The Water Infusion Detox Book and The Matcha Miracle, and has been featured on Fox News, MindBodyGreen, Dr. Oz, the Huffington Post, and in Women's Health, Shape and Self magazines. She has lectured at wellness centers, hospitals, conferences, and corporations on hormone health and essential oils, nutrition, and detoxification, and she is the host of the Essentially You Podcast which empowers women to become the CEO of their health. You can find her online at www.DrMariza.com.