Do scents affect your health? They sure do! Tune in to learn how aromatherapy and essential oils can affect your mood, skin, and overall health with Amy Galper, B.A., M.A., Co-Founder of the New York Institute of Aromatic Studies.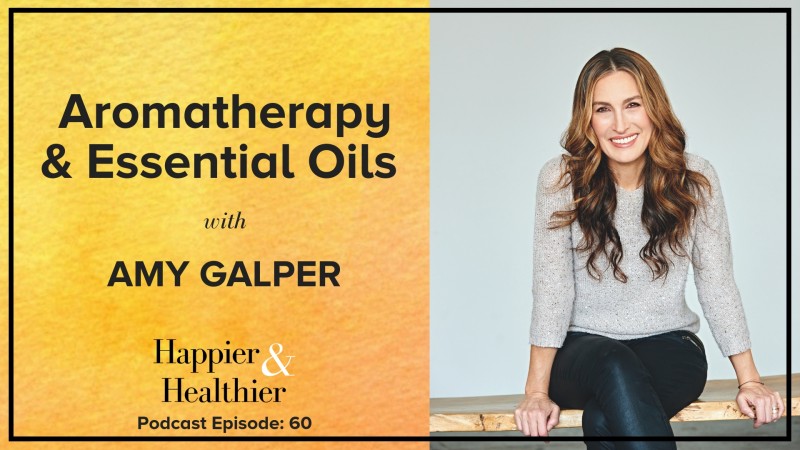 Meet Amy Galper
Amy Galper, B.A., M.A., Co-Founder of the New York Institute of Aromatic Studies (use the code "happier" for 10% off any of their courses). She has been a Certified Aromatherapist since 2001, as well as a passionate advocate, entrepreneur, formulator and consultant in organic beauty and wellness. She has also co-authored the newly released book, Plant Powered Beauty, published by BenBella Books and endorsed by beauty industry visionary Bobbi Brown, Credo Beauty's Annie Jackson and Sophie Uliano, author of Gorgeously Green. Amy is honored and proud to be a member of Credo Beauty's Clean Beauty Council, celebrating, advocating and educating for Clean Beauty and Wellness, along with other influencers and thought leaders in the field.
Amy has appeared as a featured speaker at the Indie Beauty Expo, Women in Flavor & Fragrance Conference, Eco Sessions, along with dozens of media events and conferences. She is a guest lecturer at NYU, and has presented at Nova Southeastern University (NSU) and is a member of the Visiting Faculty at Arbor Vitae School of Traditional Herbalism in New York City.
She has been featured on FOX NEWS, CUNY TV, and FAT MASCARA, and has been quoted as an aromatherapy expert for countless articles and posts about essential oils, as seen in Cosmopolitan Magazine, Vogue.com, Extraordinary Health, Dr. OZ, Prevention, Well and Good, Better Homes and Gardens, Mind Body Green, People, Allure, Refinery29 and many many more.
Want to learn more about aromatherapy and essential oils? Enroll in an online course or in-person class at NY Institute of Aromatic Studies and use the code "happier" for 10% off any course.
Listen on Your Favorite Podcast App
Listen to the podcast on iTunes, Stitcher, Soundcloud, Spotify, or wherever you listen to podcasts, and don't forget to subscribe so you never miss an episode!
Or, listen to the episode by clicking the pink play button below.
If you enjoy it, leave a review on that platform, email info@mariamarlowe.com a screenshot and we will send you a free 3-day sugar detox meal plan (Here is a post on how to leave an iTunes Review – it only takes a minute or two!).