Who doesn't want to stress less and accomplish more? Leading meditation expert Emily Fletcher shares why meditation is the key, and how to combine mindfulness, meditation, and manifestation into a daily practice that improves our life.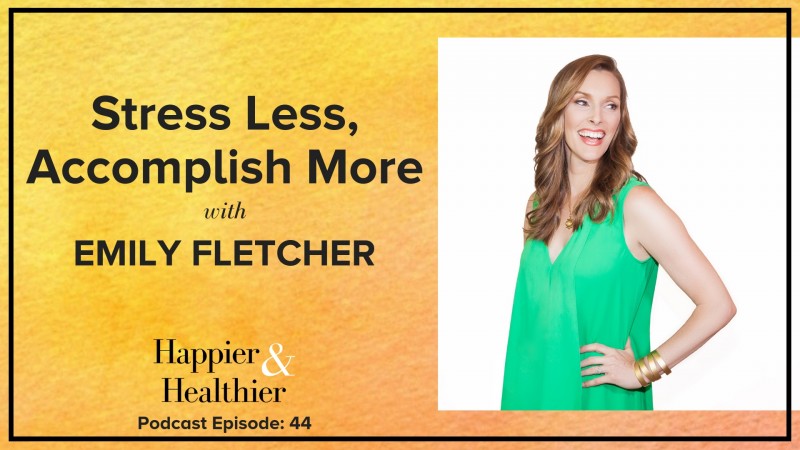 Learn how to Stress Less, Accomplish More
If you'd rather listen to the podcast later or on-the-go, the Happier & Healthier podcast is available on iTunes, Stitcher, Soundcloud, Spotify, or wherever you listen to podcasts. Don't forget to subscribe so you never miss an episode!
Meet Emily Fletcher
Emily Fletcher is the founder of Ziva, the creator of The Ziva Technique, and regarded as a leading expert in meditation for high performance. Her debut book, Stress Less, Accomplish More was published in February 2019 and debuted at #7 out of all books on Amazon. The New York Times, The Today Show, Vogue and ABC News have all featured Emily's work. She's been named one of the top 100 women in wellness to watch, has taught more than 15,000 students around the world and has spoken on meditation for performance at Google, Harvard Business School, Viacom, & Wanderlust. Ziva graduates include Oscar, Grammy, Tony & Emmy award winners, NBA players, Navy SEALs, Fortune 500 CEOs, busy parents and social entrepreneurs.
What is the Ziva Technique?
The Ziva Technique is a powerful trifecta of mindfulness, meditation and manifesting designed to unlock your full potential. It's benefits include decreased stress, deeper sleep, improved immune function, increased productivity and extraordinary performance.
Episode Highlights
Why you haven't actually failed at meditation, you've just been taught wrong
What is meditation (hint: it's not about "clearing your mind")
How two 15-minute meditation sessions a day can tack on 3 hours to your day of productivity
The research behind meditation and why it's so beneficial (we discuss everything from mood to IBS!)
What to do if you find yourself with "I'll be happy when…" syndrome
How meditation helps you release stress from the past
Why the stress release you get from meditation is different from the kind you burn off at the gym
How meditation actually changes our brains (and shrinks our fear center!)
Why meditation trumps caffeine for energy
The anti-aging effect of meditation
Connect
More from Emily Fletcher
Get Emily's Book: Stress Less, Accomplish More
Website: www.zivameditation.com
Instagram @ZivaMeditation
Facebook @ZivaMeditation
Subscribe
Like what you listened to? Subscribe to the podcast on iTunes so you never miss an episode.
Free 3-Day Sugar Detox Meal Plan
If you enjoy the podcast, leave a review on iTunes, email info (at) mariamarlowe.com a screenshot and we will send you a free 3-day sugar detox meal plan (Here is a post on how to leave an iTunes Review – it only takes a minute or two!).
Join the Conversation
Come share your thoughts on this episode and connect with me on Instagram @mariamarlowe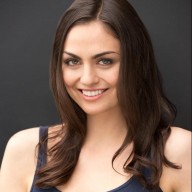 Maria Marlowe
Maria Marlowe is a holistic nutritionist and wellness coach who uses real food to help her clients improve their health, weight, and skin. She offers meal plans, ongoing group workshops both in NYC and online, and writes healthy and delicious recipes for her popular blog. She is also the author of The Real Food Grocery Guide, the most practical guide to selecting the healthiest foods, without going broke. Praised by Dr. Oz and InStyle magazine, it was a #1 new release on Amazon.