Ever feel under the weather after a breakup, loss, or emotionally stressful time? It turns out that our emotions and thoughts have a significant impact on our immune system. As do environmental toxins, another invisible culprit that could be sabotaging your health, despite a healthy diet! I discuss both with naturopath Dr. Christian Gonzalez on the latest Happier & Healthier podcast episode.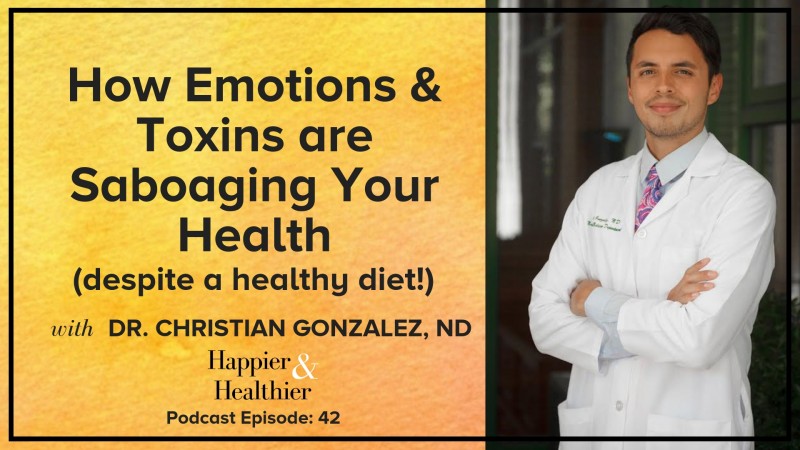 Learn how emotions and toxins affect your health
If you'd rather listen to the podcast later or on-the-go, the Happier & Healthier podcast is available on iTunes, Stitcher, & Spotify, or wherever you listen to podcasts. Don't forget to subscribe so you never miss an episode!
Meet Naturopath Dr. Christian Gonzalez
Dr. Gonzalez completed a two-year residency position at the competitive Cancer Treatment Centers of America in Philadelphia, Pennsylvania. He earned his Bachelor of Science at Rutgers University, where he studied Environmental Business Economics. Although he had planned to pursue dentistry, he was drawn to Naturopathic Medicine and a holistic approach to patient care.
He completed his Doctor of Naturopathic Medicine at the University of Bridgeport College of Naturopathic Medicine in 2014. He provides optimal patient care, by incorporating Naturopathic modalities, such as botanicals, homeopathy, nutrient and nutritional support as well as various other therapeutics.
Doctor G integrates the latest understanding of Naturopathic therapeutics into all types of medical conditions. Dr. Gonzalez applies the belief that the body has an innate ability to heal itself when given favorable conditions to thrive.
Episode Highlights
Why Dr. Gonzalez pivoted from a traditional medical career path to become a naturopathic doctor
How Epstein Barr virus / mono can be reactivated as an adult and what to do about it
The number one natural immune-supporting herb to take if you've had a history of viruses or chronic infections
When and when not to take antibiotics, and how to heal your gut if you do have to take them
The relationship between emotional trauma and illness
The relationship between environmental toxins and illness
The role love and relationships play in health
Connect
More from Dr. Gonzalez
Instagram @doctor.g_
Subscribe
Like what you listened to? Subscribe to the podcast on iTunes so you never miss an episode.
Free Meal Plan When You Leave a Review
If you enjoy the podcast, leave a review on iTunes, email info (at) mariamarlowe.com a screenshot and we will send you a free 3-day sugar detox meal plan (Here is a post on how to leave an iTunes Review – it only takes a minute or two!).
Join the Conversation
Come share your thoughts on this episode and connect with me on Instagram @mariamarlowe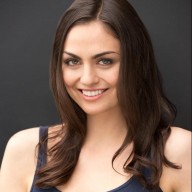 Maria Marlowe
Maria Marlowe is a holistic nutritionist and wellness coach who uses real food to help her clients improve their health, weight, and skin. She offers meal plans, ongoing group workshops both in NYC and online, and writes healthy and delicious recipes for her popular blog. She is also the author of The Real Food Grocery Guide, the most practical guide to selecting the healthiest foods, without going broke. Praised by Dr. Oz and InStyle magazine, it was a #1 new release on Amazon.