If you've ever had body image issues or can't seem to stop eating mindlessly, this one's for you. On this Happier & Healthier Podcast episode, author Cassandra Bodzak shares tips on how you can eat with intention and eliminate negative self talk.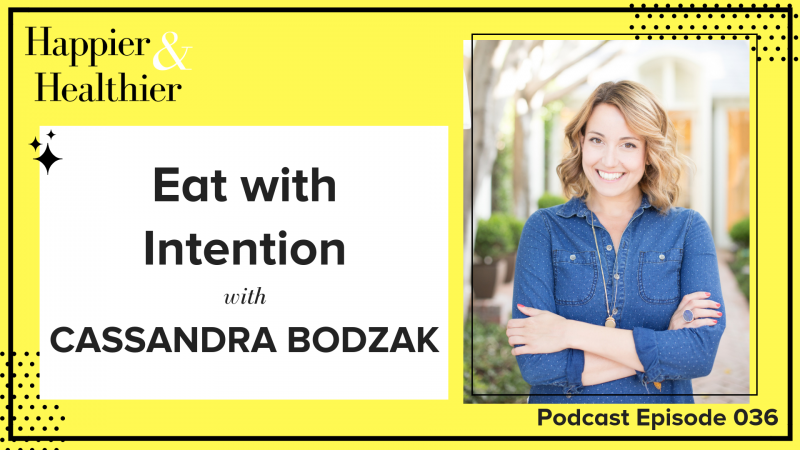 Eat with Intention: Listen on Your Favorite Podcast App
Listen to the podcast on iTunes, Stitcher, Soundcloud, Spotify, or wherever you listen to podcasts, and don't forget to subscribe so you never miss an episode!
No iTunes? No problem! Listen to the episode here by clicking the pink play button below.
If you enjoy it, leave a review on that platform, email info@mariamarlowe.com a screenshot and we will send you a free 3-day sugar detox meal plan (Here is a post on how to leave an iTunes Review – it only takes a minute or two!).
Meet Cassandra Bodzak
Cassandra Bodzak is the author of the best selling cookbook "Eat with Intention: Recipes and Meditations for a Life the Lights You Up". You may know her as the healthy living guru from ABC's The Taste or the leader of online mind-body-soul support communities. She is on a mission to help women all over the world who want to have it all – we're talking big, juicy lives! This means making peace with their body, quieting their mind and reconnecting with their soul. She is here to assist you in tapping back into your body's wisdom so that you can break free from negative self-talk, emotional eating and trying every new fad diet and redirect that energy towards truly living a life that lights you up from the inside out.
Episode Highlights
What does it mean to "eat with intention"? How can we listen to our body and figure out what it's really trying to tell us?
What if our body is telling us to eat a Snickers bar? What is our body really craving, and how do we nourish it properly?
How to notice your mindless eating habits and "crutches": pay attention to what you reach for when you're stressed or overwhelmed
How to decode your cravings and how to replace unhealthy habits with healthy ones
What is Cassandra's food philosophy?
How can you start actually listening to your body and making choices around it?
How to maintain a healthy diet and lifestyle with a hectic life
What is practical magic?
Why positive body image and self-talk is important
How creating a "mean girl" will help you love yourself
Connect
More from Cassandra Bodzak
Website: www.cassandrabodzak.com
Instagram: @CassandraBodzak
Cassandra's FREE 7-Day Mind Body Soul Reboot
Cassandra's Guided Meditation for Loving and Accepting Your Body
Subscribe
Like what you listened to? Subscribe to the podcast on iTunes so you never miss an episode.
Free Meal Plan
If you enjoy the podcast, leave a review on iTunes, email info (at) mariamarlowe.com a screenshot and we will send you a free 3-day sugar detox meal plan (Here is a post on how to leave an iTunes Review – it only takes a minute or two!).
Join the Conversation
Come share your thoughts on this episode and connect with me on Instagram @mariamarlowe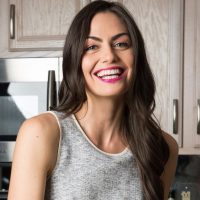 Maria Marlowe
Maria Marlowe is a holistic nutrition and wellness coach who uses real food to help her clients improve their health, weight, and skin. She offers a 28-day healthy eating meal plan that teaches you how to batch cook, as well as one to clear up acne. Her most popular program is EatSLIM, a 10-week online group glass that guides participants to develop healthy eating habits that stick – and lose weight, boost their metabolism, improve their digestion, and quit sugar.
She writes healthy and delicious plant-based recipes for her popular blog. She is also the author of the #1 New Release on Amazon, The Real Food Grocery Guide, the most practical guide to selecting the healthiest foods, without going broke, which has been praised by Dr. Oz and InStyle magazines. You can find her on instagram @mariamarlowe.