Holistic psychology addresses not just our thoughts, but also what we eat, how often we move, and our overall lifestyle. On this episode of the Happier & Healthier Podcast, I sat down with Holistic Psychologist Ellie Cobb Ph.D.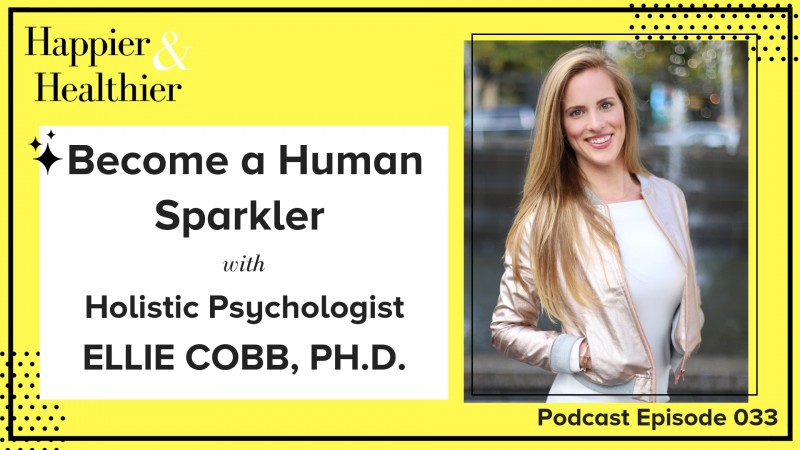 Listen on Your Favorite Podcast App
Listen to the podcast on iTunes, Stitcher, Soundcloud, Spotify, or wherever you listen to podcasts, and don't forget to subscribe so you never miss an episode!
No iTunes? No problem! Listen to the episode here by clicking the pink play button below.
If you enjoy it, leave a review on that platform, email info@mariamarlowe.com a screenshot and we will send you a free 3-day sugar detox meal plan (Here is a post on how to leave an iTunes Review – it only takes a minute or two!).
Meet Ellie Cobb, Ph.D.
Ellie Cobb, Ph.D. is a Holistic Psychologist, Mindfulness Teacher, Wellness Specialist, and Human Sparkler. Dr. Cobb is passionate about empowering others to improve their own well-being through scientifically-backed holistic health and mental wellness strategies. Dr. Cobb received her Ph.D. in Clinical Psychology from Columbia University and her B.A. in Psychology from Princeton University. Dr. Cobb is a published research and author, she teaches meditation at the MNDFL studios in Manhattan, spreads global gratitude as the Director of Psychology for Thankful, and works with clients in private practice in Manhattan at Rennicke & Associates. In addition, Dr. Cobb spreads mental health and wellness by leading workshops, giving talks, writing, teaching, and consulting through her wellness company, Grounded & Gold.
Episode Highlights
What is holistic psychology and why it is more effective than clinical psychology
How nutrition is linked to your mental health and how the foods we eat impact the way we feel
Why connection matters, both in our bodies and with others
How to make genuine connections with others in this age of countless Facebook friends and Instagram followers
The psychological importance of having a gratitude practice
Why you shouldn't put meditation on your to-do list
What to do to avoid (or overcome) burnout
How to feed your internal spark and be a human sparkler
Connect
More from Ellie Cobb PhD
Website: www.groundedandgold.com
Instagram: @groundedandgold
The books we mentioned:
Subscribe
Like what you listened to? Subscribe to the podcast on iTunes so you never miss an episode.
Leave a Review, Get a Free Meal Plan
If you enjoy the podcast, leave a review on iTunes, email info (at) mariamarlowe.com a screenshot and we will send you a free 3-day sugar detox meal plan (Here is a post on how to leave an iTunes Review – it only takes a minute or two!).
Join the Conversation
Come share your thoughts on this episode and connect with me on Instagram @mariamarlowe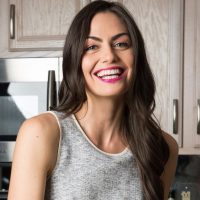 Maria Marlowe
Maria Marlowe is a holistic nutrition and wellness coach who uses real food to help her clients improve their health, weight, and skin. She offers a 28-day healthy eating meal plan that teaches you how to batch cook, as well as one to clear up acne. Her most popular program is EatSLIM, a 10-week online group glass that guides participants to develop healthy eating habits that stick – and lose weight, boost their metabolism, improve their digestion, and quit sugar.
She writes healthy and delicious plant-based recipes for her popular blog. She is also the author of the #1 New Release on Amazon, The Real Food Grocery Guide, the most practical guide to selecting the healthiest foods, without going broke, which has been praised by Dr. Oz and InStyle magazines. You can find her on instagram @mariamarlowe.