Feeling a little off, but can't put your finger on it? Brain fog? Wired and tired? It could be a hidden infection making you sick. In this must-listen episode, I interview Dr. Jess Peatross MD about mold, mercury, pesticides, viruses, and other environmental toxins that could be taking a toll on your health.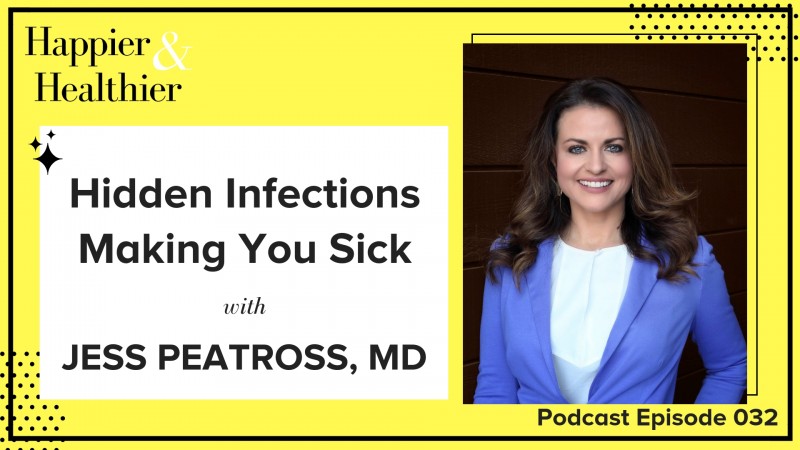 Listen on Your Favorite Podcast App
Listen to the podcast on iTunes, Stitcher, Soundcloud, Spotify, or wherever you listen to podcasts, and don't forget to subscribe so you never miss an episode!
No iTunes? No problem! Listen to the episode here by clicking the pink play button below.
If you enjoy it, leave a review on that platform, email info@mariamarlowe.com a screenshot and we will send you a free 3-day sugar detox meal plan (Here is a post on how to leave an iTunes Review – it only takes a minute or two!).
Meet Dr. Jess Peatross
Dr Jess finished medical school in 2006 after graduating from the University of Louisville and began internal medicine residency thereafter. During this time, she experienced mounting anxiety, hormonal imbalances and adrenal dysfunction due to her long hours and demanding schedule. She also observed that many of her patients never improved and often became a revolving door of admissions in the hospital. In 2012, after health issues began to worsen, Dr Jess had a personal awakening. She began to realize that allopathic medicine did not have all the answers she was so earnestly seeking. She then sought training in the world of holistic healing, energy work, nutrigenomics, stem cells, cannabis, and Gerson therapy. Her philosophy now embodies true health as being all encompassing of mind, body and spirit.
Dr Jess has her own line of wildcrafted herbal supplements for chronic everyday conditions and is founder and chief medical officer of DrJess.com.
Episode Highlights
What is mold toxicity, what are the symptoms, and how do we treat it? (If you've ever had a leak in your house, don't miss this!)
Mercury toxicity: what it is and how to handle it (If you love sushi or seafood, listen up!)
Viruses: how do Epstein Barr and other viruses from our childhood and teen years affect our health down the line?
The importance of finding your purpose for health
much more
Connect
More from Dr Jess
Website: www.drjess.com
Instagram: @dr.jess.md
Subscribe
Like what you listened to? Subscribe to the podcast on iTunes so you never miss an episode.
Free Meal Plan
If you enjoy the podcast, leave a review on iTunes, email info (at) mariamarlowe.com a screenshot and we will send you a free 3-day sugar detox meal plan (Here is a post on how to leave an iTunes Review – it only takes a minute or two!).
Join the Conversation
Come share your thoughts on this episode and connect with me on Instagram @mariamarlowe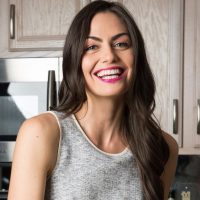 Maria Marlowe
Maria Marlowe is a holistic nutrition and wellness coach who uses real food to help her clients improve their health, weight, and skin. She offers a 28-day healthy eating meal plan that teaches you how to batch cook, as well as one to clear up acne. Her most popular program is EatSLIM, a 10-week online group glass that guides participants to develop healthy eating habits that stick – and lose weight, boost their metabolism, improve their digestion, and quit sugar.
She writes healthy and delicious plant-based recipes for her popular blog. She is also the author of the #1 New Release on Amazon, The Real Food Grocery Guide, the most practical guide to selecting the healthiest foods, without going broke, which has been praised by Dr. Oz and InStyle magazines. You can find her on instagram @mariamarlowe.