Ready to take your side hustle to the next level? Almost 30 podcast hosts Krista Williams and Lindsey Simcik sit down for a chat on the Happier & Healthier Podcast to share how they grew their podcast into a soul-satisfying career and will inspire you to take a leap of faith as well.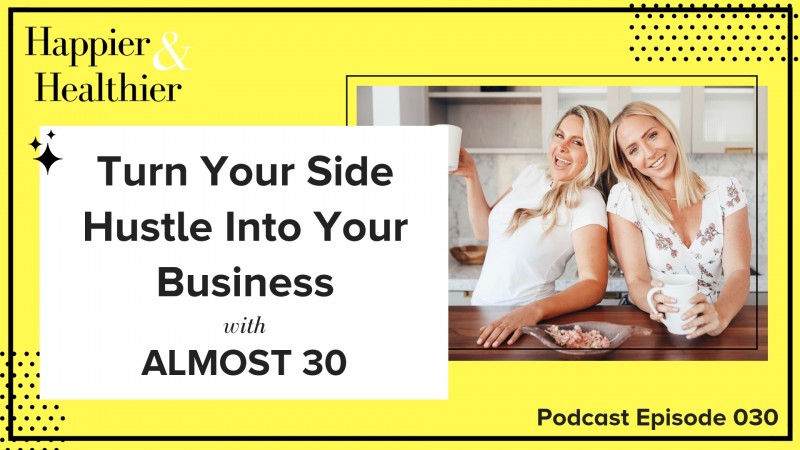 Listen on Your Favorite Podcast App
Listen to the podcast on iTunes, Stitcher, Soundcloud, Spotify, or wherever you listen to podcasts, and don't forget to subscribe so you never miss an episode!
If you enjoy it, leave a review on that platform, email info@mariamarlowe.com a screenshot and we will send you a free 3-day sugar detox meal plan (Here is a post on how to leave an iTunes Review – it only takes a minute or two!).
No iTunes? No problem! Listen to the episode here by clicking the pink play button below.
Meet Almost 30 (Krista and Lindsey)
Called "Your virtual best friends" by The Thirty and "The Best Wellness Podcast to Listen to Right Now" by Coveteur, Almost 30 Podcast is an lifestyle podcast, brand and community who invites their listeners to live their most authentic life while navigating any transition they may be going through. Krista Williams and Lindsey Simcik blend raw and hilarious antidotes with interviews from amazing guests that provide their listeners with actionable aha! moments. It has reached over 3 million people in 195 countries. Their events have spread to more than 1,500 people, and they've spoken to and collaborated with brands like Nicole Miller, Tory Burch, Kopari, HUM Nutrition and more. They've been featured in Nordstrom's The Thread, Brit + Co, Chalkboard Magazine, Buzzfeed and more. Both Krista and Lindsey both have their side businesses as well. Krista runs The Hundred Blog and Lindsey is an actress.
Episode Highlights
What inspired the Almost 30 podcast?
How did you go from having the podcast as a side hustle to a full-time job? What feels different about working for yourselves and not for someone else?
How do you deal with comparison, especially in the age of social media?
How has manifesting played a role in your lives?
What does taking a creative business risk look like? How did you find the courage to go for it?
What is the biggest thing you have ever manifested?
CONNECT
More from Almost 30
Website: www.almost30podcast.com
Instagram @almost30podcast
Follow Krista @hundredblog
Follow Lindsey @lindseysimcik
Facebook @Almost30podcast
Tune in to the Almost 30 podcast on iTunes here.
SUBSCRIBE
Like what you listened to? Subscribe to the podcast on iTunes so you never miss an episode.
FREE MEAL PLAN
If you enjoy the podcast, leave a review on iTunes, email info (at) mariamarlowe.com a screenshot and we will send you a free 3-day sugar detox meal plan (Here is a post on how to leave an iTunes Review – it only takes a minute or two!).
JOIN THE CONVERSATION
Come share your thoughts on this episode and connect with me on Instagram @mariamarlowe
Or head to the dedicated Happier & Healthier Facebook Group and let us know what action you're taking as a result of this podcast to live a little happier and healthier.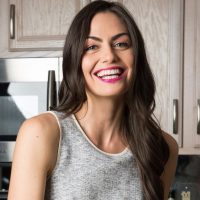 Maria Marlowe
Maria Marlowe is a holistic nutrition and wellness coach who uses real food to help her clients improve their health, weight, and skin. She offers a 28-day healthy eating meal plan that teaches you how to batch cook, as well as one to clear up acne. Her most popular program is EatSLIM, a 10-week online group glass that guides participants to develop healthy eating habits that stick – and lose weight, boost their metabolism, improve their digestion, and quit sugar.
She writes healthy and delicious plant-based recipes for her popular blog. She is also the author of the #1 New Release on Amazon, The Real Food Grocery Guide, the most practical guide to selecting the healthiest foods, without going broke, which has been praised by Dr. Oz and InStyle magazines. You can find her on instagram @mariamarlowe.