Are you confused about what direction to take or wondering what you were put on this planet to do? Soul astrologer Danielle Paige shares how astrology and understanding your birth chart can uncover your path on this episode of the Happier & Healthier Podcast (Spoiler Alert: she reads mine as an example – and it's creepy how spot on it is about my career path).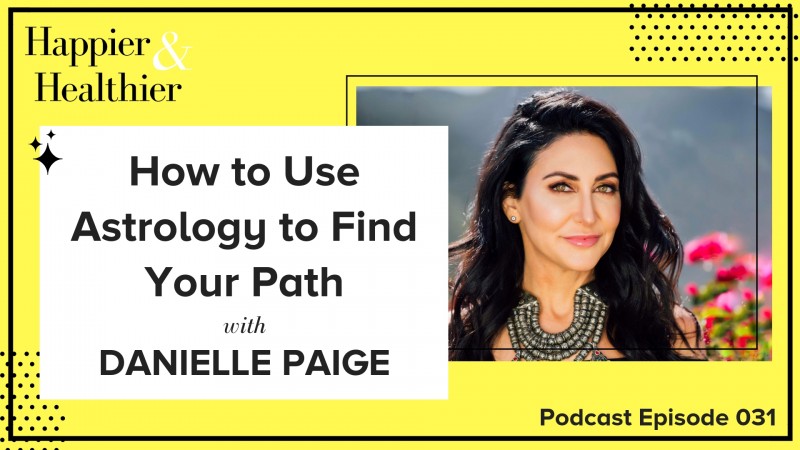 Listen on Your Favorite Podcast App
Listen to the podcast on iTunes, Stitcher, Soundcloud, Spotify, or wherever you listen to podcasts, and don't forget to subscribe so you never miss an episode!
If you enjoy it, leave a review on that platform, email info@mariamarlowe.com a screenshot and we will send you a free 3-day sugar detox meal plan (Here is a post on how to leave an iTunes Review – it only takes a minute or two!).
No iTunes? No problem! Listen to the episode here by clicking the pink play button below.
Meet Danielle Paige
Danielle Paige is a soul astrologer, intuitive, spiritual teacher and founder of Purposely Divine: School For Your Soul. A self-taught astrologer who's been reading the stars for lifetimes, she devoted herself to learning different types of healing to create her own style of spiritual medicine. By fusing astrology, energetic healing and intuition, she is able to tap into her clients subconscious and help them heal their wounds, old patterns, and come back home to their bodies. She's lectured on mysticism and astrology at Glossier, WITMA, and The Assemblage in NYC. Her work has also been featured in Vogue, London Standard, The Numinous, Thought Catalog, JDate, CBS Radio and more.
Episode Highlights
What inspired you to get into astrology?
There's definitely an air of woo-woo around astrology, so what would you say to the skeptics?
How can we use astrology to improve our lives?
Whats going on astrologically in 2019? What do we have to look forward to?
What's the big deal with retrogrades? What should we do during retrogrades?
How do we use our chart to help us find our path and purpose?
the blue light blocking glasses we mentioned
CONNECT
More from Danielle Paige
Website: www.healingpaige.com
Instagram @iamdaniellepaige
Facebook @daniellepaigehealing
SUBSCRIBE
Like what you listened to? Subscribe to the podcast on iTunes so you never miss an episode.
FREE MEAL PLAN
If you enjoy the podcast, leave a review on iTunes, email info (at) mariamarlowe.com a screenshot and we will send you a free 3-day sugar detox meal plan (Here is a post on how to leave an iTunes Review – it only takes a minute or two!).
JOIN THE CONVERSATION
Come share your thoughts on this episode and connect with me on Instagram @mariamarlowe
Or head to the dedicated Happier & Healthier Facebook Group and let us know what action you're taking as a result of this podcast to live a little happier and healthier.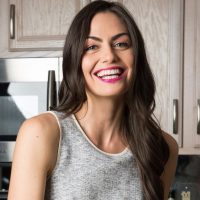 Maria Marlowe
Maria Marlowe is a holistic nutrition and wellness coach who uses real food to help her clients improve their health, weight, and skin. She offers a 28-day healthy eating meal plan that teaches you how to batch cook, as well as one to clear up acne. Her most popular program is EatSLIM, a 10-week online group glass that guides participants to develop healthy eating habits that stick – and lose weight, boost their metabolism, improve their digestion, and quit sugar.
She writes healthy and delicious plant-based recipes for her popular blog. She is also the author of the #1 New Release on Amazon, The Real Food Grocery Guide, the most practical guide to selecting the healthiest foods, without going broke, which has been praised by Dr. Oz and InStyle magazines. You can find her on instagram @mariamarlowe.