This list of top health, wellness, and fitness gifts for healthy people may make you want to gift some to yourself (I know I already did!). Or, you can always forward these to your secret santa (wink wink).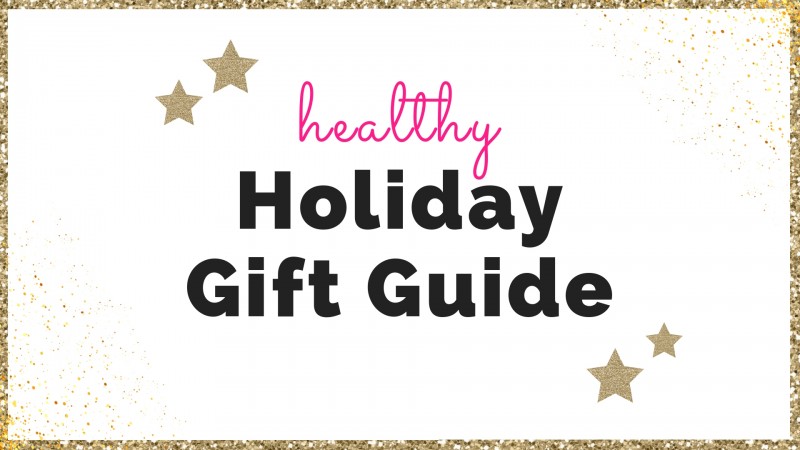 Cute Workout Gear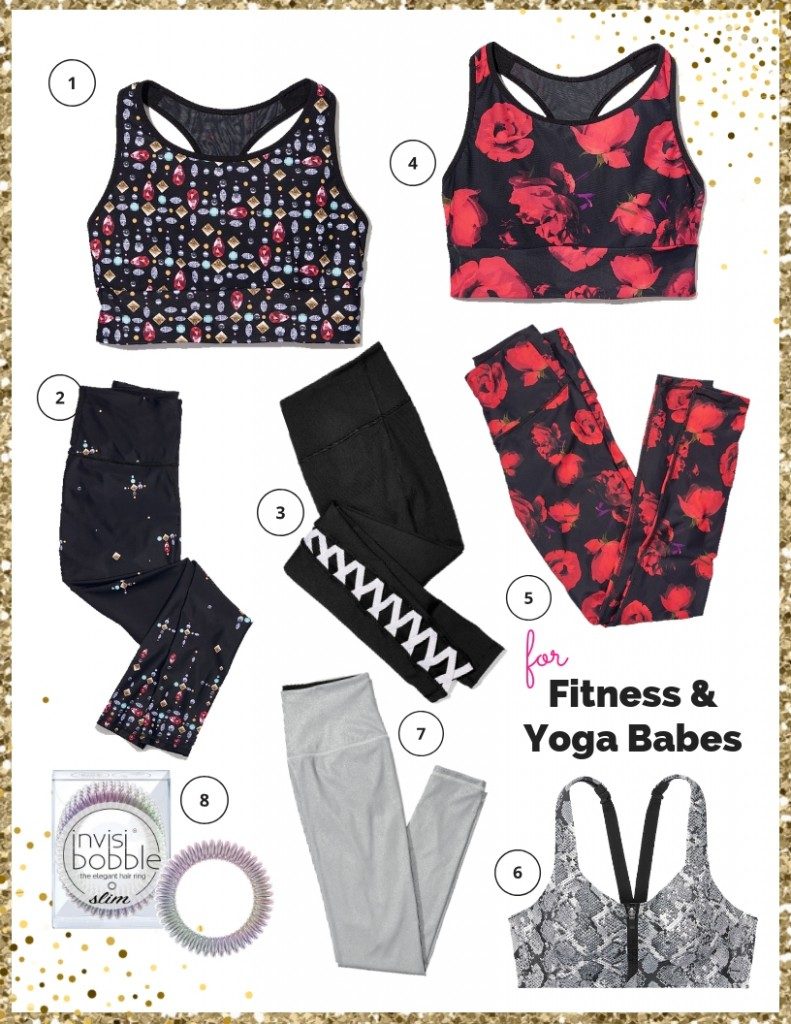 I'm obsessed with the super cute Victoria's Secret workout gear. In fact, I ordered a few of these sets for myself…Merry Christmas to me!
1. Victoria's Secret Gem Sport Bra ($24.50)
2. Victoria's Secret Gem Printed Tight ($59.50)
3. Victoria's Secret Criss-Cross Tight ($69.50)
4. Victoria's Secret Rose Sport Bra ($24.50)
5. Victoria's Secret Rose Printed Tight ($59.50)
6. Victoria's Secret Front-Close Sport Bra ($49.50)
7. Victoria's Secret Shine Tight ($69.50)
8. Invisibobble Hair Rings ($8)
Non Toxic Makeup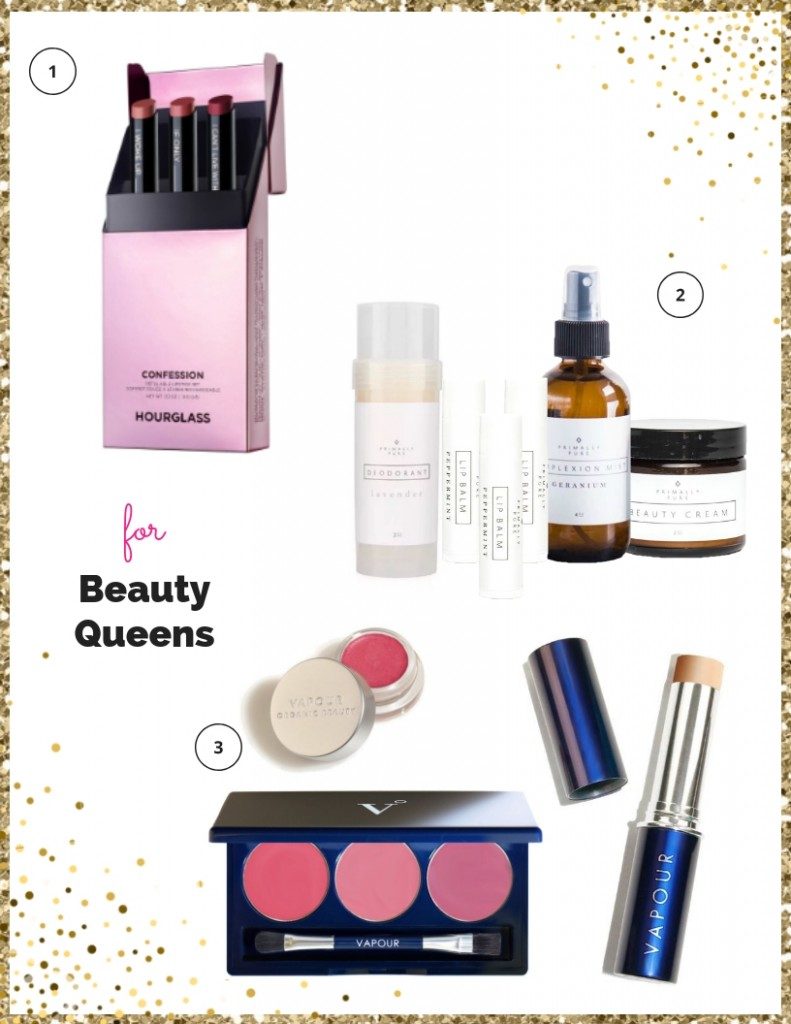 1. Hourglass Cosmetics Refillable Lipstick Set ($60)
Hourglass makes non-toxic AND lux makeup, and I can't get enough of their gorgeous refillable lipsticks. They have an entire line of makeup, so cute add ons would be pretty eye shadows, too.
2. Primally Pure Starter Kit ($48)
My absolute favorite all natural and organic skincare line, this stuff works incredibly! Their Primally Pure Blue Tansy Beauty Cream ($40) is youth in a bottle, and their Lip Balms ($4 each or set of 5 for $18) are a staple in my house (they are in literally every room, purse, and jacket pocket!). For a frequent traveler, pick up the Complexion Mist ($20) which is a must-have when I'm flying, as it's a hydrosol which prevents your skin from drying out in the incredibly dry cabin.
While Hourglass cosmetics is non-toxic, Vapour Organics takes it a step further, and creates organic makeup. Check out my favorite products and shades and my podcast interview with the co-founder here (one of my favorite episodes!).
Sustainable Gifts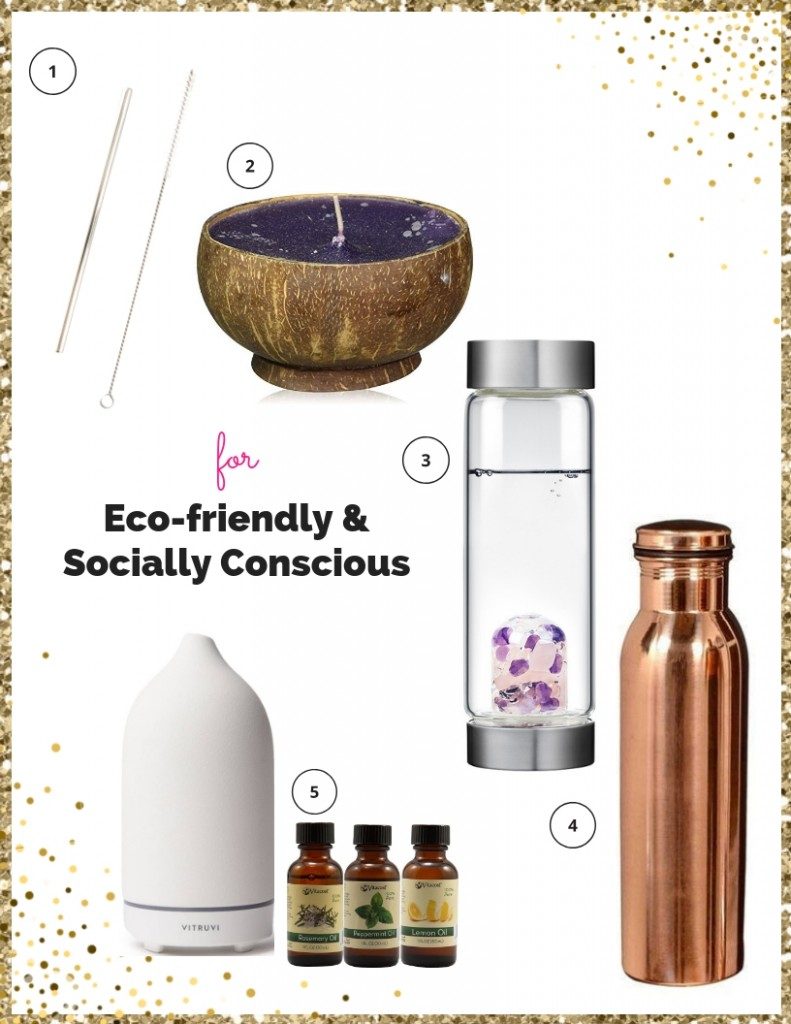 1. Stainless Steel Straw ($13)
2. Coconut Bowl Candles ($8-$26)
3. VitaJuwel Gem Water Wellness Bottle ($78)
This gorgeous statement making glass + gem water bottle makes drinking and toting around a water bottle all day a little more fun.
4. Copper Water Bottle ($48)
Copper is an essential mineral for the body. In Ayurveda, storing and drinking water from a copper bottle is said to balance all three doshas and maintain good health.
5. Essential Oil Diffuser ($119)
Essential oil diffusers are a healthier and less wasteful alternative to synthetic fresheners and candles, which can cause headaches and be harmful to the respiratory system. Throw in a few Vitacost essential oils to get your friend started.
Books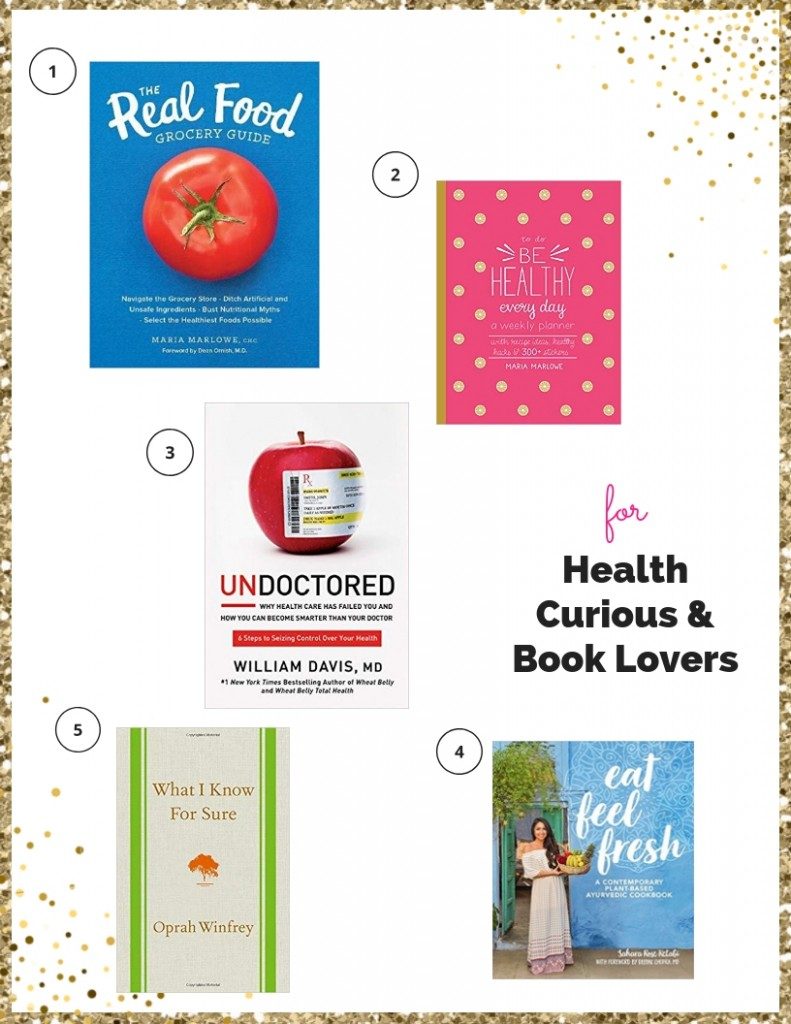 1. The Real Food Grocery Guide
Know someone who feels confused or overwhelmed at the grocery store? Or is just starting to get into "healthy eating"?
The Real Food Grocery Guide has been dubbed "the most practical guide to healthy eating" by renowned physician, Dr. Dean Ornish. It's a comprehensive and practical guide to choosing the healthiest foods based on science, not dogma or politics.
I wrote the book to answer the most common food questions from clients and followers, such as "whats the best protein powder?", "is gluten free better?", "do I really need to spend more on organic?", and everything in between.
I guide you through every aisle of the grocery store explaining health benefits, concerns, so you feel confident choosing the (truly) healthiest foods for you and your family. Great for college students, new moms, or anyone looking to improve their health.
2. Be Healthy Everyday Planner
Be Healthy Everyday Planner is also by yours truly. A weekly paper planner to help you reach your health and wellness goals by helping you focus on one healthy habit at a time, track your progress, and stay motivated. Plus, it's super cute and has stickers.
3. Undoctored
A closer look at why you are your best doctor, by Dr. William Davis.
A modern Ayurvedic cookbook by my friend Sahara Rose.
An inspiring and uplifting book from the queen herself, Oprah. Organized by theme―joy, resilience, connection, gratitude, possibility, awe, clarity, and power―these essays offer a rare, powerful and intimate glimpse into the heart and mind of one of the world's most extraordinary women―while providing readers a guide to becoming their best selves
Food Subscriptions
Sakara – Meal Delivery Subscription
Sakara offers three-or five-day organic, plant-based, gluten-free meal delivery. For a busy person trying to eat healthy, this is a lifesaver! The meals are delivered fresh every 2-3 days, and just have to be reheated.
Use the code XOMARLOWE for 20% off your order!
Vital Choice Alaskan Wild Seafood
For a seafood lover, get them a sampler of some of the highest quality wild Alaskan salmon and seafood. Alaska has the highest and most strict standards for seafood, making them the best choice for the healthiest and most nutritious seafood.
Experiences
Infrared Sauna
Infrared saunas are great for detoxification and relaxation (along with many other benefits). Give your friend a healthy experience by taking them to a sauna.
Spa Day Treatment
Treat your friend to a pamper session at a local spa. Nuansa Spa is a great spa located in NYC.
Non-Toxic Mani + Pedi
Treat your friend who always has her nails done to a non-toxic mani-pedi. Plenty of healthier nail salons are popping up across major cities (Check our Sundays Studio in NYC), or if you can't find one nearby, consider buying her a few non-toxic polishes -like these beauties from Pacifica ($9) – and asking a local nail salon to use those instead. (don't forget the non-toxic base and top coat!)
Creative Class
There are classes for everything these days, so go unleash your inner creativity with a friend and make a day out of it. Gift them a voucher for a creative class – painting, jewelry-making, singing, or whatever creative outlet they love.
Meditation/Yoga Class
Giving the gift of mindfulness and peace is perfect around the stressful holiday season. Core Power Yoga is my fave yoga studio and has locations nationwide. Another great option is Bryan Kest's yoga in Santa Monica, LA (or heck, for someone with a baby or that likes working out at home, you could get them an online subscription to a yoga or fitness studio.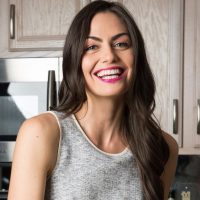 Maria Marlowe
Maria Marlowe is a holistic nutrition and wellness coach who uses real food to help her clients improve their health, weight, and skin. She offers a 28-day healthy eating meal plan that teaches you how to batch cook, as well as one to clear up acne. Her most popular program is EatSLIM, a 10-week online group glass that guides participants to develop healthy eating habits that stick – and lose weight, boost their metabolism, improve their digestion, and quit sugar.
She writes healthy and delicious plant-based recipes for her popular blog. She is also the author of the #1 New Release on Amazon, The Real Food Grocery Guide, the most practical guide to selecting the healthiest foods, without going broke, which has been praised by Dr. Oz and InStyle magazines. You can find her on instagram @mariamarlowe.