What is naturopathic medicine? Tune in to the latest Happier & Healthier podcast episode to learn about naturopathic medicine with Naturopathic Doctor, Susan Cucchiara.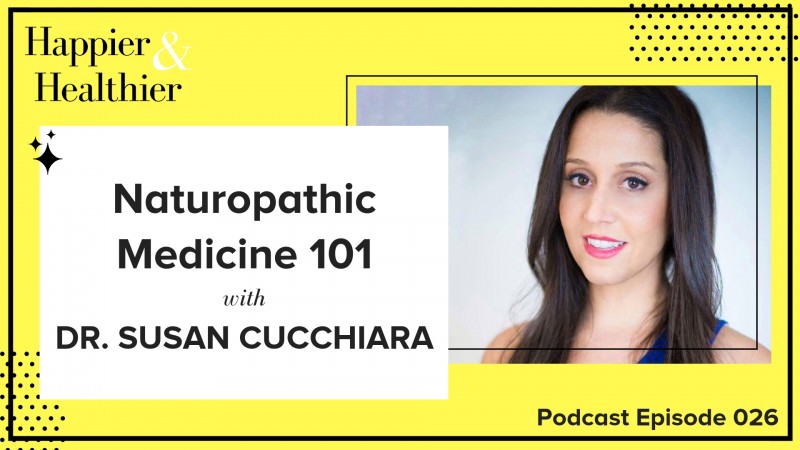 Meet Dr. Susan Cucchiara
Dr. Susan Cucchiara is a Naturopathic Doctor. She graduated from Southwest College of Naturopathic Medicine in Tempe, Arizona. She is trained as primary care physician and is an expert in natural and holistic health. Dr. Cucchiara sees everyone from pediatrics to geriatrics and treats everything from the common cold up and through chronic diseases. She does so using safe and effective healing techniques specifically tailored to each unique individual. Dr. Cucchiara specializes in nutrition, metabolic disorders, gastrointestinal disorders, autoimmunity, mental health disorders and more! She is currently practicing in New York City and also offers phone and video consultations.
Listen on Your Favorite Podcast App
Listen to the podcast on iTunes, Stitcher, Soundcloud, Spotify, or wherever you listen to podcasts, and don't forget to subscribe so you never miss an episode!
If you enjoy it, leave a review on that platform, email info@mariamarlowe.com a screenshot and we will send you a free 3-day sugar detox meal plan (Here is a post on how to leave an iTunes Review – it only takes a minute or two!).
No iTunes? No problem! Listen to the episode here by clicking the pink play button below.
Episode Highlights
What is a naturopathic doctor (ND) and how are they different from a MD?
When we go to see an ND like yourself, what can we expect – how is the patient experience different than MD?
Which common conditions can naturopathic medicine really effectively treat?
Are there any conditions where a traditional MD would be better suited? Or can an ND be your primary physician?
What are some of the more innovative naturopathic therapies that you won't find in a traditional doctors office? Dr. Sue explains ozone therapy, homeopathy, bio-therapeutic drainage, herbs/ botanical medicine, and hydrotherapy.
What do we need to know about detoxing?
Stress is an epidemic – how is it affecting our health, and how can we mitigate it using naturopathic remedies?
CONNECT
More from Dr. Susan Cucchiara
Instagram: @Dr.SusanC
Facebook: @Dr.SusanCucchiara
SUBSCRIBE
Like what you listened to? Subscribe to the podcast on iTunes so you never miss an episode.
FREE MEAL PLAN
If you enjoy the podcast, leave a review on iTunes, email info (at) mariamarlowe.com a screenshot and we will send you a free 3-day sugar detox meal plan (Here is a post on how to leave an iTunes Review – it only takes a minute or two!).
JOIN THE CONVERSATION
Come share your thoughts on this episode and connect with me on Instagram @mariamarlowe
Or head to the dedicated Happier & Healthier Facebook Group and let us know what action you're taking as a result of this podcast to live a little happier and healthier.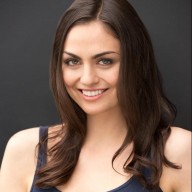 Maria Marlowe
Maria Marlowe is a holistic nutritionist and wellness coach who uses real food to help her clients improve their health, weight, and skin. She offers meal plans, ongoing group workshops both in NYC and online, and writes healthy and delicious recipes for her popular blog. She is also the author of The Real Food Grocery Guide, the most practical guide to selecting the healthiest foods, without going broke. Praised by Dr. Oz and InStyle magazine, it was a #1 new release on Amazon.