Social media sensation Kristina Bucaram, aka Fully Raw Kristina, chats how eating more vegetables and fruit reversed her Type 2 diabetes, how to help your family get on board with healthy eating (when they resist), and why upgrading your diet improves your mental and emotional health in addition to physical health.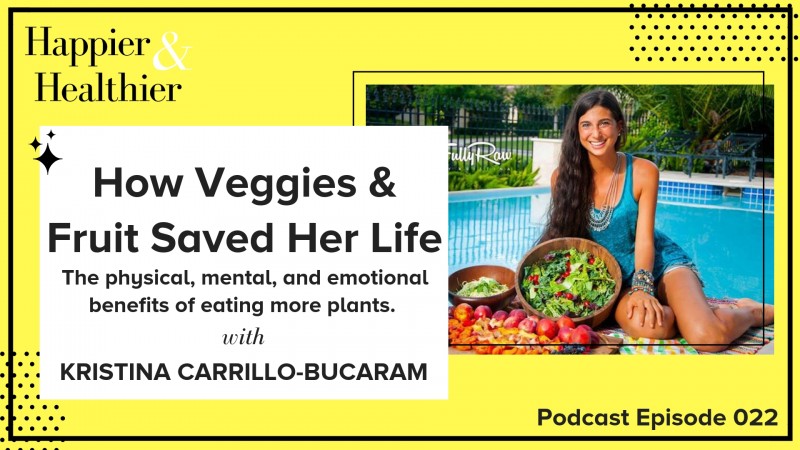 Listen on Your Favorite Podcast App
Listen to the podcast on iTunes, Stitcher, Soundcloud, Spotify, or wherever you listen to podcasts, and don't forget to subscribe so you never miss an episode!
If you enjoy it, leave a review on that platform, email info@mariamarlowe.com a screenshot and we will send you a free 3-day sugar detox meal plan (Here is a post on how to leave an iTunes Review – it only takes a minute or two!).
No iTunes? No problem! Listen to the episode here by clicking the pink play button below.

Meet Kristina Carillo-Bucaram (Fully Raw Kristina)
YouTube celebrity and Raw Vegan chef
Kristina
Carrillo-Bucaram is the founder and creator of FullyRaw, and the Rawfully Organic co-op. She is a pioneer in the national and local, organic food co-operative movement and she is based in Houston, TX. She has been 100% raw for over 13 years, and advocated for adding more raw and vegan meals to your diet at
www.fullyraw.com
and her new The FullyRaw App. This app includes over 100 recipes, videos, and is the most comprehensive vegan app on the market.
Episode Highlights
How illness – Type 2 diabetes – made her an advocate for eating more veggies and fruits. It took her about a year and a half to reverse her diabetes eating raw vegan, but within just 3 days, she already started seeing changes – like her migraines and fatigue went away, and she generally felt better.
Beyond physical healing, how upgrading her diet also improved her self love, emotional, and mental health.
How to deal with family members who are skeptical about healthy eating or not onboard with you changing. You can't be a prophet in your own home- don't preach to your family – they will resist. Let them observe your positive changes and come to you with questions.
How do you eat healthy when you're traveling or have a busy social life?
The importance of being authentic and sharing your light, knowledge, and passion, and the ripple effect it has on other – typically without your knowledge.
How do you deal with bullying and gossip? While Kristina has over a million followers who love and adore her, she has her fair share of bullies who harass her online. She shares her tips for dealing with gossip, hate, and bullying.
Why silence is typically not the best way to deal with problems – and how communication can help you move forward with whatever is blocking you.
Whats in Kristina's morning green juice.
Her favorite VEGETABLES for protein that no one realizes are a good source of protein. (Ideally you'd be eating them everyday.)
CONNECT
Instagram @FullyRawKristina
Youtube @FullyRawKristina
SUBSCRIBE
Like what you listened to? Subscribe to the podcast on iTunes so you never miss an episode.
FREE MEAL PLAN
If you enjoy the podcast, leave a review on iTunes, email info (at) mariamarlowe.com a screenshot and we will send you a free 3-day sugar detox meal plan (Here is a post on how to leave an iTunes Review – it only takes a minute or two!).
JOIN THE CONVERSATION
Come share your thoughts on this episode and connect with me on Instagram @mariamarlowe
Or head to the dedicated Happier & Healthier Facebook Group and let us know what action you're taking as a result of this podcast to live a little happier and healthier.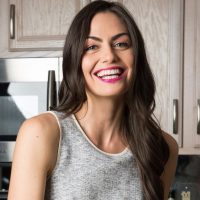 Maria Marlowe
Maria Marlowe is a holistic nutrition and wellness coach who uses real food to help her clients improve their health, weight, and skin. She offers a 28-day healthy eating meal plan that teaches you how to batch cook, as well as one to clear up acne. Her most popular program is EatSLIM, a 10-week online group glass that guides participants to develop healthy eating habits that stick – and lose weight, boost their metabolism, improve their digestion, and quit sugar.
She writes healthy and delicious plant-based recipes for her popular blog. She is also the author of the #1 New Release on Amazon, The Real Food Grocery Guide, the most practical guide to selecting the healthiest foods, without going broke, which has been praised by Dr. Oz and InStyle magazines. You can find her on instagram @mariamarlowe.