Traditional Chinese Medicine (TCM) dates back 2,500 years and is still widely used in China. It's a medical system that looks at the whole person, and treats dis-ease by getting to the root underlying problem. In this episode, Aimee Raupp MS LAc, a TCM practitioner, acupuncturist, and herbalist specializing in fertility, autoimmunity, and women's health shares her insights on becoming our healthiest selves through Traditional Chinese Medicine.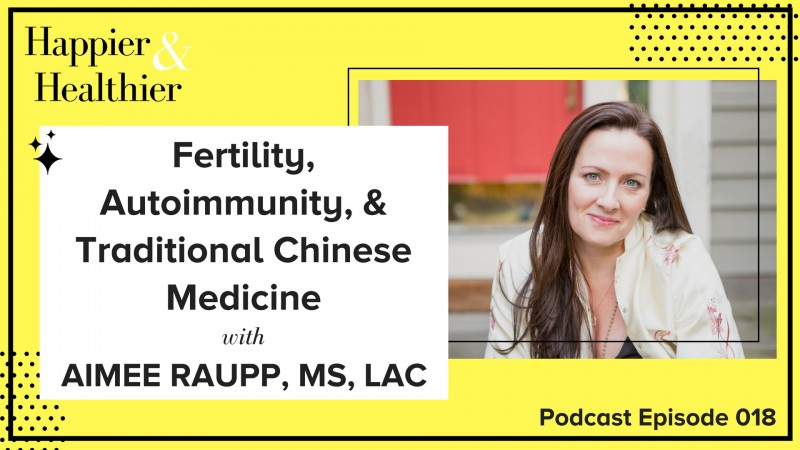 Listen on Your Favorite Podcast App
Listen to the podcast on iTunes, Stitcher, Soundcloud, Spotify, or wherever you listen to podcasts, and don't forget to subscribe so you never miss an episode!
If you enjoy it, leave a review on that platform, email info@mariamarlowe.com a screenshot and we will send you a free 3-day sugar detox meal plan (Here is a post on how to leave an iTunes Review – it only takes a minute or two!).
No iTunes? No problem! Listen to the episode here by clicking the pink play button below.
Meet Aimee Raupp
Aimee Raupp, MS, LAc, is a renowned women's health & wellness expert and the author of the books Chill Out & Get Healthy, Yes, You Can Get Pregnant, and Body Belief. A licensed acupuncturist and herbalist in private practice in New York, she holds a Master of Science degree in Traditional Oriental Medicine from the Pacific College of Oriental Medicine and a Bachelor's degree in biology from Rutgers University. Aimee is also the founder of the Aimee Raupp Beauty line of hand-crafted, organic skincare products. She has appeared on The View, and has been featured in Glamour, Allure, Well + Good, GOOP, Shape, and Redbook, and has received endorsement from Deepak Chopra, Arianna Huffington, Dr. Christiane Northrup, and Gabby Bernstein for her work in helping thousands of women to improve their vitality, celebrate their beauty, and reconnect to the presence of their optimal health. Aimee is also an active columnist and blogger for Thrive Global, Acupuncture Today, MindBodyGreen, WellRounded NY, and Motherly, and is a frequent speaker at women's health & wellness conferences across the nation. She engages her large community worldwide through her online programs and with her website, www.aimeeraupp.com.
Episode Highlights
What is Traditional Chinese Medicine (TCM)? It's one of the oldest medical systems in the world, dating back 2,500 years, that is still widely used in greater China. Acupuncture is just one of the more well-known parts of it. It also includes herbal medicine, massage (tui na), exercise (qigong), and dietary therapy. TCM encourages eating and living with the seasons. TCM doctors aim to trace symptoms to patterns of underlying disharmony by looking at all facets of a persons life (diet, emotions, lifestyle, sleep habits, environment, etc.) and measuring the pulse, inspecting the tongue, skin, and eyes, and looking at the eating and sleeping habits of the person. To become a TCM practitioner requires 3-4 years of post-graduate study.
Why did you switch to learning TCM after originally planning to study Western Medicine? Aimee was pre-med, but felt frustrated by the Western way of treating issues myopically, instead of looking at the bigger picture or the whole person. She wanted to study and promote a more holistic style of medicine.
The biggest misconception about health: There is no such thing as "reproductive health" or "digestive health" these are just parts of health. They are all connected. For example, fertility challenges are not just a "reproductive health" challenge. It's an overall health challenge. Often in Aimee's practice, she sees people who are having trouble getting pregnant are struggling with auto-immune conditions, and once that condition is addressed, they become fertile.
There is an epidemic rise in auto-immune conditions especially in women. An estimated 75% of people suffering for auto-immune conditions are female. While some point to an extra X chromosome as a possible reason, Aimee believes it may be tied to our emotional health.
How do we improve our emotional health? It starts with prioritizing yourself. Aim to nourish yourself with at least 2-5 daily actions. These actions are based on what you like (not what Instagram tells you are self-care activities): journaling, painting, music, yoga, meditation, baths, etc. It is what nourishes you and makes you feel good.
Perspective is one of the most important ways to start shifting how you feel. If you must embark on a new diet or new anything, instead of feeling like its a chore, or being angry or resentful that you can no longer eat gluten, what if you look at it as, I'm cutting out gluten to heal my body and I actually feel better without it. Find nuggets of appreciation and excitement.
How do we maximize our fertility (and get pregnant in 30s and 40s?) Fertility is an extension of health. If you are dealing with health issues, you want to figure them out and remedy right away. Whether it's a skin or digestion or any non-hormone related issue, it still effects overall health and therefore fertility. Treat your body like a palace. Healthy women can get pregnant up to 40 or 45.
Surprising things your period, pulse, and tongue can tell you
What are some of the most common autoimmune conditions, and what are some signs we may have them? Hashimotos is one of the most common Aimee sees. Rheumatoid arthritis, and multiple sclerosis are some other examples. Fatigue, brain fog, irregular period, difficulty concentrating, miscarriage, and low immunity are some common autoimmune symptoms. Celiac and Hashimotos are two common causes of fertility challenges that are often overlooked.
What are some of the blood tests one can take to find out if they have an autoimmune condition?
FOR MORE
Check out my recent blog post on the connection between fertility and probiotics, inspired by a lecture Aimee and Dr. Aviva Romm gave a few months ago.
CONNECT
Instagram @AimeeRaupp
Facebook @BodyBeliefExpert
Aimee's books:
SUBSCRIBE
Like what you listened to? Subscribe to the podcast on iTunes so you never miss an episode.
FREE MEAL PLAN
If you enjoy the podcast, leave a review on iTunes, email info (at) mariamarlowe.com a screenshot and we will send you a free 3-day sugar detox meal plan (Here is a post on how to leave an iTunes Review – it only takes a minute or two!).
JOIN THE CONVERSATION
Come share your thoughts on this episode and connect with me on Instagram @mariamarlowe
Or head to the dedicated Happier & Healthier Facebook Group and let us know what action you're taking as a result of this podcast to live a little happier and healthier.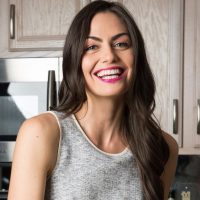 Maria Marlowe
Maria Marlowe is a holistic nutrition and wellness coach who uses real food to help her clients improve their health, weight, and skin. She offers a 28-day healthy eating meal plan that teaches you how to batch cook, as well as one to clear up acne. Her most popular program is EatSLIM, a 10-week online group glass that guides participants to develop healthy eating habits that stick – and lose weight, boost their metabolism, improve their digestion, and quit sugar.
She writes healthy and delicious plant-based recipes for her popular blog. She is also the author of the #1 New Release on Amazon, The Real Food Grocery Guide, the most practical guide to selecting the healthiest foods, without going broke, which has been praised by Dr. Oz and InStyle magazines. You can find her on instagram @mariamarlowe.