This week on the Happier & Healthier Podcast, I talk with life coach Lauren Zander, author of "Maybe It's You" and whose Handel Method is taught at MIT, Stanford, and NYU, to give you the kick in the pants you need to figure out how to cut the crap, face your fears, and take action to create a life you love.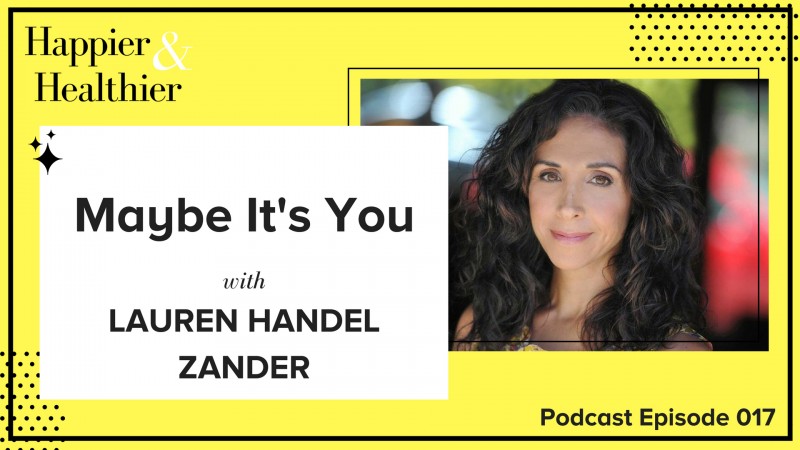 Listen on Your Favorite Podcast App
Listen to the podcast on iTunes, Stitcher, Soundcloud, Spotify, or wherever you listen to podcasts, and don't forget to subscribe so you never miss an episode!
If you enjoy it, leave a review on that platform, email info@mariamarlowe.com a screenshot and we will send you a free 3-day sugar detox meal plan (Here is a post on how to leave an iTunes Review – it only takes a minute or two!).
No iTunes? No problem! Listen to the episode here by clicking the pink play button below.
Meet Lauren Handel Zander
Lauren Handel Zander is the Co-Founder and Chairwoman of Handel Group, an international corporate consulting and life coaching company. Her coaching methodology is taught in over 35 universities and institutes of learning around the world, including MIT, Stanford, and NYU. Lauren is also the author of Maybe It's You: Cut the Crap, Face Your Fears, Love Your Life, a no-nonsense, practical manual that helps readers figure out not just what they want out of life, but how to actually get there. She has spent over 20 years coaching thousands of private and corporate clients, including executives at Vogue, BASF, and AOL. Lauren has been a featured expert in The New York Times, BBC, Forbes, Women's Health, Dr. Oz, and more.
Episode Highlights
2:41 | Lauren explains what her *fantastic* book Maybe It's You is all about. (PS: I'm obsessed with it and want to give it to everyone)
4:26 | How seeing other people's BS helps us look at our own
6:04 | Are excuses holding you back?
7:04 | What is the difference between "I will" and "I am"?
8:40 | Why you'll eat more if you consider yourself "fat"
10:50 | What aspects of your life are you ignoring or hiding from?
12:16 | How to catch yourself making excuses
13:12 | The 2 things you must do to eliminate all excuses
16:11 | How one of Lauren's clients made money by calling out his excuses
18:00 | The 1 thing that makes or breaks the promises you keep to yourself
18:43 | How your lies end up trapping you + the reason Lauren believed you should clear up every lie you've ever told
22:47 | The fascinating field of science that suggests your parents issues, traumas, and dramas can influence your life (even if they happened way before you were born).
27:37 | What to do to accomplish your dream (instead of putting it off)
31:24 | How to face (or embrace) new opportunities that challenge your goals
34:41 | How much money would it take to get you out of bed?
38:10 | What is InnerU?
40:33 | Why you should ask your parents about their sex life
SUBSCRIBE
Like what you listened to? Subscribe to the podcast on iTunes so you never miss an episode.
CONNECT
More from Lauren Handel Zander
Follow Lauren on Instagram @laurenzander_coach
Check out Lauren's book: Maybe It's You: Cut the Crap, Face Your Fears, Love Your Life
More from Handel Group
Visit the HG website: www.handelgroup.com
Follow Handel Group on Instagram @handelgroup
Find out which areas of life you may need to work on with the free coaching tool from Lauren Zander and Handel Group, The Current Reality Quiz.
Try out the digital coaching course from Lauren Zander and Handel Group: InnerU.Coach
Use code HAPPIERHEALTHIER75 for $75 off a subscription level at checkout!
Thank you so much for being here Lauren. If you'd like to learn more and connect with her, you can head to handelgroup.com. If you think you need a good kick in the pants to get your life together, check our her innerU group coaching program, and you can use the code HappierHealthier75 for $75 off.
FREE MEAL PLAN
If you enjoy the podcast, leave a review on iTunes, email info (at) mariamarlowe.com a screenshot and we will send you a free 3-day sugar detox meal plan (Here is a post on how to leave an iTunes Review – it only takes a minute or two!).
JOIN THE CONVERSATION
Come share your thoughts on this episode and connect with me on Instagram @mariamarlowe
Or head to the dedicated Happier & Healthier Facebook Group and let us know what action you're taking as a result of this podcast to live a little happier and healthier.
KEY QUOTES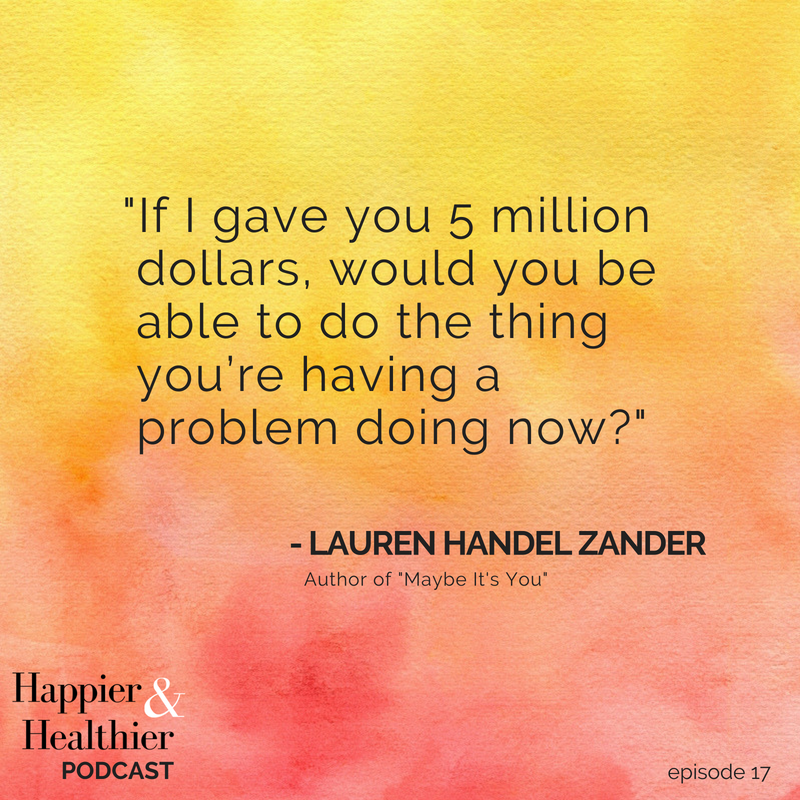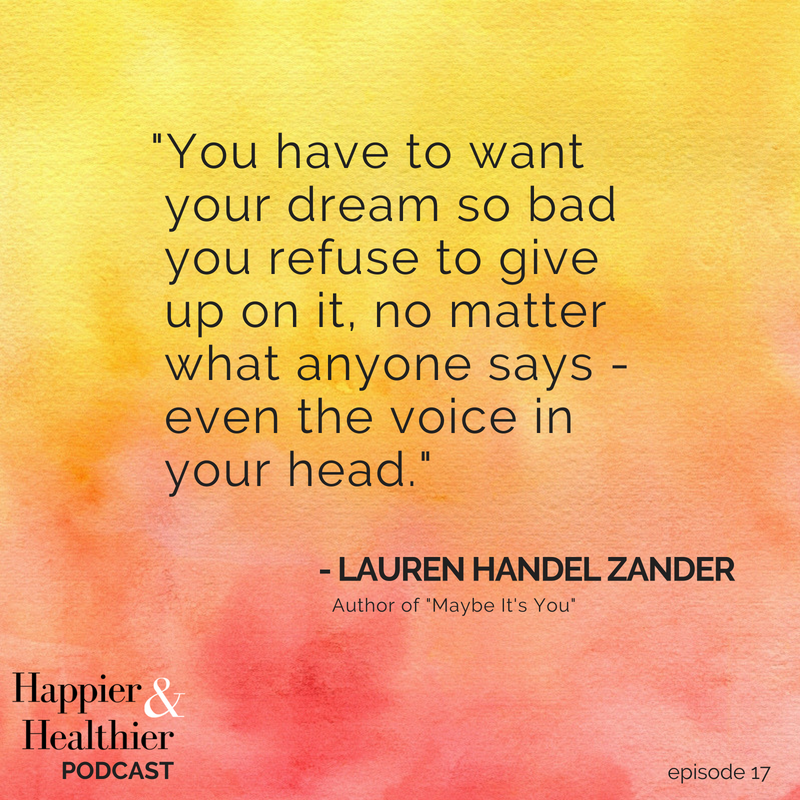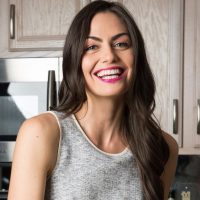 Maria Marlowe
Maria Marlowe is a holistic nutrition and wellness coach who uses real food to help her clients improve their health, weight, and skin. She offers a 28-day healthy eating meal plan that teaches you how to batch cook, as well as one to clear up acne. Her most popular program is EatSLIM, a 10-week online group glass that guides participants to develop healthy eating habits that stick – and lose weight, boost their metabolism, improve their digestion, and quit sugar.
She writes healthy and delicious plant-based recipes for her popular blog. She is also the author of the #1 New Release on Amazon, The Real Food Grocery Guide, the most practical guide to selecting the healthiest foods, without going broke, which has been praised by Dr. Oz and InStyle magazines. You can find her on instagram @mariamarlowe.