Tired of feeling discouraged and in a rut? It's time to boost self-confidence and learn to become your badass self. This week on the Happier & Healthier Podcast, I sit down with psychologist, Dr. Lauren Hazzouri, to break down society's BS and figure out how to truly be yourself.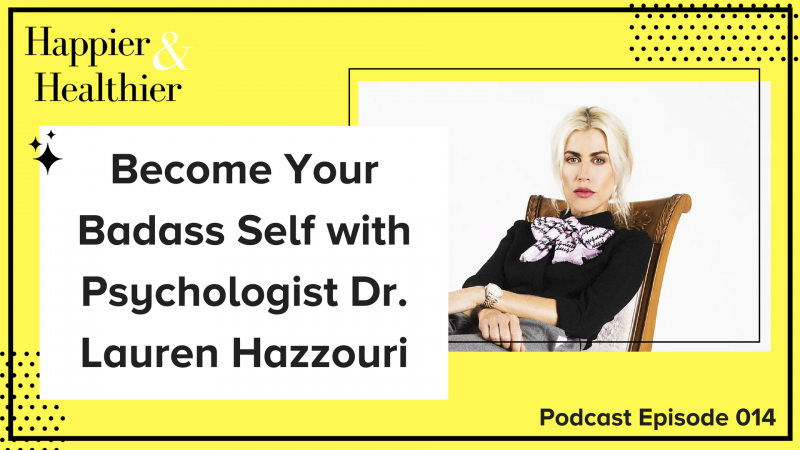 Listen on Your Favorite Podcast App
Listen to the podcast on iTunes, Stitcher, Soundcloud, Spotify, or wherever you listen to podcasts, and don't forget to subscribe so you never miss an episode!
If you enjoy it, leave a review on that platform, email info@mariamarlowe.com a screenshot and we will send you a free 3-day sugar detox meal plan (Here is a post on how to leave an iTunes Review – it only takes a minute or two!).
No iTunes? No problem! Listen to the episode here by clicking the pink play button below.
Meet Dr. Lauren Hazzouri
Dr. Lauren Hazzouri is a licensed psychologist and founder of The Practice, a group event and community of women in relentless pursuit of self. She's a stylish, witty, badass girl boss making the world a better place by helping women and girls stand in their power and become the highest version of themselves. Through her life experience and training, Lauren's developed a curriculum that allows women to live meaningful lives and feel fulfilled doing it.
Boost Your Self Confidence Episode Highlights
1:30 | Dr. Lauren explains her unconventional approach to psychology which includes movement, music, chanting, and anything but gray slacks and a couch.
3:09 | How ditching the conventional "psychologist" persona and bringing more of "Lauren" into her practice allowed her to more powerfully connect and help girls and women
4:30 | As girls and women, we have a lot of "supposed to's" based on society's standards and pressures, such as with our career path or relationships, but in order to thrive, we need to filter out the "supposed to's" and stay true to ourself, and do what feels right for us, not society.
5:24 | Lauren shares how to figure out and be your actual self (not society's version of you, based on social norms which do strongly affect how you feel, think, and behave).
7:29 | How society's idea of "the perfect girl/woman" or the "good girl" is killing your confidence and how to take it back
10:14 | Where your value truly comes from (hint: it's not your career, your body, or your relationship status)
12:29 | Why breaking social norms is a *practice* – something we have to continually work towards and that takes consistent, regular, daily attention and action
15:07 | Why are female leaders still not taken seriously?! Why are women less likely to stand up as leaders? What can we do about it?
19:46 | How do you boost your self-confidence and self-esteem?
24:26 | How to battle indecisiveness + tap into your intuition
27:06 | Why we need to face our fears embrace being uncomfortable
28:15 | How do "alpha women" date?
31:24 | How the patriarchy is shifting
32:47 | Self-love: how do we stop negative self-talk and start truly loving and respecting ourselves?
36:32 | How to deal with Instagram and social media insecurities and the comparison game
41:24 | Lauren explains "The Practice," and how she is reducing the stigma around getting help for mental health through these interactive group sessions
43:59 | Lauren's number one piece of advice to be happier & healthier
SUBSCRIBE
Like what you listened to? Subscribe to the podcast on iTunes so you never miss an episode.
CONNECT
More from Dr. Lauren Hazzouri
Visit her website: www.heylauren.com
Follow Dr. Lauren on Instagram @dr__lauren
FREE MEAL PLAN
If you enjoy the podcast, leave a review on iTunes, email info (at) mariamarlowe.com a screenshot and we will send you a free 3-day sugar detox meal plan (Here is a post on how to leave an iTunes Review – it only takes a minute or two!).
JOIN THE CONVERSATION
Come share your thoughts on this episode and connect with me on Instagram @mariamarlowe
Or, head to the dedicated Happier & Healthier Facebook Group and let us know what action you're taking as a result of this podcast to live a little happier and healthier.
KEY QUOTES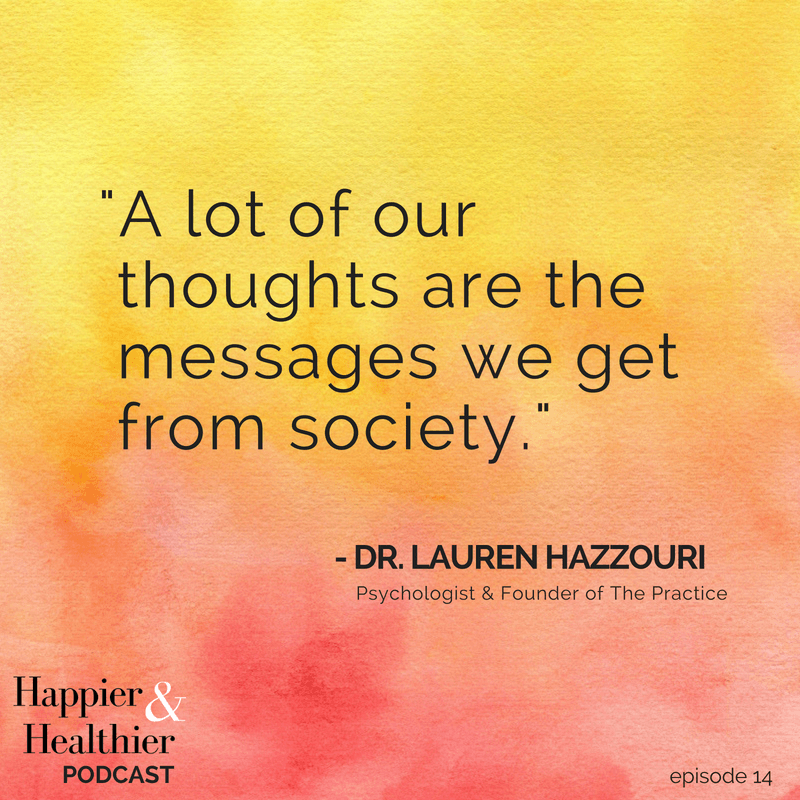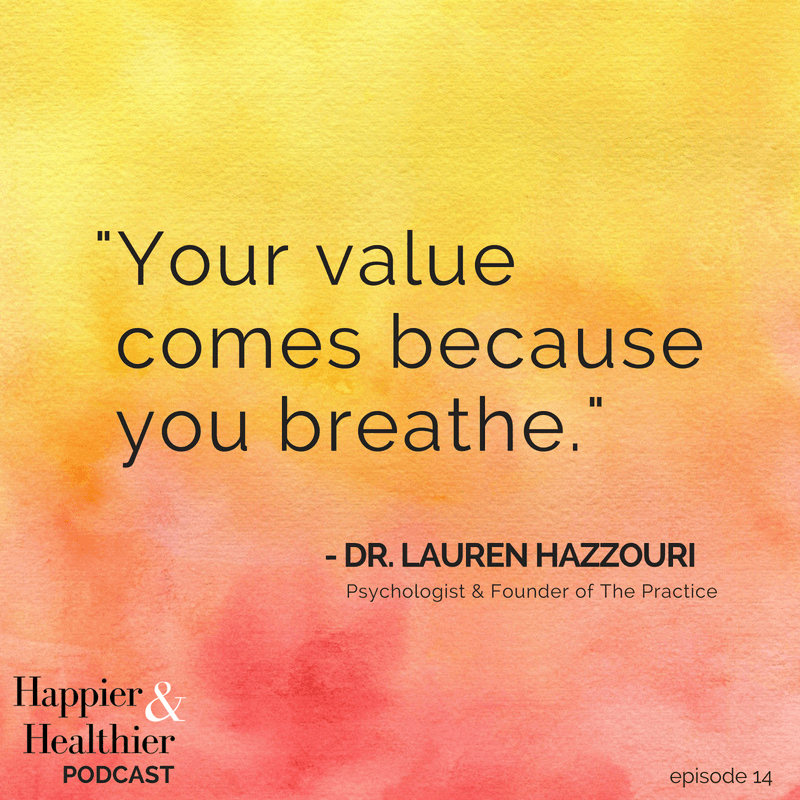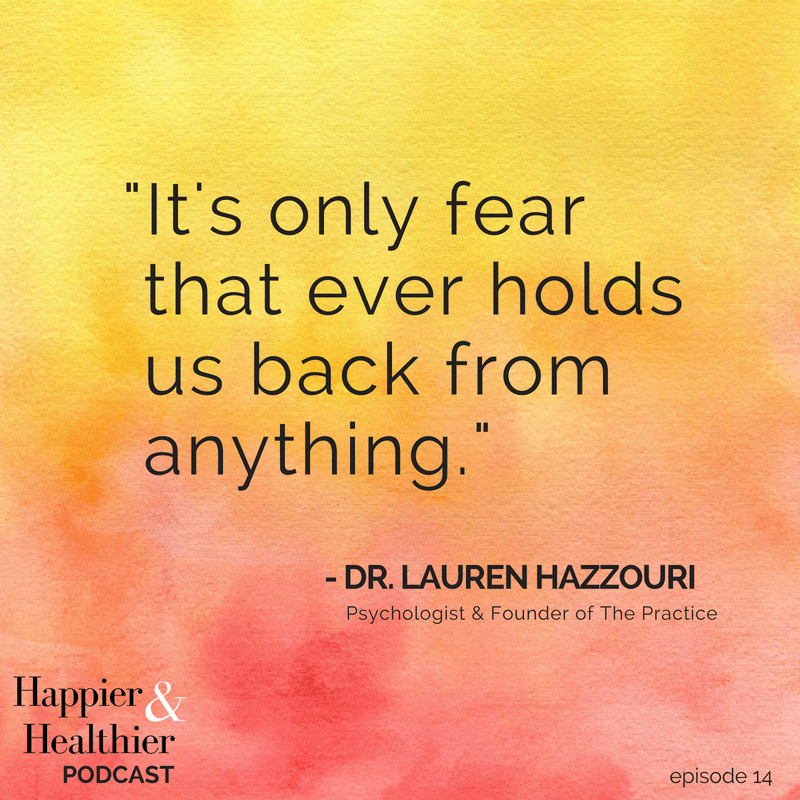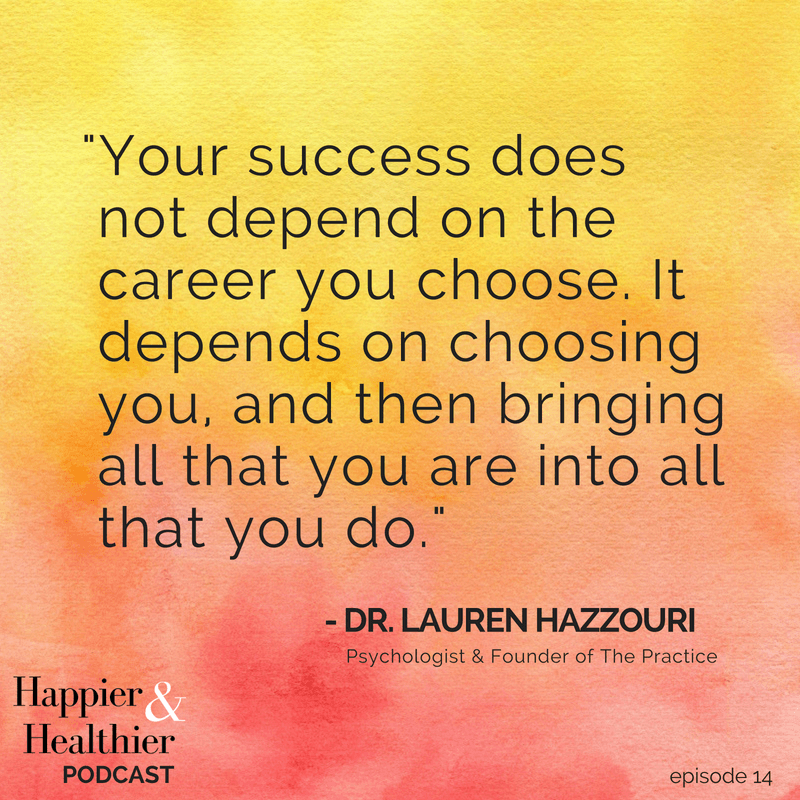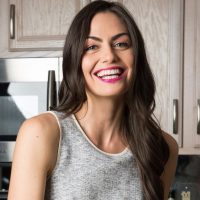 Maria Marlowe
Maria Marlowe is a holistic nutrition and wellness coach who uses real food to help her clients improve their health, weight, and skin. She offers a 28-day healthy eating meal plan that teaches you how to batch cook, as well as one to clear up acne. Her most popular program is EatSLIM, a 10-week online group glass that guides participants to develop healthy eating habits that stick – and lose weight, boost their metabolism, improve their digestion, and quit sugar.
She writes healthy and delicious plant-based recipes for her popular blog. She is also the author of the #1 New Release on Amazon, The Real Food Grocery Guide, the most practical guide to selecting the healthiest foods, without going broke, which has been praised by Dr. Oz and InStyle magazines. You can find her on instagram @mariamarlowe.