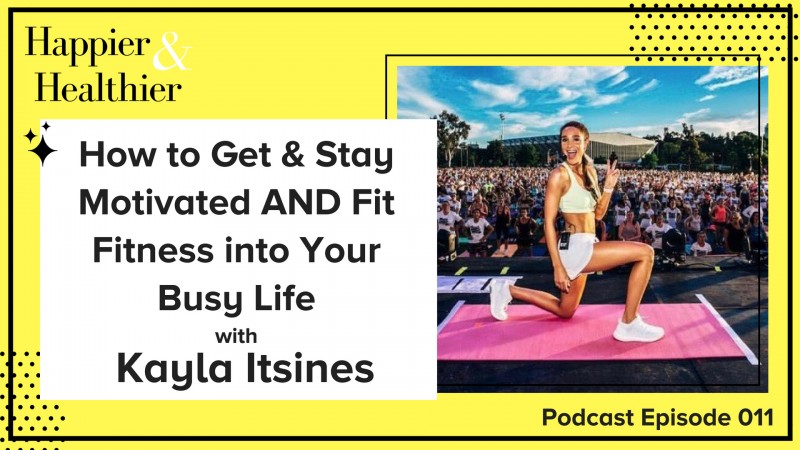 Kayla Itsines has been named the most influential personal trainer in the world by Forbes. She and her partner Tobi Pearce have built a veritable fitness empire, with over 10 million Instagram followers and one of the top selling apps in the iTunes store. In this week's interview I sat down with the fitness queen to talk motivation, fitness, wellness, social media, and her rise to the top of the fitness world.
Listen on Your Favorite Podcast App
Listen to the podcast on iTunes, Stitcher, Soundcloud, Spotify, or wherever you listen to podcasts, and don't forget to subscribe so you never miss an episode!
If you enjoy it, leave a review on that platform, email info@mariamarlowe.com a screenshot and we will send you a free 3-day sugar detox meal plan (Here is a post on how to leave an iTunes Review – it only takes a minute or two!).
No iTunes? No problem! Listen to the episode here by clicking the pink play button below.
Kayla Itsines Interview Highlights
4:00 – how Kayla went from being a personal trainer in a small city in Australia to the most influential trainer in the world
6:45 – the principles she lives by that she believes has helped her become so successful
8:15 – have a dream, but worried there are "too many people doing what you want to do"? Kayla's advice
9:24 – why passion should drive your career – not money
10:00 – how to bring the spark of motivation back when you're feeling super unmotivated to go to the gym or follow healthy habits.
10:55 – how long do you really need to work out a day? (it's way less than you think)
12:00 – how many days should you work out a week?
13:00 – how do we stop negative self talk and become more confident in our body – no matter what it currently looks like?
14:45 – how do you not let social media consume you?
16:00 – what other perks or benefits do you see from working out?
19:00 – her non-negotiables when it comes to her health
22:50 – the biggest misconceptions when it comes to weight-loss that she wishes would go away.
25:00 – why feeling guilty around food can sabotage your health goals
26:00 – how to deal with the social pressure to drink if you don't want to drink?
RESOURCES
Below is the video I mentioned in the interview, When You Teach Your Boyfriend How to Kayla on the @healthygirlproblemz instagram
SUBSCRIBE
Like what you listened to? Subscribe to the podcast on iTunes so you never miss an episode.
CONNECT
More from Kayla Itsines
Visit KaylaItsines.com for her Bikini Body Guide and Sweat App
Find her on instagram: @kayla_itsines
JOIN THE CONVERSATION
Come share your thoughts on this episode and connect with me on Instagram @mariamarlowe
Or, head to the dedicated Happier & Healthier Facebook Group and let us know what action you're taking as a result of this podcast to live a little happier and healthier.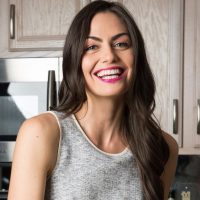 Maria Marlowe
Maria Marlowe is a holistic nutrition and wellness coach who uses real food to help her clients improve their health, weight, and skin. She offers a 28-day healthy eating meal plan that teaches you how to batch cook, as well as one to clear up acne. Her most popular program is EatSLIM, a 10-week online group glass that guides participants to develop healthy eating habits that stick – and lose weight, boost their metabolism, improve their digestion, and quit sugar.
She writes healthy and delicious plant-based recipes for her popular blog. She is also the author of the #1 New Release on Amazon, The Real Food Grocery Guide, the most practical guide to selecting the healthiest foods, without going broke, which has been praised by Dr. Oz and InStyle magazines. You can find her on instagram @mariamarlowe.