Is there a connection between digestion and our happiness? Are emotions preventing you from losing weight? Is a bad diet cutting you off from your intuition and 'gut' feelings?
Today, we're diving into all these topics and then some on the latest Happier and Healthier Podcast episode with Gut Health Expert & Health Coach, Robyn Youkilis.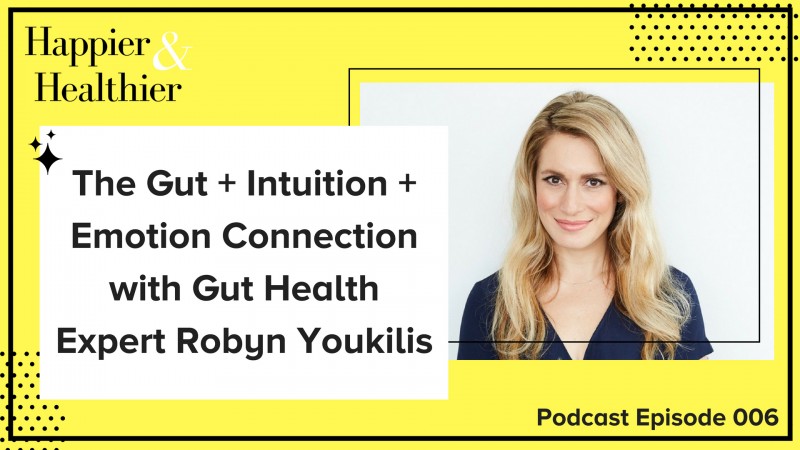 Meet Robyn Youkilis
Robyn Youkilis is an AADP Certified Health Coach, author, and expert in holistic digestive health. Robyn's holistic approach to health and wellness focuses on not only food, but on all areas of life including stress, sleep, and emotions, and the effect those have on weight and eating habits. What sets Robyn's coaching apart is that she focuses on not only releasing physical weight, but letting go of emotional weight as well.
Episode Highlights
1:52 | the key takeaway from Robyn's new book,Thin from Within
4:00 | what emotional weight is and how it affects our physical weight
5:53 | the connection between gut and intuition
7:36 | how to start listening to your gut
12:01 | the connection between our digestive health and our happiness
13:43 | the best food that promotes gut health
15:26 | the pros and cons of kombucha
18:43 | why aloe is great for our gut (and our skin!) + how to buy it
21:14 | how mindless, on-the-go eating affects our digestion
23:52 | If you eat at your desk, how to make it healthier/better for you
25:23 | what a morning practice is + why you should have one
29:17 | how to take time from a busy day for yourself
Listen on Your Favorite Podcast App
Listen to the podcast on iTunes, Stitcher, Soundcloud, Spotify, or wherever you listen to podcasts, and don't forget to subscribe so you never miss an episode!
If you enjoy it, leave a review on that platform, email info@mariamarlowe.com a screenshot and we will send you a free 3-day sugar detox meal plan (Here is a post on how to leave an iTunes Review – it only takes a minute or two!).
No iTunes? No problem! Listen to the episode here by clicking the pink play button below.
Key Quotes and Ideas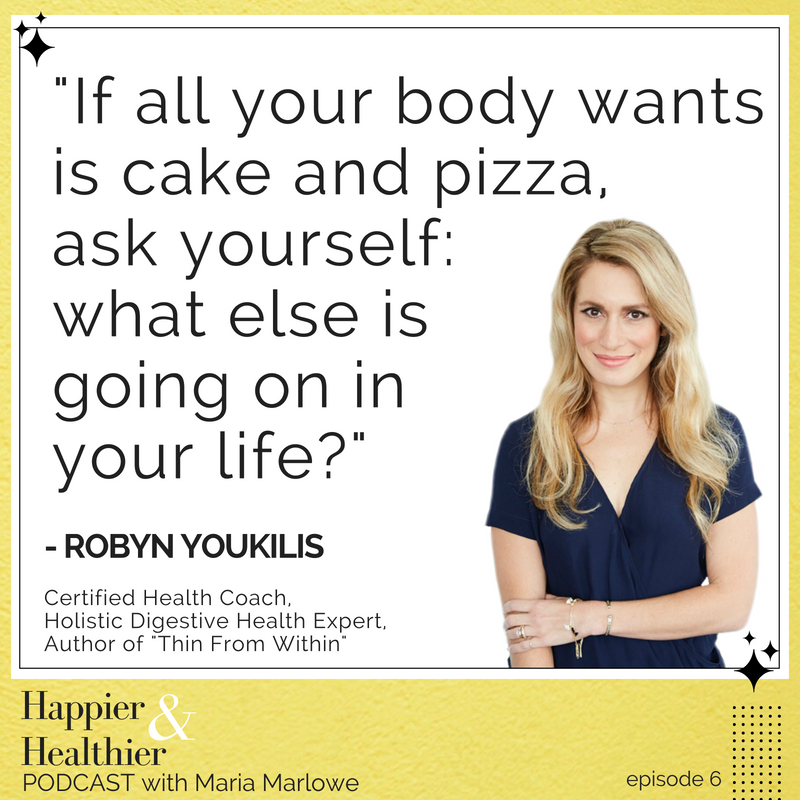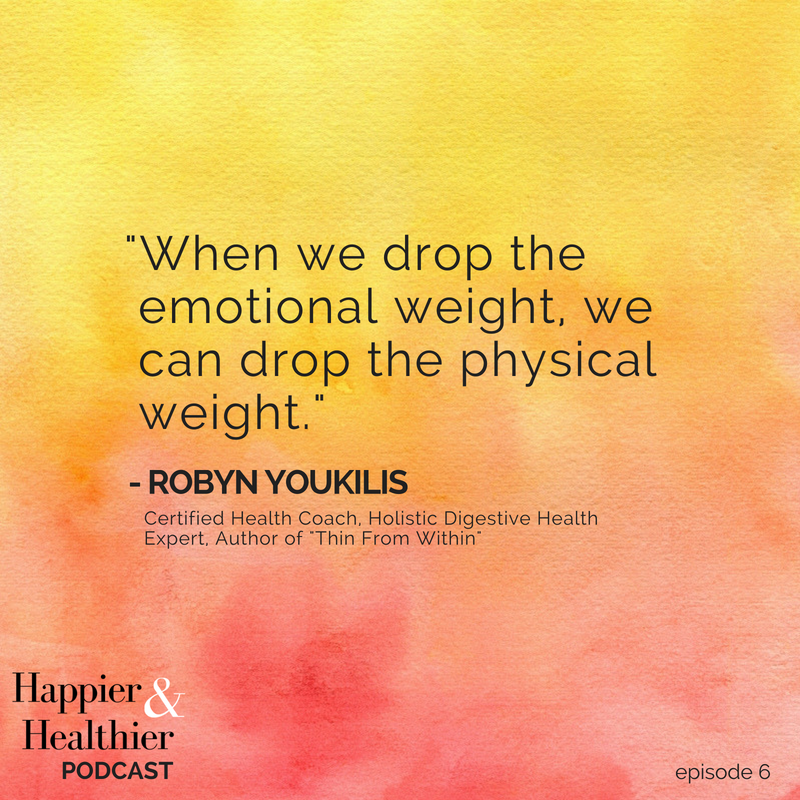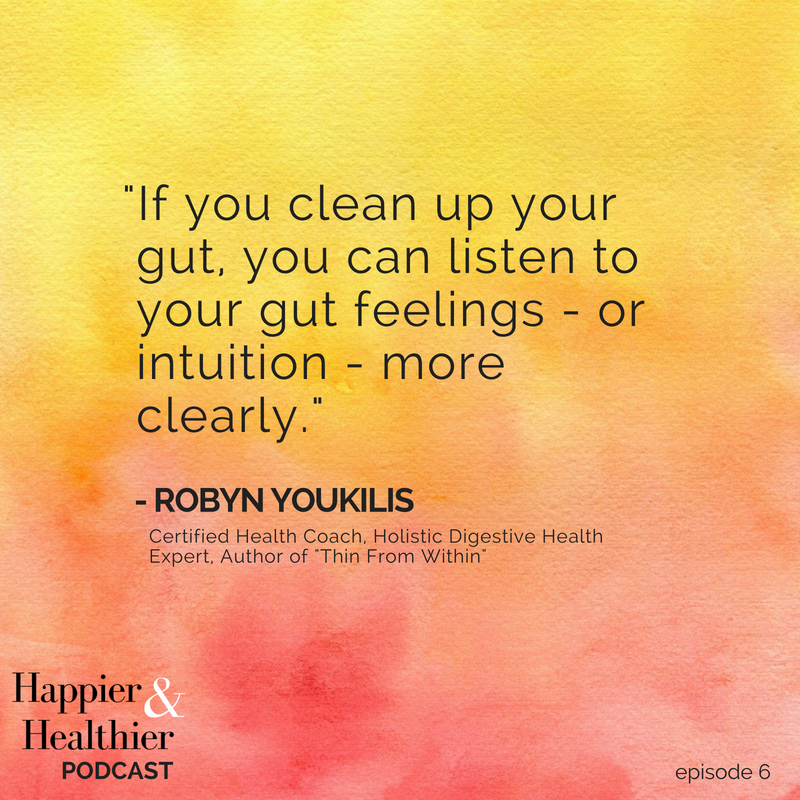 SUBSCRIBE
Like what you listened to? Subscribe to the podcast on iTunes so you never miss an episode.
RESOURCES
Robyn's aloe powder recommendation: New Chapter
CONNECT
More from Robyn Youkilis
Robyn's blog and coaching practice: Robyn Youkilis | Your Healthiest You
Get her book on Amazon: Thin from Within
Find Robyn on Instagram @Robyn Youkilis
JOIN THE CONVERSATION
Come share your thoughts on this episode and connect with me on instagram @mariamarlowe
Or, head to the dedicated Happier & Healthier Facebook Group and let us know what action you're taking as a result of this podcast to live a little happier and healthier.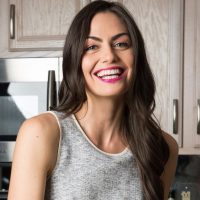 Maria Marlowe
Maria Marlowe is a holistic nutrition and wellness coach who uses real food to help her clients improve their health, weight, and skin. She offers a 28-day healthy eating meal plan that teaches you how to batch cook, as well as one to clear up acne. Her most popular program is EatSLIM, a 10-week online group glass that guides participants to develop healthy eating habits that stick – and lose weight, boost their metabolism, improve their digestion, and quit sugar.
She writes healthy and delicious plant-based recipes for her popular blog. She is also the author of the #1 New Release on Amazon, The Real Food Grocery Guide, the most practical guide to selecting the healthiest foods, without going broke, which has been praised by Dr. Oz and InStyle magazines. You can find her on instagram @mariamarlowe.