Ever feel confused or overwhelmed at the grocery store? This Happier & Healthier podcast episode is for you.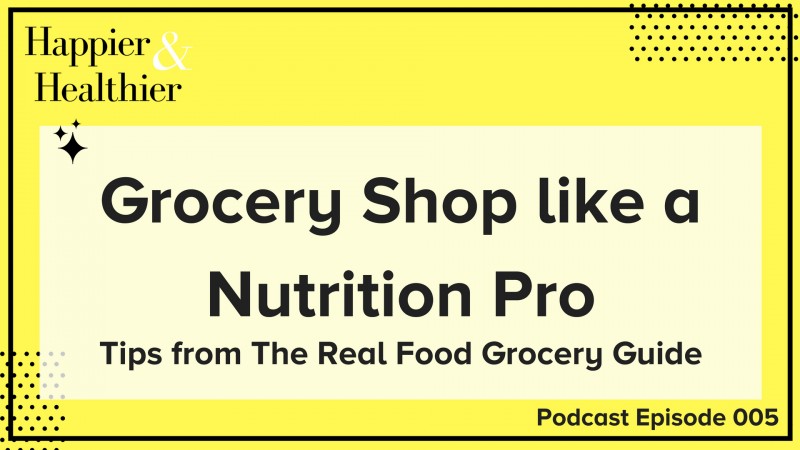 This week I'm taking you on a guided tour of the grocery store with tips from my book, The Real Food Grocery Guide, so you can make the healthiest choices in every section of the grocery store.
You can listen below OR subscribe to the show on iTunes or Stitcher.
Some topic highlights (and time stamps) include:
2:50 | why are we so confused about what is healthy? (AKA food politics)
7:55 | why you need to quit diet soda, stat
11:20 | is organic worth it?
12:38 | how to chose which foods to buy organic
15:47 | why steel cut and instant oatmeal are not the same – and one can spark weight gain
17:58 | why beans are a superfood – especially for weight loss
19:00 | why paleo's restriction of beans may be misguided
20:58 | if you can't digest beans or vegetables well, what to try (Hint: It's a high quality probiotic!)
22:00 | will nuts and seeds make you fat?
22:36 | why comparing calories is not the best way to compare foods
24:14 | the number one seed you need
25:00 | what you need to know and labels to look for before you buy meat or poultry again
28:28 | what you need to know if you eat seafood more than twice a week
30:38 | how to choose the healthiest eggs
32:00| the most important part of a packaged food product
33:00 | the unhealthiest oil you need to remove from your diet STAT
RESOURCES
Check out the Environmental Working Group's Dirty Dozen and Clean 15 list.
The most effective probiotic Use code HYPERMARIA for 20% off on hyperbiotics.com
GET THE BOOK
The The Real Food Grocery Guide is on sale on Amazon. (Currently less than $13 bucks!)
Buy the book? Get FREE Bonus guides with purchase: Real Food Brand Picks and Guide to Spices and Superfoods
Love the Book? Leave a Review on Amazon, send a screenshot to info at mariamarlowe dot com, and we'll send you a free meal plan. (Here is a post on how to leave an iTunes Review – it only takes a minute or two!).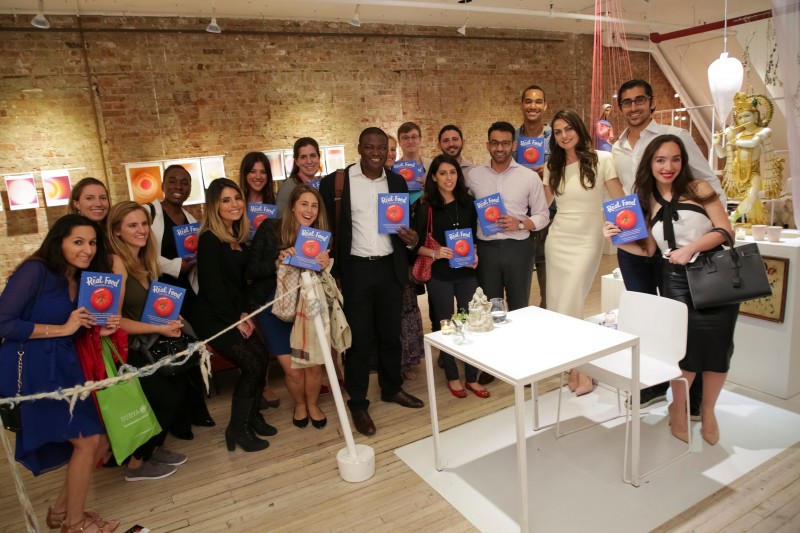 SUBSCRIBE
Like what you listened to? Subscribe to the podcast on iTunes so you never miss an episode.
Love the Podcast Episode? Leave a review on iTunes, Stitcher, or wherever you download the podcast, send a screenshot to info at mariamarlowe dot com, and we'll send you a free meal plan.
CONNECT
Come share your thoughts on this episode and connect with me on instagram @mariamarlowe
Or, head to the dedicated Happier & Healthier Facebook Group and let us know what action you're taking as a result of this podcast to live a little happier and healthier.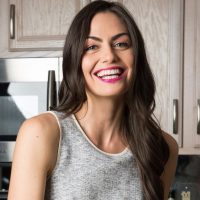 Maria Marlowe
Maria Marlowe is a holistic nutrition and wellness coach who uses real food to help her clients improve their health, weight, and skin. She offers a 28-day healthy eating meal plan that teaches you how to batch cook, as well as one to clear up acne. Her most popular program is EatSLIM, a 10-week online group glass that guides participants to develop healthy eating habits that stick – and lose weight, boost their metabolism, improve their digestion, and quit sugar.
She writes healthy and delicious plant-based recipes for her popular blog. She is also the author of the #1 New Release on Amazon, The Real Food Grocery Guide, the most practical guide to selecting the healthiest foods, without going broke, which has been praised by Dr. Oz and InStyle magazines. You can find her on instagram @mariamarlowe.