If you've been asked to bring a dish to Thanksgiving Dinner, look no further.
This Pumpkin Cheesecake with Maple Cinnamon Soaked Pecans is a decadent dessert that mixes the classic fall flavors of maple, cinnamon, pumpkin, and ginger to create a creamy and satisfying treat. But, if you know me by now, this is not your typical dessert.
It may be one of the healthier things on your Thanksgiving table (but I promise, it tastes sinfully delicious), and even your less health conscious relatives won't be able to detect that is could possibly be a better-for-you indulgence.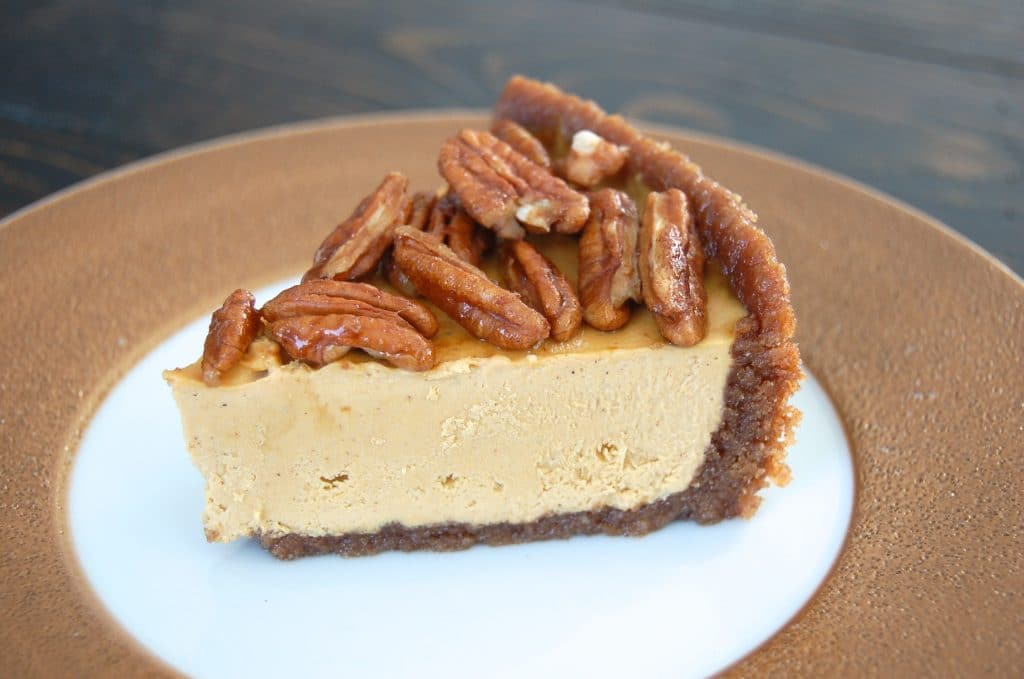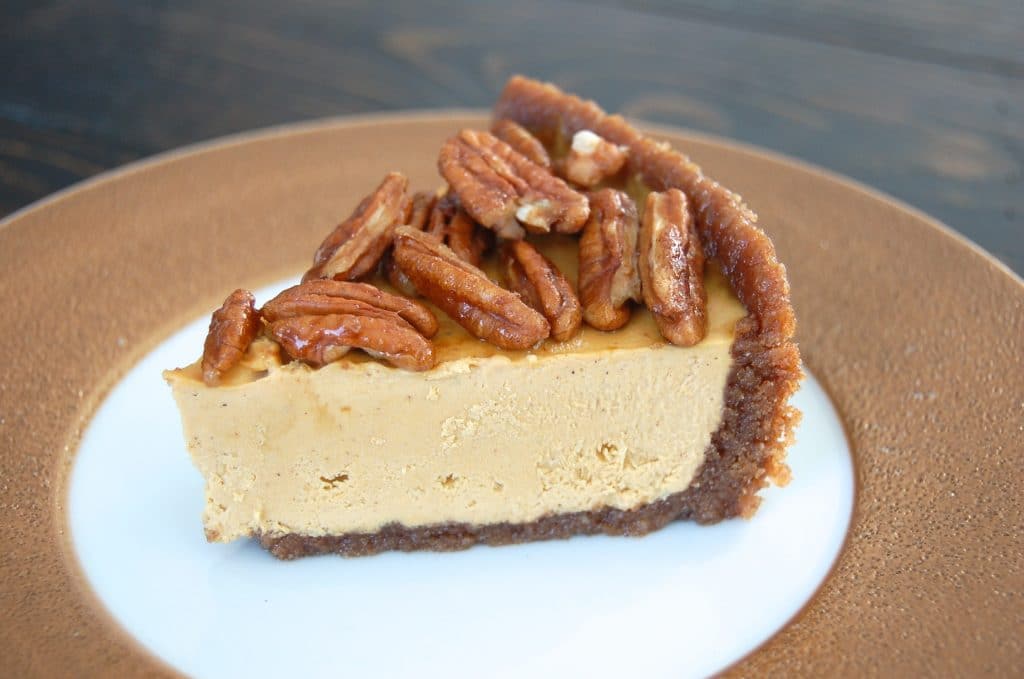 What makes it a Healthy Indulgence?
The crust is made from pecans and dates, instead of flour and sugar, which instantly ups the health factor:
Pecans are loaded with age-defying anti-oxidants, protein, and fiber.
Dates contain fiber & nutrients making them one of the best ways to add sweetness.
The creamy filling is made from nuts, pumpkin, spices, and one of nature's gentlest sweeteners:
Cashews are rich in magnesium and other minerals, as well as healthy fats.
Pumpkin is full of nutrients for blemish-free and wrinkle-resistant skin.
Ginger is highly anti-inflammatory and is an excellent digestive soother, especially after a big Thanksgiving meal.
Coconut Sugar is a low glycemic sweetener, which means it won't give you a huge spike and crash in blood sugar like regular sugar. It also contains minerals like iron and calcium. This recipe uses coconut nectar, the liquid/syrup version.
Cinnamon fights inflammation and may help lower blood sugar.
No empty calories, here!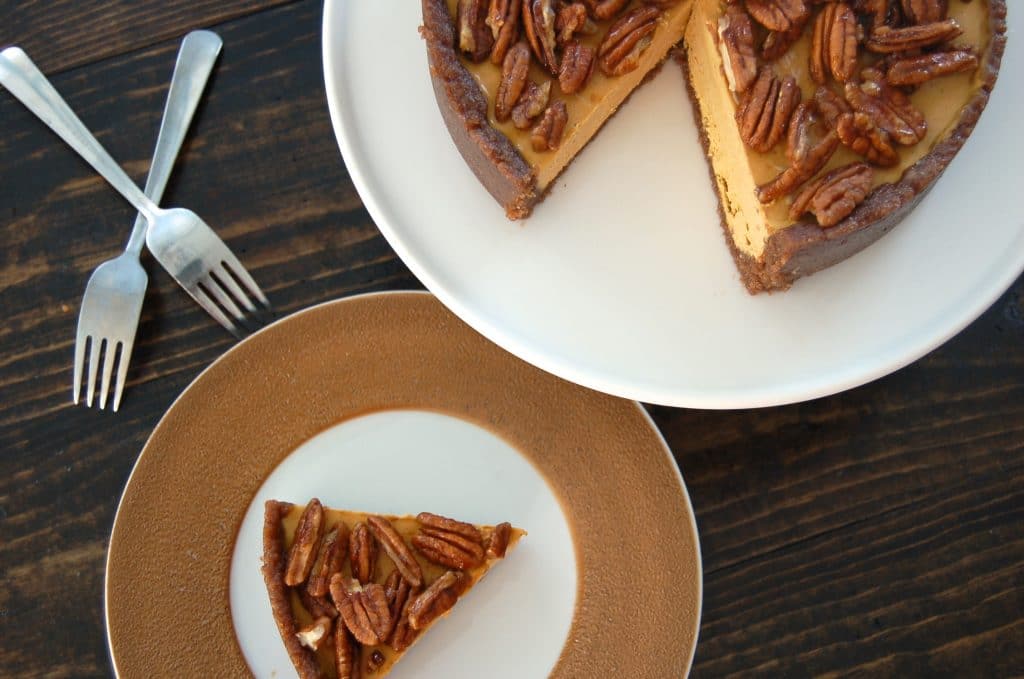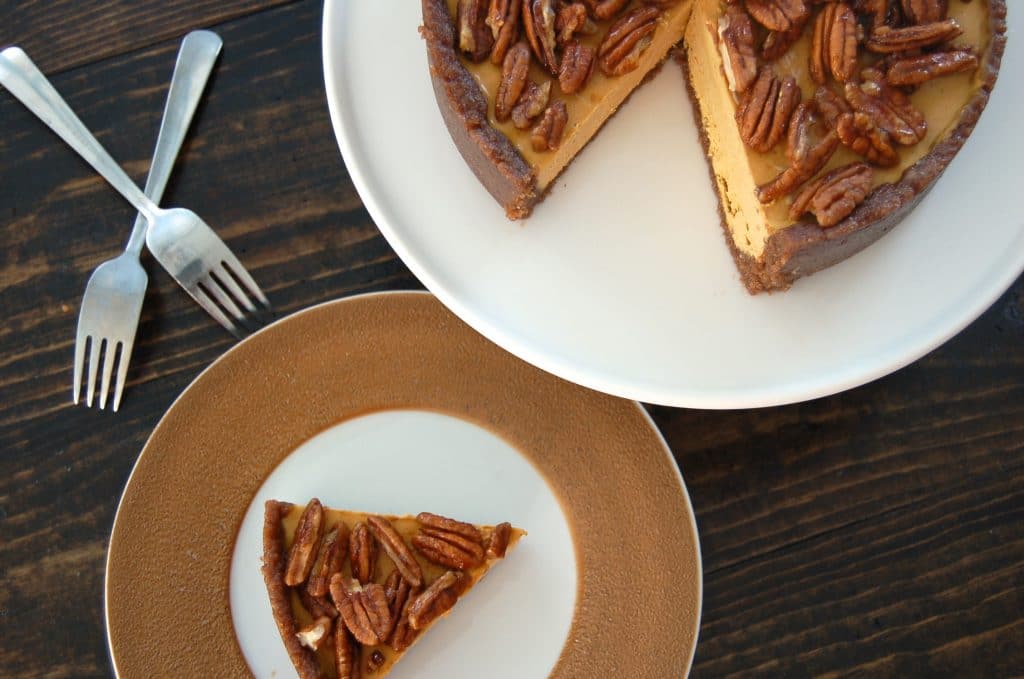 Pumpkin Pie with Maple Cinnamon Soaked Pecans
2016-10-08 13:42:31
Serves 12
Healthy Pumpkin Pie recipe, dairy-free and refined sugar free. Topped with maple cinnamon pecans.
Maple Pecan Topping
2 tsp. maple syrup
¼ tsp. cinnamon
¾ cup pecans, chopped
Crust
2 ½ cups pecans
1 cup dates
¼ inch piece ginger (optional)
¼ tsp. pumpkin pie spice or cinnamon
pinch of salt
¼ cup dried, unsweetened shredded coconut
Cheesecake Filling
1 ¼ cups raw cashews, that have been soaked in water at least 4 hours or overnight
1 ¼ cups pumpkin puree (canned or fresh)
¼ inch piece ginger (optional)
1/2 cup fresh squeezed lemon juice
½ cup liquid coconut nectar
¾ cup coconut oil
1 tsp. pumpkin pie spice
1 tsp. vanilla extract
water, as needed to blend
Instructions
For the topping, mix maple syrup and cinnamon in a small bowl. Add chopped pecans, mix well, and set aside.
For the crust, whiz pecans in high-speed blender until they make a powder, than add dates, ginger, pumpkin pie spice, and salt and process again until combined. The mixture should stay together when squeezed in your hand. Line the bottom of a 6-inch spring form pan with shredded coconut, then press pecan mixture into bottom and up sides.
For the filling, drain cashews, and then throw all ingredients into a blender and process on high for about 2 minutes, until completely smooth. If well soaked, you likely won't need additional water, but if your blender isn't powerful enough, add as little water as necessary to blend and create creamy texture. Pour mixture on top of crust.
Spoon maple soaked pecans on top.
Cover and place in freezer for two hours, to firm up before serving. When you are ready to serve, thaw in fridge for at least an hour. Will then last in refrigerator for up to 3 days, and in the freezer, about 5 days.
Notes
Make a day or two before for a hassle-free holiday dish.
Can also use 3 mini, 4-inch spring form pans, instead of a larger 6 inch pie, as pictured,
Maria Marlowe https://mariamarlowe.com/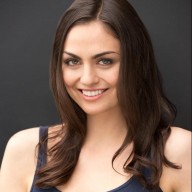 Maria Marlowe
Maria Marlowe is a holistic nutritionist and wellness coach who uses real food to help her clients improve their health, weight, and skin. She offers meal plans, ongoing group workshops both in NYC and online, and writes healthy and delicious recipes for her popular blog. She is also the author of The Real Food Grocery Guide, the most practical guide to selecting the healthiest foods, without going broke. Praised by Dr. Oz and InStyle magazine, it was a #1 new release on Amazon.