An epic plant-based Mother's Day Brunch menu to wow the most important woman in your life.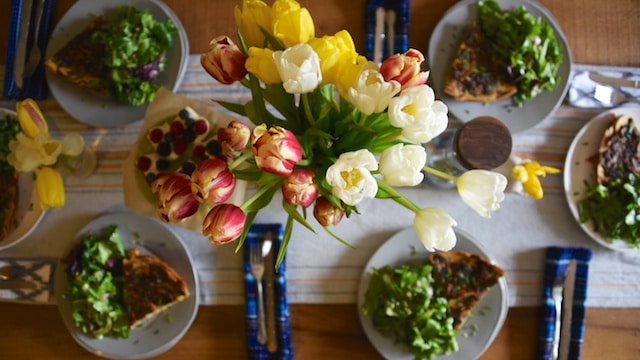 I love moms. I don't know what I'd do without mine. She is everything to me.
For Mother's Day, I thought about whipping her up a plant-based brunch, but have been so busy with a million projects, that I tapped my friend, Chef & fellow Health Coach Crystal Vaughn of RouteWell, to share her epic menu: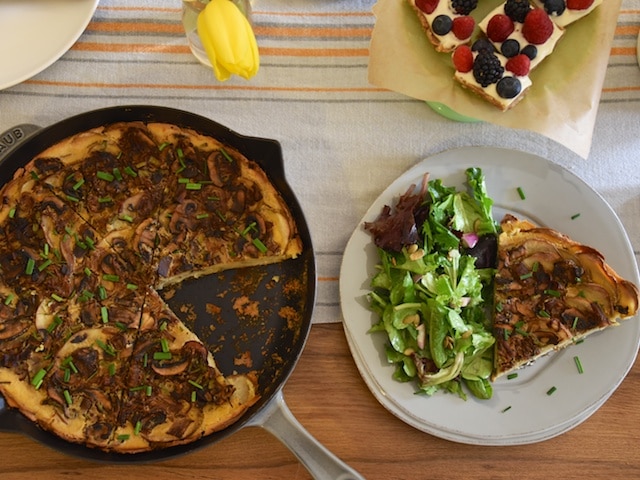 A Truffle & Mushroom Quiche with a Potato Crust (my mom will LOVE this), a side salad with champagne vinaigrette (fit for a queen, of course!), and Mini Berry Tartlets made with cashew cream.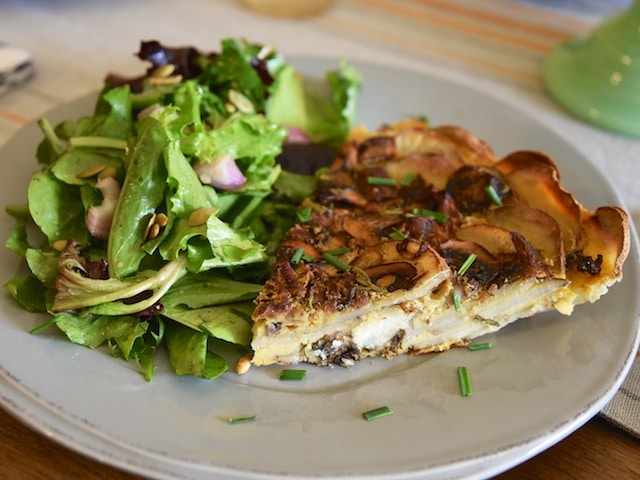 Happy Mother's Day to all you gorgeous moms out there. Thank you for everything that you do. Stay healthy, because us kids wouldn't know what to do without you! 🙂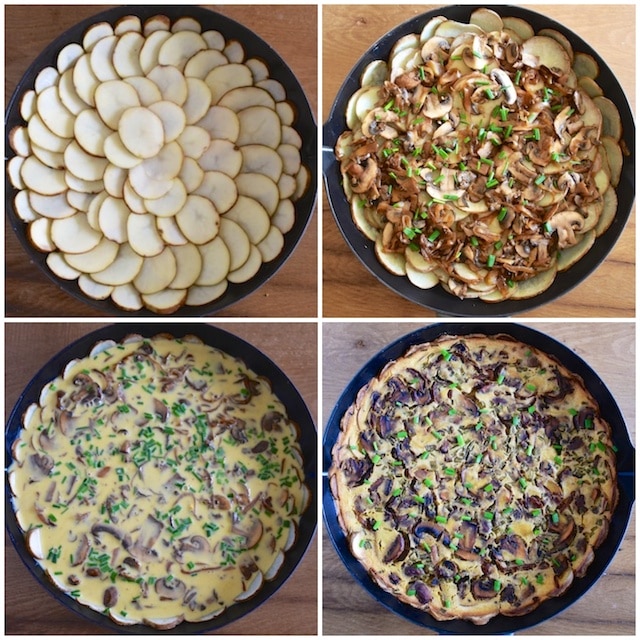 Truffle & Mushroom Quiche with Potato Crust
2016-05-04 14:05:15
Serves 6
Ingredients
2 cups chickpea flour
1 tsp salt
1 tsp ground black pepper
2 1/4 cups water
2 tsp lemon juice
1 1/2 tsp truffle oil*
1 1/4 lbs. russet potatoes
3 tsp olive oil, divided
2 shallots, thinly sliced
1/2 lb. crimini mushrooms, thinly sliced**
1 tbsp tamari (or coconut aminos)
2 tsp red wine vinegar
2 tbsp chives, roughly chopped (plus more for garnish)
Instructions
1. In a medium sized mixing bowl add chickpea flour, salt and pepper. Stir to combine. Whisk in water, lemon juice and truffle oil until all the lumps are gone. Set aside. Can be made the night before or at least 30 minutes before assembling dish for best results.
2. Preheat oven to 350°. Coat a 12" cast iron skillet (a pie pan should work too) with 2 tsp olive oil. Arrange the potatoes on the bottom and sides of the skillet. Working to cover any gaps (see photo above). Place in the oven for 20 minutes.
3. Heat a saute pan over medium heat with 1 tsp olive oil. Add shallots and cook for 3 to 4 minutes until fragrant. Add mushrooms and tamari and stir to combine. Cook for 5 minutes, stirring occasionally. Once, most of the liquid is gone stir in red wine vinegar and cook for another 2 to 3 minutes. Set aside.
4. Remove the potatoes from the oven. Turn the oven to 375°. Spread the mushroom mixture over the potatoes and disperse evenly, layer the chives on top and gently pour the batter over the filling. Redistribute filling if needed and make sure the mushroom are pushed down into the quiche not sticking out of the batter.
5. Cook for 1 hour and 15 minutes or until the top is brown and a knife can be pierced into the filling and come out clean.
6. Cut into slices and enjoy!
Notes
*White or black truffle oil will work.
**You may use white button mushrooms or shiitakes as well.
Adapted from Crystal Vaughn
Maria Marlowe https://mariamarlowe.com/
Side Salad with Champagne Vinaigrette
2016-05-04 14:08:47
Serves 6
For the Salad
6 to 8 cups of spring lettuce mix, washed
2 shallots, thinly sliced
3 tbsp pepitas (pumpkin seeds), toasted
Dressing
2 tbsp champagne vinegar
1 tbsp dijon mustard
1 tsp lemon juice
1 tsp maple syrup
salt, to taste
pepper, to taste
2 tbsp olive oil
Instructions
1. In a large bowl add lettuce mix, shallots and pepitas (reserving some for garnish).
2. In a small bowl mix all of the dressing ingredients besides the oil. Stir well. Slowly whisk the olive oil into the dressing.
3. Pour half of the dressing over the salad and toss to combine. Taste and add more dressing if needed.
4. Garnish with pepitas.
Adapted from Crystal Vaughn
Maria Marlowe https://mariamarlowe.com/
Mini Berry Tartlets
2016-05-04 14:10:58
Crust
3/4 cup of almonds
3/4 cup of oats
1/4 tsp salt
6 dates, pitted
3 tbsp coconut oil, melted
Cream Filling
1/2 cup cashews, soaked**
Zest of 1 lemon
Juice of 1 lemon
1/2 tsp apple cider vinegar
1 tbsp maple syrup
pinch of salt
Up to 4 tbsp water
Topping
Assorted berries (blueberries, raspberries, blackberries)
Instructions
1. In a food processor add almonds, oats and salt. Process until a crumbly flour is made. Add dates and process until it becomes crumbly. Pour in melted coconut oil and process until sticky and starting to pull together.
2. Line a 9x5 loaf pan* with parchment paper and press the crust mixture firmly into the pan.
3. In a small blender or food processor, blend the cashews, lemon zest, lemon juice, apple cider vinegar, maple syrup and pinch of salt together. Start to add one tablespoon of water at a time until the cream pulls together and is a nice creamy texture.
4. Spread the cashew cream mixture evenly over the crust and refrigerate for 30 minutes to set.
5. Top with assorted berries and cut into 12 bite-sized pieces.
Notes
*Recipe could easily be duplicated and made in an 8x8 pan or a round tin for different sized pieces. **Soak the cashews for at least 4 hours or overnight. If you have to skip this step, you may need a little extra water to get the right consistency.
Adapted from Crystal Vaughn
Maria Marlowe https://mariamarlowe.com/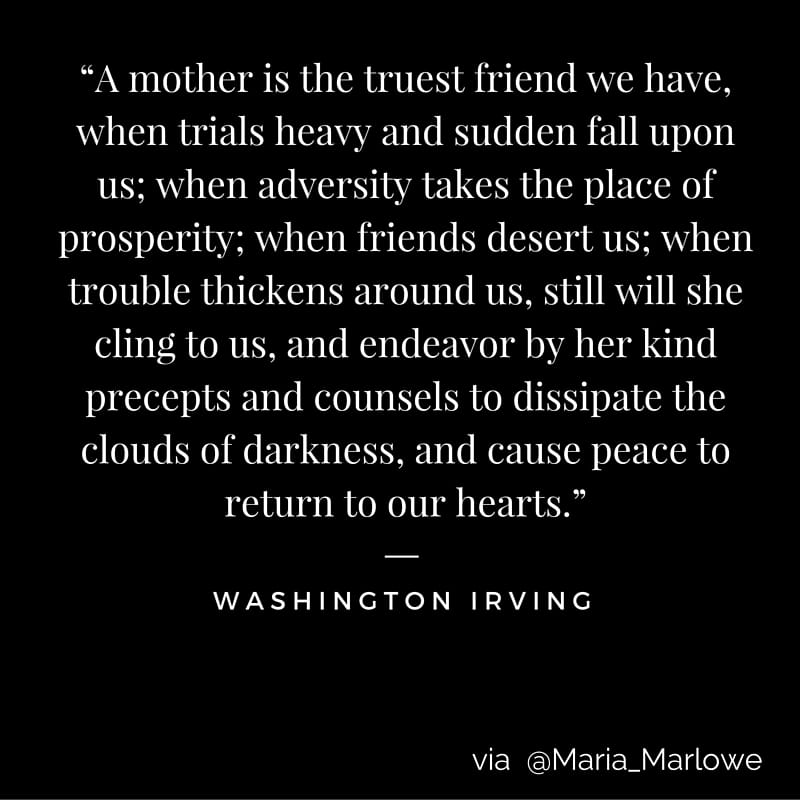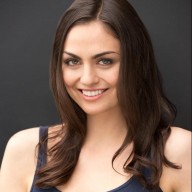 Maria Marlowe
Maria Marlowe is a holistic nutritionist and wellness coach who uses real food to help her clients improve their health, weight, and skin. She offers meal plans, ongoing group workshops both in NYC and online, and writes healthy and delicious recipes for her popular blog. She is also the author of The Real Food Grocery Guide, the most practical guide to selecting the healthiest foods, without going broke. Praised by Dr. Oz and InStyle magazine, it was a #1 new release on Amazon.