Stressed? Sip on this.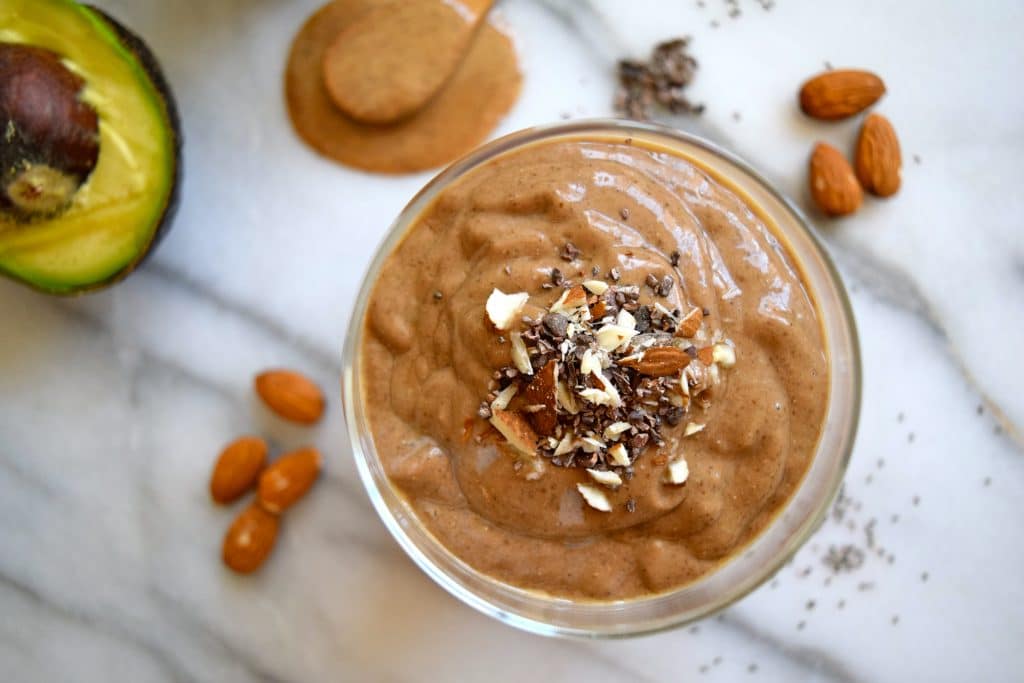 This anti-stress smoothie is packed with good for you ingredients that help minimize the negative effects of stress on your body. Plus, it tastes like creamy chocolate almond bliss, and can easily be eaten with a spoon, giving it an even more decadent feel.
Benefits
Avocado: Creamy avocados are high in stress-busting B-vitamins, which support healthy nerves and brain cells. In fact, some studies suggest feelings of depression and anxiety may be linked to a Vitamin B deficiency.
Chia Seeds: Chia seeds are a good source of magnesium, a critical mineral for managing stress and mitigating depression. Plus they contain high levels of omega-3 fatty acids, which provide anti-inflammatory benefits to the brain, resulting in less stress and anxiety.
In fact, some doctors and researchers believe the growing epidemic of depression and anxiety in our population has something to do with our diet, including widespread omega-3 deficiency.
Cacao: There's no mistaking the feel good rush we feel after biting into a piece of dark chocolate. That's because it boosts our serotonin levels, which also boosts our mood and makes us feel happier. In addition, studies indicate polyphenols found in cocoa may help reduce stress hormone levels in the body.
Almond Butter: Almonds contain zinc, a mineral that plays a crucial role in modulating the way the brain and body respond to stress. They're also a good source of stress-busting magnesium, not to mention Vitamins B2 and E, which can bolster the immune system during times of stress.
Make chia gel: Pour two cups of filtered water into a jar, add in 3 tablespoons of chia seeds, and stir well. Let sit for at least 10 minutes. (Use this time to go on with your morning routine!)

When ready, pour chia gel and all remaining smoothie ingredients into your blender, and blend on high until smooth. The avocado and chia gives it a thick, spoonable consistency (perfect to turn into a smoothie bowl). If you prefer a thinner consistency, simply add more water or ice.

Top with cacao nibs and sliced almonds, if you desire.

Sip and savor slowly. Save the remaining serving for a snack or tomorrow's breakfast.
*You can speed up your time here by making chia gel in advance. It's a great idea to make a large batch so you always have some on hand for your morning smoothies. It should last in an airtight container like a mason jar in your fridge for at least one week.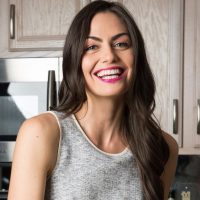 Maria Marlowe
Maria Marlowe is a holistic nutrition and wellness coach who uses real food to help her clients improve their health, weight, and skin. She offers a 28-day healthy eating meal plan that teaches you how to batch cook, as well as one to clear up acne. Her most popular program is EatSLIM, a 10-week online group glass that guides participants to develop healthy eating habits that stick – and lose weight, boost their metabolism, improve their digestion, and quit sugar.
She writes healthy and delicious plant-based recipes for her popular blog. She is also the author of the #1 New Release on Amazon, The Real Food Grocery Guide, the most practical guide to selecting the healthiest foods, without going broke, which has been praised by Dr. Oz and InStyle magazines. You can find her on instagram @mariamarlowe.