When it comes to losing weight, we all want a quick fix. The magic pill, the skinny tea, the cayenne lemonade, perhaps even a fairy godmother…
While these things may assist you in the short run, the truth is, they probably won't assist you in the long run, and they're definitely not the healthiest route to take, physically or mentally.
The Problem with Fast Weight Loss
Holding yourself to an extreme standard is damaging, and makes it easy to throw in the towel when you don't achieve a set result in a short period of time. Losing weight is about getting healthy and feeling more confident with your body. These results will hopefully last your entire life, so there shouldn't be a time limit placed on achieving that.
Physically, if you're on any sort of restrictive diet, you'll probably become plagued with feelings of guilt about certain foods, and probably dream about pizza. You may eventually end up snapping at some point, going back to your old eating habits, in which case, the weight will usually come right back on. Then you effectively get into a yo-yo mentality where you routinely famine and feast.
The Real Way to Lose Weight
The best way to lose and sustain a healthy weight is to change your habits, to upgrade your taste buds, and to actually care about and respect yourself enough to learn about and start implementing these changes. You'll have to vow to stick with them through the transition period, where it may be a little tough.
However, once you get to the other side of that transition, which should only take a month or two, all of a sudden you'll start referring to the timeline of your life as B.H and A.H (before healthy eating and after healthy eating).
After developing healthy eating and lifestyle habits, I don't know anyone who has ever went back.
Know Your Why
Truly understanding the why behind making these changes is critical. Nobody likes to be told what to do, but when you've got sound scientific evidence and can make your own decision, you'll want to make these changes. And when you use your body as a science lab, to test out how eating or removing foods from your diet makes you feel, you have the most compelling proof!
Eating a wholesome diet doesn't mean depriving or restricting yourself. Your food is your fuel, so if you fill it with junk, it will feel and perform like junk. If you fill it with the right foods, you will not only lose weight, but likely start feeling better, too.
You can learn the why behind changing your diet, and get the motivation and support to stick to it in my 10-week EatSLIM program, available both online and in person in NYC.
Ditch the fad diets and quick fixes, if you want to get healthy once and for all. Put in the time and effort, and you will see the results. Love your body, and it will love you back!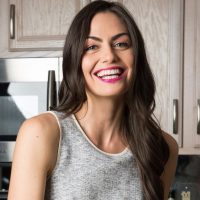 Maria Marlowe
Maria Marlowe is a holistic nutrition and wellness coach who uses real food to help her clients improve their health, weight, and skin. She offers a 28-day healthy eating meal plan that teaches you how to batch cook, as well as one to clear up acne. Her most popular program is EatSLIM, a 10-week online group glass that guides participants to develop healthy eating habits that stick – and lose weight, boost their metabolism, improve their digestion, and quit sugar.
She writes healthy and delicious plant-based recipes for her popular blog. She is also the author of the #1 New Release on Amazon, The Real Food Grocery Guide, the most practical guide to selecting the healthiest foods, without going broke, which has been praised by Dr. Oz and InStyle magazines. You can find her on instagram @mariamarlowe.