Eating healthy (from anywhere) just got a whole lot cheaper!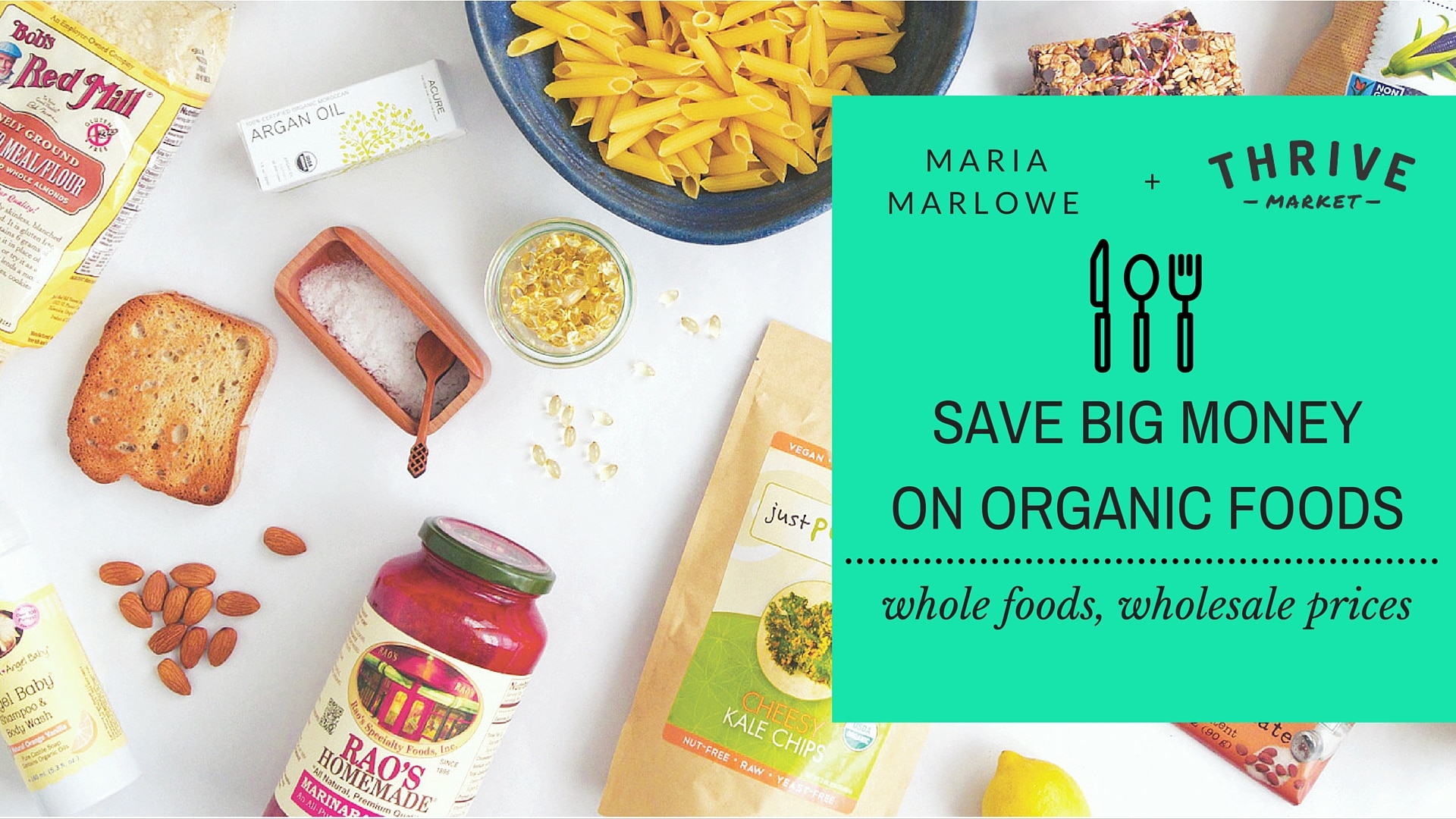 One of my favorite quotes is: "You can pay the farmer now, or the doctor later." – Robyn O'Brien
That being said, you don't need to empty your bank account to eat healthy.
If you follow me on Facebook, you know that I love Thrive Market. They are a new company with a big mission: to make healthy food affordable for everyone. Sort of like if Whole Foods, Costco, and Amazon had a baby, Thrive would be it.
Save Money Organic Food: Whole Foods at Wholesale Prices
Thrive Market is an ONLINE store for non-perishable groceries, so you can order from anywhere in America. It's a membership model, so for less than $5 a month, you get access to thousands of wholesome non-perishable products at wholesale prices (think 25-50% off).
You can more than make up for the cost of the membership in just one or two orders!
For example, I compared what it would cost me for a cart of some of my staple groceries at Thrive versus Whole Foods, and I was shocked! Literally I feel like I have been throwing my money away. When I compared the same exact brands/products/ sizes, this is what I found: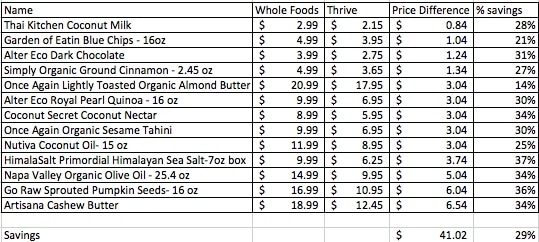 I'm saving $5 on a bottle of olive oil. $6 on a bag of pumpkin seeds. It would be stupid to ever buy these items again at Whole Foods. For most other things, there is a $1-$3 savings per item. On this one cart, I saved $41. (Plus, I didn't have to play bumper shopping carts for an hour in a crowded store or schlep anything home.)
As a single person who cooks a lot, up until about a month ago I would go into Whole Foods and spend at least $100 a week. That's $5,200 a year.
By shopping at Thrive, based on what I buy, I'd save close to 30% off my grocery bill, which leaves an extra $1,560 in my pocket. I could go on vacation with that!
Now imagine what you'll save if you have a family of hungry kids!
Wide Variety of Wholesome Products
In addition to food items, Thrive Market also carries supplements, natural beauty products (including organic tampons, which yes, are a must!), and home goods, like eco laundry detergent.
Note that just like at Whole Foods, not every item they sell is necessarily healthy. (Gluten-free vegan cookies, I'm looking at you). So you still must use your judgement and read ingredient lists. (You can check out The Real Food Grocery Guide for more guidance)
Right now, they only ship dry goods and packaged products, so I buy whatever I can through Thrive, and do my fresh shopping at the local Farmer's Market or health food store. They don't have everything, but they are pretty close to it.
Use this button to get 20% off your first 3 orders + a free 30-day trial:

Want More Healthy Grocery Store Shopping Guidance?
Check out my book, The Real Food Grocery Guide, for a more in-depth look at why you are what you eat, and how to select the healthiest foods in every aisle of the grocery store…without going broke!
Happy Shopping! And if you have any tips for saving money on organic groceries, please leave a comment below!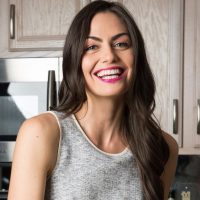 Maria Marlowe
Maria Marlowe is a holistic nutrition and wellness coach who uses real food to help her clients improve their health, weight, and skin. She offers a 28-day healthy eating meal plan that teaches you how to batch cook, as well as one to clear up acne. Her most popular program is EatSLIM, a 10-week online group glass that guides participants to develop healthy eating habits that stick – and lose weight, boost their metabolism, improve their digestion, and quit sugar.
She writes healthy and delicious plant-based recipes for her popular blog. She is also the author of the #1 New Release on Amazon, The Real Food Grocery Guide, the most practical guide to selecting the healthiest foods, without going broke, which has been praised by Dr. Oz and InStyle magazines. You can find her on instagram @mariamarlowe.