This girl is too cool.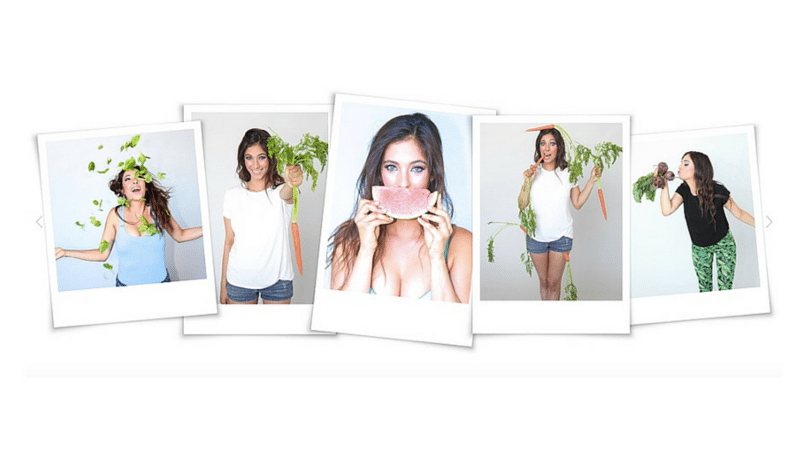 Last time I was in LA, I had the pleasure of meeting Taryn, the one-woman force behind vegetaryn.com.
Of course, we met through a foodie documentary, Plant Pure Nation about the son of T.Colin Campbell (The China Study) and his quest to get plant-based nutrition included in public legislation after an incredibly successful pilot program he created to demonstrate the benefits of a plant-based diet. (spoiler alert: it was (and is) an uphill battle).
I became obsessed with her super cute t-shirt line (all the shirts pictured below are from her line), so invited her on the bloggy for a little Q & A.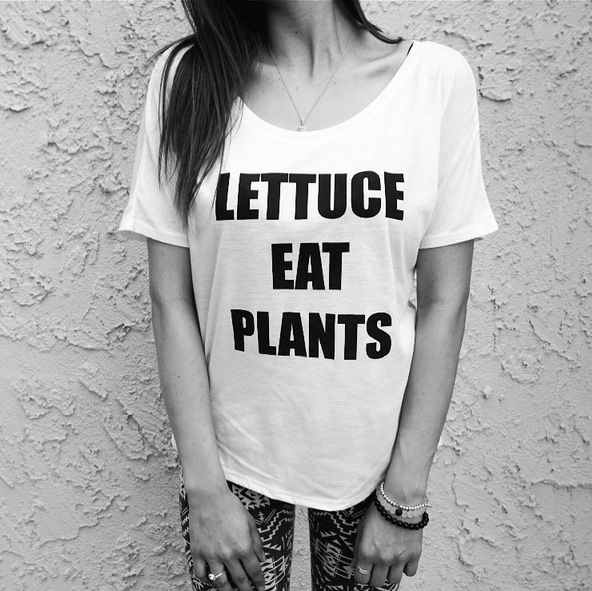 Why do you eat plant-based?
After I spent a summer abroad in Barcelona, where jamón (ham) is everywhere, hanging from the ceiling of markets and stores, and even as flavoring for chips, popcorn, and candy, I was starting to get extremely grossed out by it.
But, the turning point was when I unfortunately regret to say that I witnessed a bull fight. Seeing these poor animals, other beings, be murdered right in front of my face scarred me for life. It shocked me how so many people would cheer this type of cruelty on. This led me to primarily eat a vegetarian diet while I was in Spain.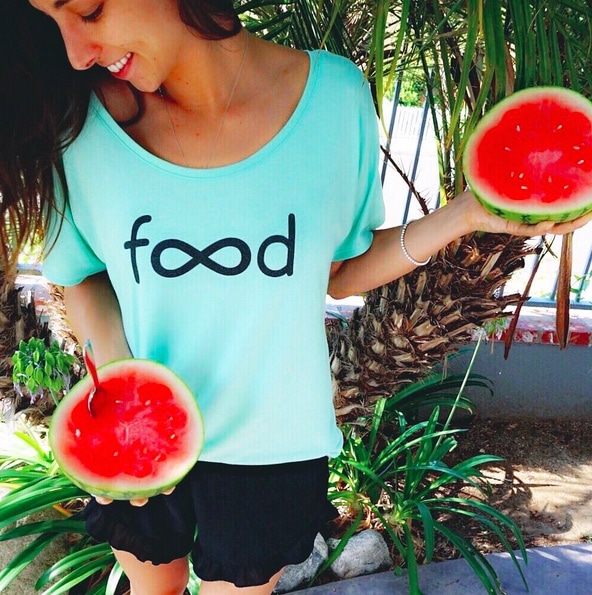 It was also cheaper to travel on a vegetarian diet. Falafel stands became my best friend. When I returned to the United States, I was so excited to get back to my typical fast food college diet. However, I started getting horrible stomach aches and throwing up way too often. This was so unlike me. I love food, I wanted to be able to enjoy what I was eating. This is when I decided to learn about eating healthy.
I started educating myself on vegan diets. I read books such as, Skinny Bitch and The China Study. I also watched several documentaries on Netflix; Forks Over Knives, Food, Inc., and Fat, Sick, & Nearly Dead. I became fascinated with the subject. I realized everything I had ever been told about what was "healthy" was basically false.
I started doing all my communications research products on health and diets. I started eating vegan 3 days a week, it didn't take much time before I realized I felt so much better and energized on days I ate vegan. Soon enough I was 100% vegan, and not only did my stomach issues disappear, I cured myself of asthma & eczema. Now, I also understand the effects my diet has on the environment and animals as well.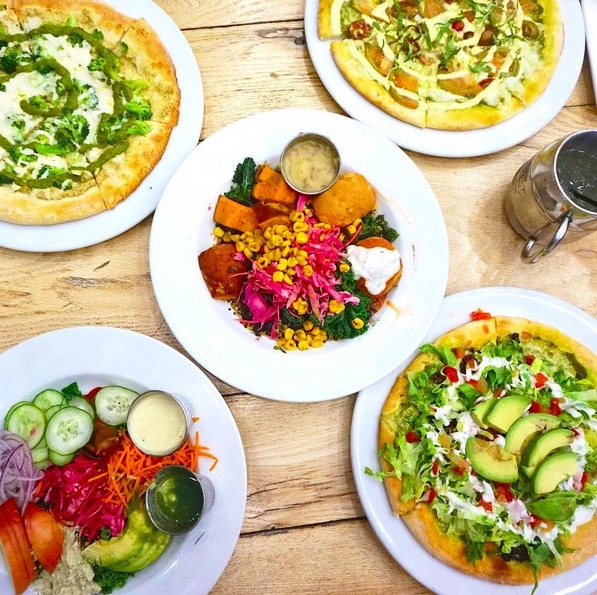 Any tips for those trying to make a change to a plant-based diet?
Educate yourselves on the subject! I think the most powerful impetus to change is understanding why a whole foods plant-based diet is beneficial for you, your health, the animals, and the environment. Do your research. Read books, take classes, watch documentaries.
Don't ever let others put you down for what you eat. And don't be scared to ask questions about how your food is cooked at a restaurant and ask for substitutions or omissions. They are usually happy to adjust.
What is your go to easy dinner recipe?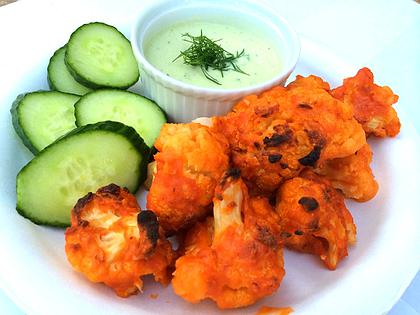 One of my favorite things to make are my Buffalo Bites, made with cauliflower. You can find the
recipe here
or a video tutorial
here
.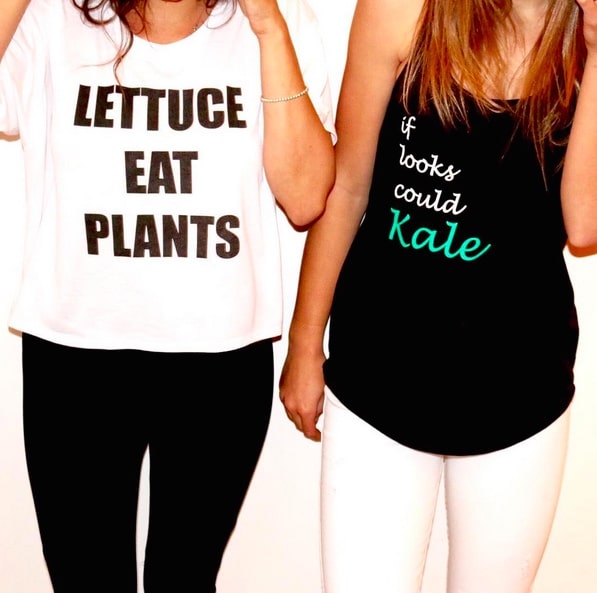 What sparked the idea for your t-shirt line?
I started
Vegetaryn
to help educate others about what foods are truly "healthy" because I realized that most people are confused about it (constantly trying new diets, counting calories, portion control, etc.). My main goal is to help guide people towards a plant based life style. The t-shirt line is a fun extension of that.
If you want to grab one ***Use coupon code: "KALEYEAH" to receive 20% OFF in the
Vegetaryn Shop
!
What are you working on now?
I am hosting an event in Los Angeles on August 28th, 2015 called #VegOutHangOut. It will be held at Kombucha Dog's Brewery in DTLA.Vendors include Califia Farms, The Hungry Elephant, Rachel's Cosmic Cuisine, Plant Food for People, Ellovi Skin, & more!
If you want to join us, you can GET YOUR TICKETS
HERE
.
I also have an ebook coming out that I am super excited about, so keep an eye out for it!
Want more Taryn?
Follow her on Social Media
All images by Vegetaryn.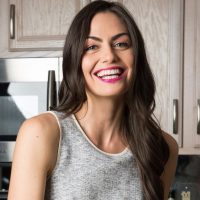 Maria Marlowe
Maria Marlowe is a holistic nutrition and wellness coach who uses real food to help her clients improve their health, weight, and skin. She offers a 28-day healthy eating meal plan that teaches you how to batch cook, as well as one to clear up acne. Her most popular program is EatSLIM, a 10-week online group glass that guides participants to develop healthy eating habits that stick – and lose weight, boost their metabolism, improve their digestion, and quit sugar.
She writes healthy and delicious plant-based recipes for her popular blog. She is also the author of the #1 New Release on Amazon, The Real Food Grocery Guide, the most practical guide to selecting the healthiest foods, without going broke, which has been praised by Dr. Oz and InStyle magazines. You can find her on instagram @mariamarlowe.