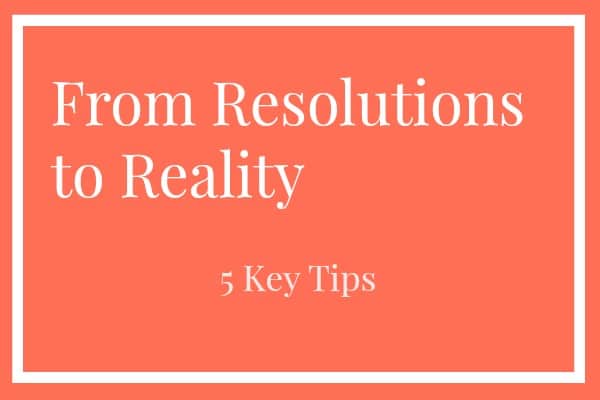 "Which two, among a thousand wise men, will define success in the same words; yet failure is always described but one way. Failure is man's inability to reach his goals in life, whatever they may be.

In truth, the only difference between those who have failed and those who have succeeded lies in the differences of their habits. Good habits are the key to all success. Bad habits are the unlocked door to failure. Thus, the first law I will obey, which precedeth all others is — I will form good habits and become their slave." – Og Mandino
No matter what your goals are in 2015, there is really only one way to get there: Consistency & Persistence.
In other words, you must form good habits.
Since I have quite a bit of experience in the resolution achieving department (after all, that is what I help dozens of people do each year!), and the most common resolution is getting into shape, I'm sharing my top 5 tips to get the body you want, for good. Bonus points: these tips can easily be applied to any of your resolutions, whether it is landing the corner office or paying off your debt.
How to Stick to Your Resolutions, for Real
1: Set Realistic Goals
Yes, it would be fantastic to drop 20 pounds overnight and wake up looking like a Victoria's Secret Supermodel, but the weight didn't come on overnight, and it's certainly not going to fall off overnight. Unrealistic goals set you up for failure and disappointment, which typically leads to throwing in the towel too soon.
Instead, you should set precise and realistic goals. Instead of saying 'I want to lose weight', make it more precise and say, 'I want to lose 20 pounds in 12 weeks'. Also, give yourself a milestone and a deadline. That is how you can judge your success. For weight loss, 1-2 pounds/ week is what you should expect. Anything more than that, and it is likely going to be unsustainable.
2. Understand the Why
Eating healthfully can sometimes feel like a chore, but only when you are eating it for the wrong reasons (to lose weight). (If it's because you just haven't figured out how to make it taste good yet, check out some recipes.) If weight is the extent of your desire, it's easy to feel deprived and slip back into the complacency of your elastic-waistband jeans as soon as you smell some fresh-baked cookies.
Losing weight is great, but being healthy should really be your underlying, number one goal. Weight-loss is one of the most visual affects of a healthy diet change, but it is certainly not the only one. A healthy diet allows our body to function at its peak, and often helps eliminate many of our other so called "problems" from acne, to migraines, to mood swings, to perpetual exhaustion. It also improves our immunity, greatly lessens the number of sick days, and even reduces our cancer risk. Plus, you just all around feel better when you eat healthier.
3. Have Structure
An idea without a plan is just a dream. If you want to lose weight, you must have a plan that will outline the specific changes you will make to reach your goals. Think of how much easier it is to navigate to a new location with a map, as opposed to a vague idea of where it is.
Weight loss is about more than just "calories in, calories out." In fact, you can make a bigger impact on your waistline simply changing your diet rather than instating a hardcore workout routine. There are foods that will keep you flabby, give you cellulite, and leave you feeling exhausted, meanwhile there are other foods that will help peel the pounds off, eliminate cellulite, and leave you feeling like the Energizer Bunny.
When it comes to a new healthy eating regimen, some questions you want to answer are: What are you going to eat for breakfast, lunch, and dinner? What are you going to buy at the grocery store? What will you cook? What are you going to order when you go out? How do you get rid of sugar cravings? How do you make healthy food taste good? (I'll be answering all of these questions in my upcoming January group program).
4: Seek Support
Having someone to hold you accountable and motivate you when you've had a bad day can mean the difference between getting back on track when you fall off or giving up.
Find an accountability partner whether that is your friend, your spouse, or a Coach, who will help encourage you to stick to your word.
I also have found that having a community to support you can be even more beneficial, which is why I created my 6-week group weight-loss and wellness program to offer people not just an accountability partner, but an accountability team. The community is priceless, and knowing other people are going through the same thing somehow makes things easier. Other participants serve as inspiration and motivation to keep going.
5. Skip the Gimmicks and "Diets"
Pills, point systems, and packaged meals are not sustainable. The only way to effect real change is to eat real food. Of course, that is easier said than done (what do you do when the double chocolate chip cookie starts calling your name at 3 pm? how do you order out on a business dinner without sounding like an annoying freak-o?)
As for "diets" they don't work. Eating a restrictive diet for a short period of time typically leaves you nothing more than hangry (hungry + angry). Your focus should really be on replacing bad habits one at a time, and developing new ones. If you only do something for a day or a week, it won't do you much good. It is what you do the majority of the time that makes the difference.
There you have it, my top 5 tips for making your resolutions a reality.
While of course you could employ these principles on your own, If you'd like the support and structure necessary to lose the weight for good, you're invited to my fourth session of The Maria Marlowe Method, a 6-week group weight-loss and wellness program, available both online anywhere in the world, and live in New York City.
Happy New Year!!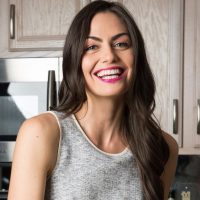 Maria Marlowe
Maria Marlowe is a holistic nutrition and wellness coach who uses real food to help her clients improve their health, weight, and skin. She offers a 28-day healthy eating meal plan that teaches you how to batch cook, as well as one to clear up acne. Her most popular program is EatSLIM, a 10-week online group glass that guides participants to develop healthy eating habits that stick – and lose weight, boost their metabolism, improve their digestion, and quit sugar.
She writes healthy and delicious plant-based recipes for her popular blog. She is also the author of the #1 New Release on Amazon, The Real Food Grocery Guide, the most practical guide to selecting the healthiest foods, without going broke, which has been praised by Dr. Oz and InStyle magazines. You can find her on instagram @mariamarlowe.