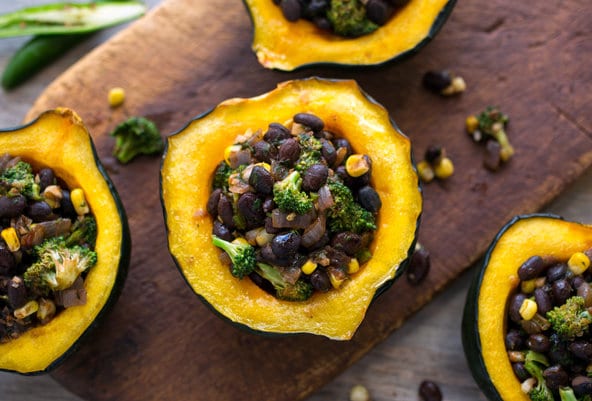 My favorite stuffed squash recipe featured in the New York Times, along with the secret to getting my meat-loving family to (finally) agree to a vegetarian Thanksgiving.
I've been reading the New York Times since middle school, when copies were delivered to my 7th grade social studies class. I'd read it cover to cover, particularly enamored with the travel and business sections. (The love for the style and health sections came later).
So, to have my story and recipe recounted in The New York Times Well Section, was of course, elating.
I shared a glimpse of the how and why my family came to accept having a vegegtarian Thanksgiving this year, as well as the recipe for a garlic-rubbed acorn squash stuffed with a hearty blend of corn, beans, wild rice, and broccoli. (You knew I had to throw some green in there).
While they kept the story short and sweet, the longer version is this. Switching to a plant-based diet quite literally saved my life. (So much so, that I went back to study food and nutrition and dedicated my life to teaching others about it). And now, a plant-based diet is helping to improve the health of my sister and my father. Do you need to necessarily be 100% vegan (meaning avoiding all animal products like meat and dairy). The answer is NO. But, for optimum health and weight, definitely tilting the scales in the veggie direction will most certainly be in your favor.
(In fact, my sister is still eating a little bit of meat now. And in case you're wondering, I do eat eggs and fish from time to time. I don't "prescribe" one diet, but rather help people listen to their body and give it what it needs.)
Click the link above to see the full article and recipe. I hope you enjoy it, and that it inspires you to at least add a few more veggies to your table.
Happy Thanksgiving!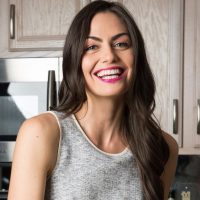 Maria Marlowe
Maria Marlowe is a holistic nutrition and wellness coach who uses real food to help her clients improve their health, weight, and skin. She offers a 28-day healthy eating meal plan that teaches you how to batch cook, as well as one to clear up acne. Her most popular program is EatSLIM, a 10-week online group glass that guides participants to develop healthy eating habits that stick – and lose weight, boost their metabolism, improve their digestion, and quit sugar.
She writes healthy and delicious plant-based recipes for her popular blog. She is also the author of the #1 New Release on Amazon, The Real Food Grocery Guide, the most practical guide to selecting the healthiest foods, without going broke, which has been praised by Dr. Oz and InStyle magazines. You can find her on instagram @mariamarlowe.