Who hires health coaches, anyway?
Remember I mentioned I'd be hosting Integrative Nutrition's new web series, called IIN Depth?
Here in the second episode, I address the the current state of health coaching in America, including the growing popularity of hiring Health Coaches at mega corporations and doctors offices, as well as the issues that need to be addressed before Health Coaching officially becomes mainstream.
Watch the video, and comment below it on Youtube. What do you think? Are you glad Health Coaches are stepping in to fill the gaps in the current health care system, or are you hesitant to work with a Health Coach, and why?
If you missed my first IIN Depth video on Telspec, a fascinating new technology that I believe has the power to change the way people eat, and perhaps force the the food industry to shape up, watch it here.
If you are interested in learning how you can work with a Health Coach, like moi, check out this page. And if you want to have the coolest job in the world and become a Health Coach yourself, check out this page.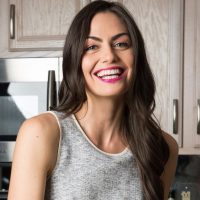 Maria Marlowe
Maria Marlowe is a holistic nutrition and wellness coach who uses real food to help her clients improve their health, weight, and skin. She offers a 28-day healthy eating meal plan that teaches you how to batch cook, as well as one to clear up acne. Her most popular program is EatSLIM, a 10-week online group glass that guides participants to develop healthy eating habits that stick – and lose weight, boost their metabolism, improve their digestion, and quit sugar.
She writes healthy and delicious plant-based recipes for her popular blog. She is also the author of the #1 New Release on Amazon, The Real Food Grocery Guide, the most practical guide to selecting the healthiest foods, without going broke, which has been praised by Dr. Oz and InStyle magazines. You can find her on instagram @mariamarlowe.