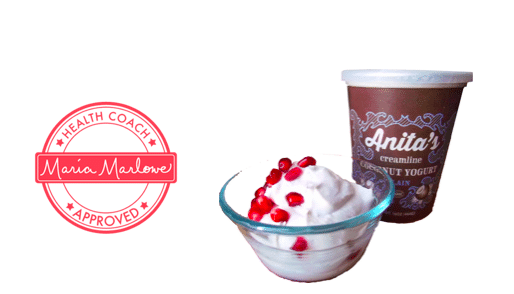 Dairy-free yogurt? Yes please!
I recently came across Anita's Creamline Coconut Yogurt at Whole Foods, and I was impressed. While there are a handful of coconut yogurts on the market, Anita's is far superior in terms of nutrient profile and taste. It contains just three ingredients: coconut milk, coconut water, and probiotic cultures.
Most yogurt, coconut or regular, is just a plain ol' sugar bomb. The "low-fat" and "no-fat" versions are the worst offenders. For example, I used to love Stonyfield Farms Organic French Vanilla no-fat yogurt. However, it turns out one serving contains 33 grams of sugar. That's 8g over the maximum recommended sugar intake for the day. Fat is what makes things taste good, so when you get rid of it, you have to add sugar in to make it even remotely palatable…that's why you should avoid anything labeled "low-fat" or "no-fat". And by the way, fat does not make you fat…sugar does.
Even the regular yogurt varieties contain way too much refined sugar for breakfast. For example, Stonyfield's Organic Blueberry on the bottom yogurt contains 22 grams of sugar…just 3 short of the daily max.
(And PS, many health experts would argue your daily max intake of refined sugar should be 0). Sugar, if you recall from an earlier post, is often the main culprit in weight gain, not to mention it is linked to a variety of chronic illnesses, from diabetes to heart disease.
Anita's is by far the best coconut yogurt, the best dairy-free yogurt, and the best sugar free yogurt on the market.
It's currently available in New York and Long Island. You can find a store, or request it in yours, here.
Have you tried it?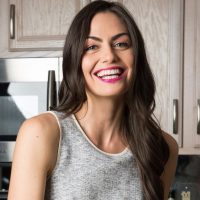 Maria Marlowe
Maria Marlowe is a holistic nutrition and wellness coach who uses real food to help her clients improve their health, weight, and skin. She offers a 28-day healthy eating meal plan that teaches you how to batch cook, as well as one to clear up acne. Her most popular program is EatSLIM, a 10-week online group glass that guides participants to develop healthy eating habits that stick – and lose weight, boost their metabolism, improve their digestion, and quit sugar.
She writes healthy and delicious plant-based recipes for her popular blog. She is also the author of the #1 New Release on Amazon, The Real Food Grocery Guide, the most practical guide to selecting the healthiest foods, without going broke, which has been praised by Dr. Oz and InStyle magazines. You can find her on instagram @mariamarlowe.