Tellspec: Changing What People Will Eat
UPDATE: Although I sometimes fantasize about traveling the world and holding wellness retreats in exotic locations, I haven't figured out how to bring it to fruition yet. (Any ideas??)
My new gig is still pretty exciting, though.
I am now stepping in front of the camera as the host of the Institute for Integrative Nutrition's new web series.
It's called IINDepth, and twice a month I'll explore an innovative or exciting breakthrough in the food industry or on the health and wellness front.
The first video is all about a fascinating new and soon to be released technology, which I think, has the power to take down the food industry. (And this thought is not a fantasy.)
In a nutshell, this handheld device is small enough to fit in your purse and will allow you to know exactly what you're eating (chemicals and pesticides included) and what those ingredients do to your body. If you know that there are 45 pesticides on the apple you picked up at the grocery store, many (if not all) of which are known carcinogens and hormone disruptors, would you still eat it?
Now imagine if you scanned anything in the snack aisle…
Watch the video than leave a comment below…do you think this will change the way people eat?
PS. If you want one, it has been slated to launch in the next year or so, but I don't know the exact date. You can sign up at www.tellspec.com to be alerted when it does.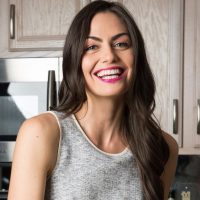 Maria Marlowe
Maria Marlowe is a holistic nutrition and wellness coach who uses real food to help her clients improve their health, weight, and skin. She offers a 28-day healthy eating meal plan that teaches you how to batch cook, as well as one to clear up acne. Her most popular program is EatSLIM, a 10-week online group glass that guides participants to develop healthy eating habits that stick – and lose weight, boost their metabolism, improve their digestion, and quit sugar.
She writes healthy and delicious plant-based recipes for her popular blog. She is also the author of the #1 New Release on Amazon, The Real Food Grocery Guide, the most practical guide to selecting the healthiest foods, without going broke, which has been praised by Dr. Oz and InStyle magazines. You can find her on instagram @mariamarlowe.