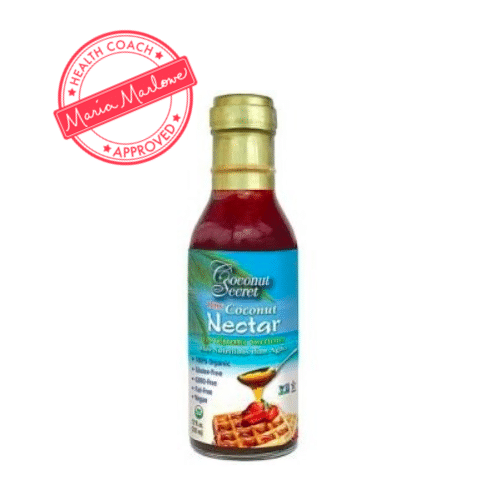 My favorite white sugar alternative is coconut sugar, either as liquid (called coconut nectar) or crystals (called coconut sugar).
It's the perfect alternative to refined sugar a.k.a. white sugar, brown sugar, table sugar, cane syrup, agave nectar and high fructose corn syrup.
I like to call sugar the white devil. In short, it makes us fat, it makes us sick, and it gets us hooked on it. Don't even get me started on artificial sweeteners, which kill your brain cells and increase your risk of a heart attack.
Food manufacturers know you'll crave their products if they load them with sugar, so it turns up just about everywhere, from healthy-sounding breakfast cereals to your "skinny" latte to your salad dressing. Which is why if you're not careful, you can actually pack on the pounds even when you "start eating healthy."
Now, scary stuff aside, remember, you can still eat sweet things, you just have to choose high quality, nutrient dense, and low glycemic sweeteners.
The absolute best choices will always be fruit, like bananas or dates, which also come packed with fiber, vitamins and minerals, and without the negative consequences of refined sugar. Their only downside is that your dish will then taste like bananas or dates, which works for some recipes, but not all.
The next best choice is coconut sugar. It's what I use in my house as it adds sweetness without a coconut flavor, making it suitable for any recipe.
It also contains some nutrients, but its best attribute is that it's low glycemic, meaning it won't spike your blood sugar as much as regular sugar does, and cause the chain of events that wreak havoc in your body the way table sugar does.
In recipes, it replaces sugar 1:1 (although I personally find most recipes usually only need half the sugar they say they do.)
My favorite recipe utilizing coconut nectar is a deliciously decadent "cheesecake" made from cashew cream and coconut nectar. It's my go to recipe at cooking events because everyone is blown away that something that healthy could actually taste so good.
In fact, I'll be making it on August 9th at the Seed Expo, a 2 day plant-based food festival. Use the code "mm50" to get 50% off the ticket price, and make sure you sit in the front so you'll get a taste. 🙂
I'll also be giving away a bottle of coconut secret coconut nectar to one lucky attendee, so be there or be square!
Have you tried coconut nectar yet? Leave a comment below and let us know if you like it!
Coconut sugar benefits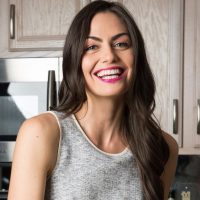 Maria Marlowe
Maria Marlowe is a holistic nutrition and wellness coach who uses real food to help her clients improve their health, weight, and skin. She offers a 28-day healthy eating meal plan that teaches you how to batch cook, as well as one to clear up acne. Her most popular program is EatSLIM, a 10-week online group glass that guides participants to develop healthy eating habits that stick – and lose weight, boost their metabolism, improve their digestion, and quit sugar.
She writes healthy and delicious plant-based recipes for her popular blog. She is also the author of the #1 New Release on Amazon, The Real Food Grocery Guide, the most practical guide to selecting the healthiest foods, without going broke, which has been praised by Dr. Oz and InStyle magazines. You can find her on instagram @mariamarlowe.