Today I'm taking back the curtain on just how I created my dream business, and became this crazy, new-fangled thing called a Health Coach.
I believe every single one of us can make a difference on this Earth. It's up to you to figure out what you think your legacy should be. It may take you some time to discover it, but when you do, it's your duty to carry it out. Because when you play small, you're not only short-changing yourself, you're short-changing all of the people who could benefit from your gift.
For me, it took a while for the light bulb to go off, but when it did, there was no stopping me.
In college, I had healed my own health issues simply by changing my diet, even when modern medicine couldn't. I became fascinated with the power of food, and decided I needed to learn everything about it…but, just in my spare time. I was going to school for for fashion, and then, finance, so nutrition became my hobby, not a career option.
My passion for it though, couldn't be contained. I would "diagnose" my friends and family, and prescribe specific foods to heal whatever ailed them. At first, I would take it upon myself to tell people what they should do to heal. Soon, they started coming back to me asking for help with other issues.
I decided to start a blog simply to share my knowledge with my friends and family (who, naturally, were my first and only readers). The blog grew organically, and as I got more into it, I had a flash of insight: My purpose in life is to help people get healthy.
So, I went back to school to learn about nutrition, became a Certified Health Coach.
Learning about nutrition and changing my diet completely changed my life, in more ways than I ever expected. And I feel so blessed that I can help other women achieve that a-ha moment, when everything starts to click, and their body starts doing what they want it to do, without a constant struggle.
There is no better motivation to keep going, than when a client tells me, "you changed my life."

You see, the truth is, no one is really teaching us about nutrition, and the connection between our diet and our health. We don't learn about it in school, we're fed confusing and misleading messages by food manufacturers ("whole grain" Froot Loops, anyone?), and even our doctors get less than 24 hours of nutrition instruction in their many years of med school.
Health Coaching is a relatively new thing (since the 70's), but I believe it is absolutely the future of health care (and so does the head of Harvard Medical School, apparently…scroll down to second video in the link).
Until every single person on this planet is vibrantly healthy, I just won't stop. How is that for motivation?
So, if you are thinking about becoming a Health Coach, or an entrepreneur of any sort, for that matter, don't even think about it, unless you are committed 'till the very end. It's not always a walk in the park, but, if you have passion and persistence, you will succeed.
Phew, well, now you know!
You can find out what makes other savvy entrepreneurs tick, by visiting Hilary's Site, Dean Street Society. Yesterday, Mommy blogger, Ashley over at Written on Her Heart shared her insight on blogging, and tomorrow the three wanderlusters from Treasures and Travel will be giving you the scoop on their biz. Hope we can inspire and spark something in you!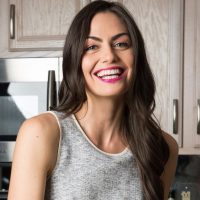 Maria Marlowe
Maria Marlowe is a holistic nutrition and wellness coach who uses real food to help her clients improve their health, weight, and skin. She offers a 28-day healthy eating meal plan that teaches you how to batch cook, as well as one to clear up acne. Her most popular program is EatSLIM, a 10-week online group glass that guides participants to develop healthy eating habits that stick – and lose weight, boost their metabolism, improve their digestion, and quit sugar.
She writes healthy and delicious plant-based recipes for her popular blog. She is also the author of the #1 New Release on Amazon, The Real Food Grocery Guide, the most practical guide to selecting the healthiest foods, without going broke, which has been praised by Dr. Oz and InStyle magazines. You can find her on instagram @mariamarlowe.