Whole Foods, a.k.a "Whole Paycheck" is not known for being particularly budget friendly.

It's not uncommon to spend upwards of $30 on just one bag of groceries. (The most I've spent so far was $60). This is not generally sustainable, especially if you have a family to cook for.
Despite their hefty markup, there is an undeniable attraction to shopping at Whole Foods: 
-the wide, well-stocked and well-organized aisles, 
-an abundance of conveniently pre-made meals, and 
-the feeling that everything you buy there has some sort of redeeming healthy quality (even if this is not always the case). 
I've personally shopped at dozens of Whole Foods across the country from New York to Chicago to Seattle, down to Los Angeles, Houston, Miami, and many places in between.  I've led shopping tours and kitchen restocks there, and even lived across the street from one for years. Needless to say, I know the ins and outs of the organic grocer pretty well. 
In my opinion you have two choices when it comes to food: pay the farmer (or Whole Foods) now in order to eat high quality and nutrient-dense foods, or,  pay the doctor bills later on.
So, I've compiled my top tips for getting out of Whole Foods with your bank account intact. Here they are: 
Check the Weekly Sales Flyer

:
 Each store publishes a
weekly sales flyer
. You can find it online before you go, or the printed version in-store. Stock up on non-pershable items when they're on sale, and plan your 
weekly dinner menu based on the flyer, too. If you're favorite fruit is on sale, stock up and freeze for smoothies.
Buy in Bulk
: For dry goods and pantry staples, like lentils, dried beans, quinoa, nuts, seeds, brown rice, and grains, buying them in bulk is 
usually (but not always) cheaper than if you buy a pre-packaged variety. 
Case in point: I've found
 Whole Food's
365 brand nuts tend to be cheaper pre-packaged 
than in bulk bins. Compare prices to be sure you're getting the best deal.
Buy the Case
: If you use a lot of a something, say coconut oil or Mary's 
Gone Crackers, buy a case, and you'll receive 10% off.
Buy 365 Brand
:
The 365 brand is Whole Food's private label, and is typically a fraction of the price of comparable name-brand items. While the seal is on just about everything from frozen fruit bars to hand soap, I recommend looking for the colorful square seal on simple staples, like beans and nuts, rather than processed foods. 
Bring Reusable Shopping Bags
: For each shopping bag you bring, you get 10 cents 
off. (Hey, every penny counts!)
Did you learn something new?  Or, do you have more tips for saving at Whole Foods?  Leave a comment below.
If you found this helpful, please share: tweet it,  email it, or post on Facebook through the link below.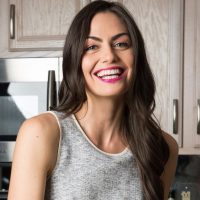 Maria Marlowe
Maria Marlowe is a holistic nutrition and wellness coach who uses real food to help her clients improve their health, weight, and skin. She offers a 28-day healthy eating meal plan that teaches you how to batch cook, as well as one to clear up acne. Her most popular program is EatSLIM, a 10-week online group glass that guides participants to develop healthy eating habits that stick – and lose weight, boost their metabolism, improve their digestion, and quit sugar.
She writes healthy and delicious plant-based recipes for her popular blog. She is also the author of the #1 New Release on Amazon, The Real Food Grocery Guide, the most practical guide to selecting the healthiest foods, without going broke, which has been praised by Dr. Oz and InStyle magazines. You can find her on instagram @mariamarlowe.