Hello lovelies,
As you know, I recently bought a Vitamix and absolutely adore it.
I was first introduced to the machine while training at the Natural Gourmet Institute, but was always hesitant to buy my own because of the price. While it's not exactly cheap, I consider it the best investment in my health that I've made, and I can confidently say it's worth every penny!
It makes eating healthy:
Easy: I find my fruit and veggie intake has increased substantially, simply because I can now quickly and easily prepare them! The Vitamix can effectively blend just about anything.
Fast: Delicious smoothies or soups are ready in minutes. In the mornings, I love putting in frozen or fresh fruit with a bit of water, and boom, drinkable breakfast ready in 60 seconds. I find the smoothies to be super filling any they keep me satiated 'till lunch. Try this Blueberry Beauty Boost or Almond Ginger Monkey Smoothie.
Plus, It's extremely simple to clean: Everybody likes a clean house, but who likes to clean? Not me, which is why I love that you simply have to put a drop of soap and some water in the Vitamix and turn it on for about 30 seconds so it can clean itself. Now if only the rest of my apartment could clean itself…
I use it at least once, sometimes twice a day.
Unlike juicers, the Vitamix allows you to blend your fruits and veggies to make a silky smoothie, with all the vitamins and fiber still intact. While juices can leave you hungry, Vitamix smoothies are extremely filling.
So why this long love letter to the Vitamix? I'm so happy with it, I wish everyone had one!
So, I teamed up with Vitamix as an Affiliate to offer my readers free standard shipping, a $25 value, when you order from Vitamix.com. Just use my code 06-007382.

I do make a commission on the sale when you use my code, so if you gain value from this blog and are in the market for a Vitamix, please help support it by ordering with this code.

If you have any questions, please comment below, and I'm happy to answer!
xo
Maria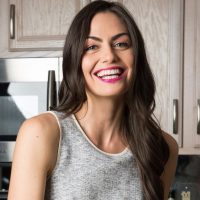 Maria Marlowe
Maria Marlowe is a holistic nutrition and wellness coach who uses real food to help her clients improve their health, weight, and skin. She offers a 28-day healthy eating meal plan that teaches you how to batch cook, as well as one to clear up acne. Her most popular program is EatSLIM, a 10-week online group glass that guides participants to develop healthy eating habits that stick – and lose weight, boost their metabolism, improve their digestion, and quit sugar.
She writes healthy and delicious plant-based recipes for her popular blog. She is also the author of the #1 New Release on Amazon, The Real Food Grocery Guide, the most practical guide to selecting the healthiest foods, without going broke, which has been praised by Dr. Oz and InStyle magazines. You can find her on instagram @mariamarlowe.