If you haven't gotten the memo yet, dairy is out. Like bell bottoms and track suits, the once exalted dairy, in now a faux-pas. Like many of us, you have probably heard that milk is good for you and building strong bones. It turns out though, the National Dairy Council has had us all duped for decades!
Below are the 7 most surprising facts about dairy that will have you thinking twice before that next swig of milk or slice of cheese.
1- Many people are lactose intolerant
IBS, gastrointestinal issues, digestion problems, stomach pain, gas, diarrhea…Not pleasant, but those are the symptoms many people experience after eating dairy products. Many people don't even realize they are lactose intolerant, and it is more widespread than you think: 95% of Asian Americans, 74% of Native Americans, 70% of African Americans, 53% of Mexican Americans, and 15% of Caucasians are lactose intolerant. That adds up to and approximately 50 million Americans who can't digest dairy products.
2- Dairy is linked to hormonal problems including acne and early onset puberty
Milk is the secretion of a lactating mother, meant to be a short term nutrient for newborns. Baby cows drink their mother cow's milk in order to grow into big, strong, healthy cows. Baby humans drink their human mother's milk to grow into tall, smart, healthy humans. Mammal milk contains the specific nutrients each species needs to grow into their healthiest adult self. I don't know about you, but I'd rather not resemble a cow. Definitely not sexy.
Think about it. Humans are the only mammals that continue to drink milk after infancy. Some people think cows naturally make milk. WRONG! Dairy cows are artificially inseminated in order to produce milk. These cows are pumped with hormones, which make their way into the milk we are drinking. These hormones wreak havoc on our own bodies, and have been linked to acne, 8 year olds becoming women, and even cancer.
3- Dairy does not prevent osteoporosis
We have been bombarded with ads purporting that milk builds strong bones. Then why do the countries with the highest dairy consumption- America, Denmark, Holland, and Sweden -also have the HIGHEST incidence of osteoporosis? And why do vegan, non-dairy drinking Buddhist nuns have a low incidence of the disease? Because they get their calcium from produce.
Where do you think the cows get their calcium from, anyway? They are herbivores, after all. They get it from grass, which happens to have nearly equal amounts of calcium and magnesium. Magnesium is a mineral found in chlorophyll (and all green vegetables) that is needed for our bodies to absorb the calcium. Unfortunately, milk has about 12 times more calcium than magnesium, so milk doesn't do our bodies as good as you think it does. Most of it just passes through without being absorbed, which is why it is better to get your calcium from green vegetables, which has more equal amounts of the two minerals. Learn more:
Strong Bones
4- Dairy if full of antibiotics
Since cows are mechanically milked over and over again, they often get sick and develop infections on their udders. So, they are injected with antibiotics. These antibiotics, as you can imagine, make it into your milk as well.
5- Dairy can make you fat
Dairy products, especially cheese and ice cream, are high in fat and cholesterol. Too much of these things may lead to weight gain, and even heart disease.
In some people, dairy causes an allergic reaction. Their bodies see milk as in invader and so produce more white blood cells to fight off the invader, just like they would bacteria or a virus. This can explain why some people experience thicker or more mucus in their throats after eating dairy.
Wheezing, coughing, hives, chest tightening, shortness of breath, and eczema are some of the symptoms.
7- Dairy can increase risk of cancer
Dairy has been linked in countless scientific studies to cancer and other serious health problems including: Leukemia, Breast Cancer, Colon Cancer, Cataracts, Colic, Anemia, Intestinal Bleeding, Heart Disease, Arthritis, and Lymphoma
Conclusion
Ditch dairy for good. Have no fear, you can still enjoy all the foods you love, in their non-dairy form.
For milk, try oat milk, hemp milk, almond milk, or other nut milks, ideally freshly made as opposed to packaged. You can try this easy 5 minute
hemp milk recipe
. If you drink milk in coffee, there are all sorts of coconut creamers and other non-dairy milks made specifically for coffee (although I hear, oat milk tastes best in coffee). Avoid soy milk, as highly processed soy is associated with negative health effects.
For cheese, try nut or vegetable based cheeses, such as Kite Hill (my absolute favorite, made from almonds) or daiya (a bit more processed, made from tapioca, great transition food, perfect for melting).
For ice cream, try Luna and Larry's Coconut Bliss, made from coconut milk. It's better than real ice cream. OR you can make you're own n'ice cream from frozen bananas with this recipe:
banana n'ice cream recipe
.
For butter, try coconut oil or olive oil.
For yogurt, try a non dairy coconut or almond yogurt (Anita's Coconut Creamline brand is best, but it's expensive and hard to find). Or ditch yogurt but get the similar mouthfeel from chia seed pudding.
Do you have a favorite non-dairy recipe or product? Share in a comment below!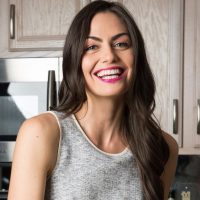 Maria Marlowe
Maria Marlowe is a holistic nutrition and wellness coach who uses real food to help her clients improve their health, weight, and skin. She offers a 28-day healthy eating meal plan that teaches you how to batch cook, as well as one to clear up acne. Her most popular program is EatSLIM, a 10-week online group glass that guides participants to develop healthy eating habits that stick – and lose weight, boost their metabolism, improve their digestion, and quit sugar.
She writes healthy and delicious plant-based recipes for her popular blog. She is also the author of the #1 New Release on Amazon, The Real Food Grocery Guide, the most practical guide to selecting the healthiest foods, without going broke, which has been praised by Dr. Oz and InStyle magazines. You can find her on instagram @mariamarlowe.