Grilled pineapple with lime zest is a super simple summer treat.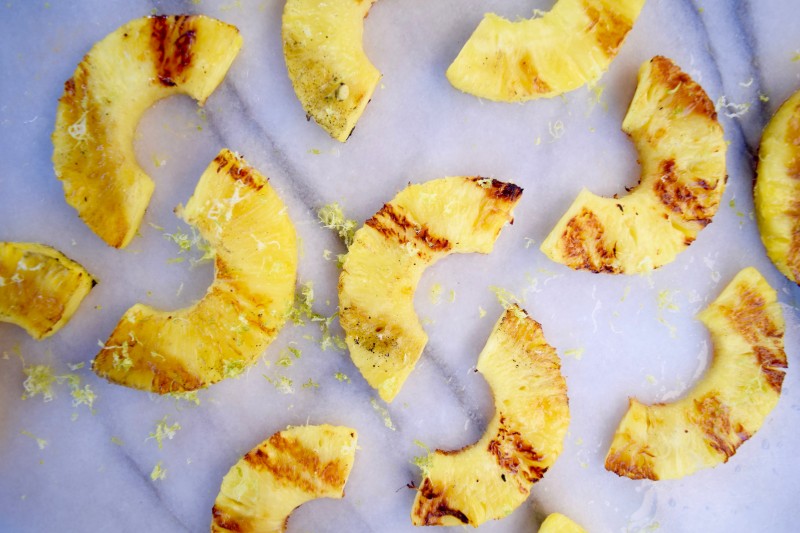 Pineapple is super sweet, plus the heat of the grill will caramelize the natural sugar, bringing out in even more complex, sweet taste. The lime zest really brightens it up and adds a super fresh flavor.
Eat it on it's own as a snack or have it as an appetizer or dessert.
Here's an extra summer BBQ tip; If you are going to be eating meat, an enzyme in pineapple helps you break down protein and better digest meat. Unfortunately the enzyme is deactivated when cooked above 158 degrees F, so if you'll be eating meat, reserve some raw pineapple to eat with your (organic, grass-fed) burger.
Grilled Pineapple with Lime Zest is super simple to make.

Grilled Pineapple with Lime Zest
Slice pineapple into rings or half moons. Grill each side for about 3 minutes, or until grill marks appear.
Remove from the grill onto a serving plate. Using a microplane, grate fresh organic lime zest over it. Serve immediately.
Maria Marlowe
Maria Marlowe is a holistic nutrition and wellness coach who uses real food to help her clients improve their health, weight, and skin. She offers a healthy eating meal plan that teaches you how to batch cook, as well as one to clear up acne. She has ongoing group workshops both in NYC and online, and writes healthy and delicious plant-based recipes for her popular blog. She is also the author of the #1 New Release on Amazon, The Real Food Grocery Guide, the most practical guide to selecting the healthiest foods, without going broke, which has been praised by Dr. Oz and InStyle magazines. You can find her on instagram @mariamarlowe.