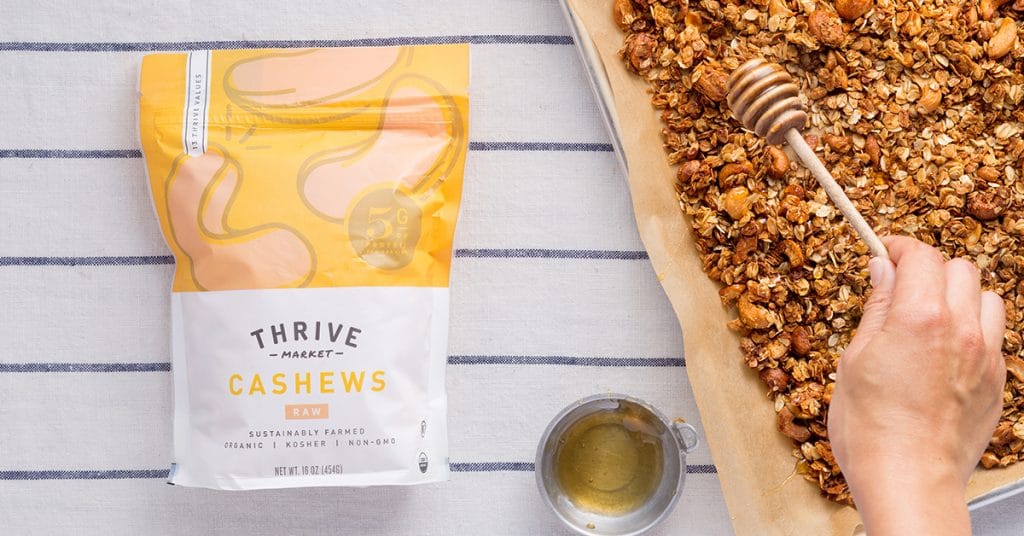 My friends over at Thrive Market are allowing me to give my readers a FREE bag of raw cashews!
Cashews are extremely versatile. Besides just eating them on their own as a snack, I love to turn them into both savory sauces and sweet desserts. For example:
But, not only do they taste good, they're good for you.
Cashew Benefits
Cashews are a great snack or addition to your diet if you want to:
Boost your energy: Just one ounce of them contain 10% of your daily recommended iron needs
Support your immune system: The same amount provides 11% of your daily zinc recommendation
De-stress: And it also provides 20% magnesium, which helps calm nerves and better deal with anxiety
Support bone health: you'll get 23% of your recommended daily manganese intake in an ounce
---
Enjoy getting to know what food can do for your health?
Pre-order my first book, The Real Food Grocery Guide, for a more in-depth look at why you are what you eat, and how to select the healthiest foods in every aisle of the grocery store…without going broke!
---
Get Your Free Bag of Cashews
Thanks to Thrive Market, you can get a FREE full-sized bag of Thrive Market non-GMO Raw Cashews, plus a 30-day trial for only $1.95 shipping!
Existing members can receive a free bag of cashews with any order over $50.
If you haven't heard about Thrive Market yet, it's just the most genius online health food store, that I calculated is saving me over $1,500 a year on groceries.
So what are you waiting for?! This offer ends February 28, 2017. Get 'em while you can!
Maria Marlowe
Maria Marlowe is a holistic nutrition and wellness coach who uses real food to help her clients improve their health, weight, and skin. She offers a healthy eating meal plan that teaches you how to batch cook, as well as one to clear up acne. She has ongoing group workshops both in NYC and online, and writes healthy and delicious plant-based recipes for her popular blog. She is also the author of the #1 New Release on Amazon, The Real Food Grocery Guide, the most practical guide to selecting the healthiest foods, without going broke, which has been praised by Dr. Oz and InStyle magazines. You can find her on instagram @mariamarlowe.