Eating healthfully sometimes gets a bad rap as being too expensive. But the truth is, it's more expensive to not eat healthfully.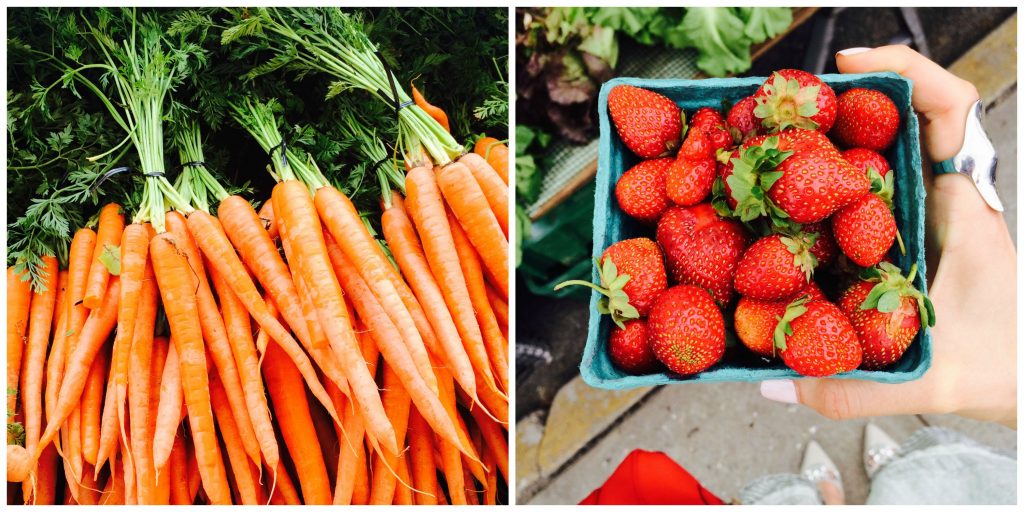 The true cost of cheap junk food isn't just monetary. You also have to factor in how it makes you look and feel, the fact that it could be compromising your immune system resulting in more trips to (costly) doctors, sick days, reduced productivity, and even just frustration in the fitting room when nothing fits.
I promise, eating healthfully doesn't mean you have to shell out your whole paycheck, and you can indeed shop healthy on a budget!
Here are my top tips for shopping healthy on a budget:
1. WHERE TO SPEND (AND SAVE) ON ORGANICS
Ideally everything you eat would be organic, but it's not always available or economical. Each year the Environmental Working Group publishes a list of the produce with the highest amount, and most toxic pesticides, called the dirty dozen plus list.
This year the dirty dozen plus include: apples, celery, cherry tomatoes, cucumber, grapes, nectarines, peaches, potatoes, snap peas, spinach, strawberries, sweet bell peppers, hot peppers, kale, collard greens.
Always buy these foods organic to limit toxic pesticide exposure. For everything else, you can save money and buy conventional.
2. FROZEN FRUIT & VEGGIES ARE OK!
Frozen produce is often quite a bit cheaper than fresh, but is typically just as nutritious (if not more so, as it's picked at its peak ripeness!) The only exception to this is broccoli and carrots, which are significantly more nutritious when fresh.
3. BUY STORE BRANDS
Oftentimes, grocery store brands are made with the same ingredients (and even made by the same suppliers!) as independent brands. At Whole Foods, their 365 brand is typically a fraction of the price of comparable name-brand items. While the seal is on just about everything from frozen fruit bars to hand soap, stick to simple staples, like beans, nuts, and frozen fruit rather than processed foods.
4. SHOP THE BULK SECTION
You will often save money by buying grains, nuts, seeds, quinoa, and legumes from the bulk section, rather than in a package. They're sold by weight, and you can buy as much or as little as you like. Buy 1 quart, wide mouth mason jars to store them. They keep everything fresh and look cute in your kitchen.
5. CHECK THE WEEKLY SALES FLYER
Most stores offer weekly promotions, so check the sales flyer. Stock up on non-perishable items when they're on sale, and plan your weekly dinner menu based on the flyer, too. If your favorite fruit is on sale, stock up and freeze for smoothies.
6. SHOP ONLINE
For dry goods, save time and money by ordering them online. Even if you live across the street from health food store, it makes more sense, both financially and time wise, to do so. Because they have no physical location, online stores can offer the same brand name products at a fraction of the price, plus they are delivered straight to your doorstep (usually for free!).
My favorite online store is Thrive Market. If Costco and Whole Foods had a baby, it would be Thrive Market. For a membership fee of less than $5 a month, you get access to tons of healthy and organic products at wholesale prices (and no, you don't have to buy in bulk!) You save between 25% and 50% percent per item, which more than justifies the membership fee. Use this link to get a free 1 month trial and 25% off your first order.
For organic bulk grains, nuts, seeds, and flours, try nuts.com.
For more money saving grocery tips and an easy cheat sheet of exactly where to what to buy (and avoid) to feed your family healthfully, check out my Ultimate Grocery Store Guide. If you do the grocery shopping for you or your family, you need this guide!

Maria Marlowe
Maria Marlowe is a holistic nutrition and wellness coach who uses real food to help her clients improve their health, weight, and skin. She offers a healthy eating meal plan that teaches you how to batch cook, as well as one to clear up acne. She has ongoing group workshops both in NYC and online, and writes healthy and delicious plant-based recipes for her popular blog. She is also the author of the #1 New Release on Amazon, The Real Food Grocery Guide, the most practical guide to selecting the healthiest foods, without going broke, which has been praised by Dr. Oz and InStyle magazines. You can find her on instagram @mariamarlowe.